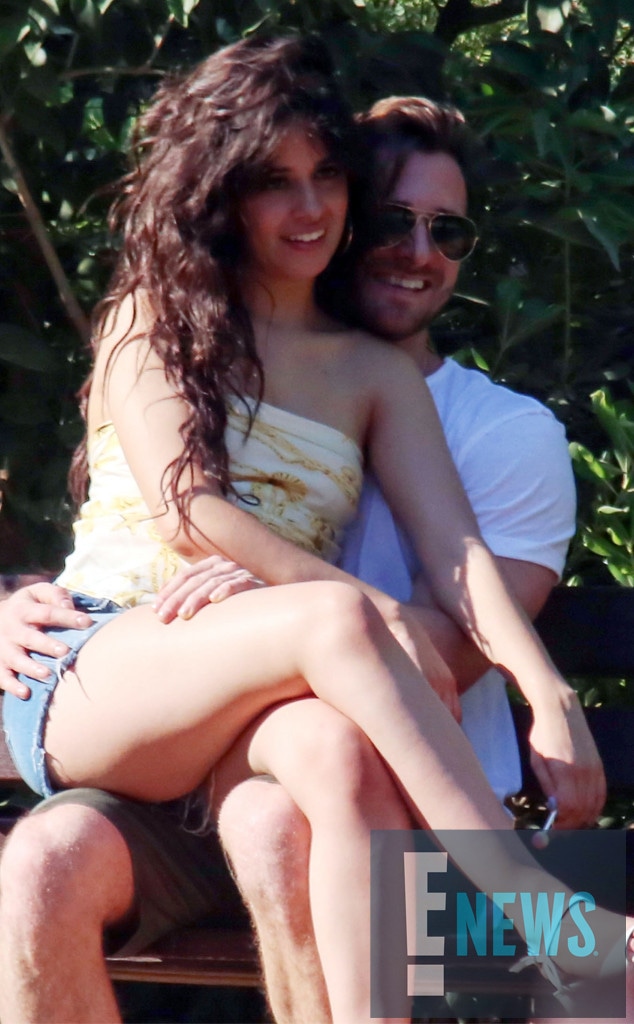 BACKGRID
Half of Camila Cabello's heart may be in Havana, but the other half was on a bench in Barcelona with beau Matthew Hussey. 
The 21-year-old songstress and the dating coach were spotted out and about in the Spanish city on Tuesday and, judging by the photos, there was clearly no shortage of PDA as the couple spent the early evening in the park. 
According to a source, the star arrived in Barcelona on Monday morning along with her author boyfriend, her mom and younger sister while on break from Taylor Swift's Reputation stadium tour, for which she is an opening act. The tour resumes in Kentucky on Saturday. 
According to the insider, the couple hung out at a local eatery Tuesday afternoon with Camila's mom and sister before heading to the Sagrada Família for a tour. However, since the famous landmark was crowded and it was getting late, the group headed to a small park instead for some brief fun.
There, Cabello played on the swings and took a ride down a slide. On a bench, the singer planted a big kiss on her beau while cuddling up on his lap. 
"They are a sweet couple and seem very happy together," the insider described. "A little silly at times, but fun. They have fun together."
It looks like these two are just as smitten as they looked while packing on the PDA during a trip to Mexico together back in February. 
"Camila recently started dating Matthew," an insider told E! News at the time. "It wasn't something she expected, but she knew of him and really enjoys his work."
As the source added at the time, "She has been following him for a while and was a fan, but it took her by surprise that she has gotten to know him on a deeper level."
"I am really, really happy," Cabello later said during a chat on The Dan Wootton Interview podcast. "I feel like I've never been happier in my life."
However, she wasn't so keen on dishing out every detail of her new romance—like whether or not she was in love.
"As far as that, I have always been such a private person and the one thing that has been, I think, the hardest thing about this industry has been letting go of that privacy," she said. "'Cause I feel like, for my sanity and for the sanity of the people I care about, you gotta keep some things sacred. I need to keep some things mine for them to be special—and just to protect that."
"But yeah, to answer your question," she added, "I'm really happy."