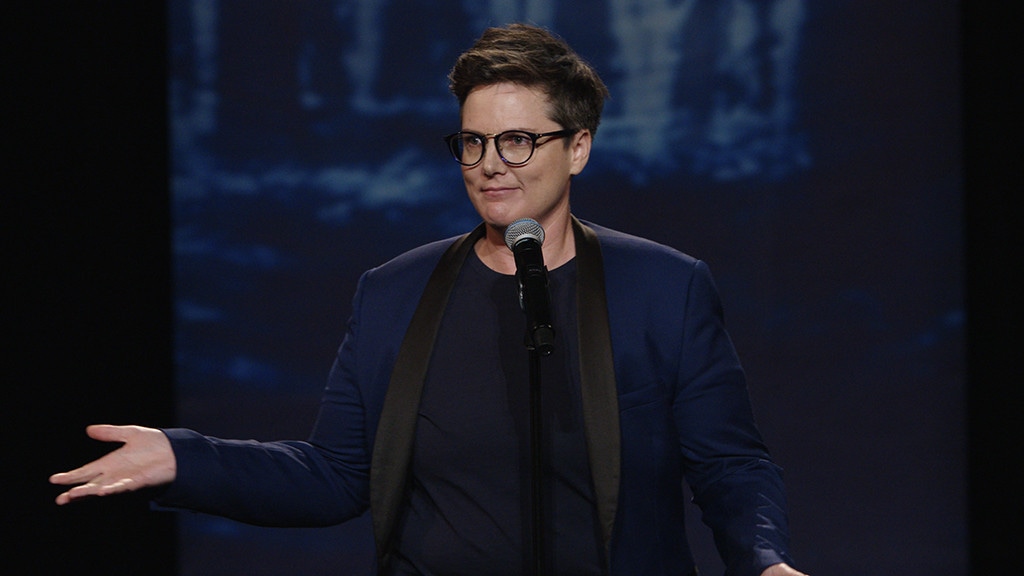 Netflix
You should know this name: Hannah Gadsby. However, if you ask your neighbor who Hannah Gadsby is, they probably won't be able to tell you. That's about to change. Gadsby and her Netflix comedy special Nanette have slowly started making waves—and rightfully so.
Gadsby's Nanette, a comedy show she's toured with and won prestigious awards for, including Best Comedy Show at Edinburgh Festival Fringe 2017, Barry Award for Best Show at Melbourne Comedy Festival 2017 and Best Comedy Performer at Helpmann Awards 2017, made its way to Netflix in June 2018. This isn't your typical stand-up special.
Nanette is funny, raw, unflinching and emotional. It's not every day a comic says they intend to leave comedy in a stand-up set, nor is Hannah Gadsby your traditional comic.
This is everything you should and need to know about Gadsby and Nanette.
Best known to US viewers for her role in the critically acclaimed Australian import TV series Please Like Me, Gadsby made a splash on the Aussie comedy scene roughly a decade ago…thanks to a broken wrist.
"Look, like everything in my life was an accident, I was an accident, but, yeah, I was planting trees for a living. It wasn't going well. You get paid per seedling, and…I don't move that quickly. I wasn't planting a forest a day," she told Seth Meyers.
And one day she broke her wrist planting a seedling. While waiting to have surgery, a friend told her she needed to broaden her audience. The friend entered her into a comedy competition—and Gadsby won. "It was ignorance that got me through," she said. "You know, that charm."
Nanette is called Nanette because…well, a fluke really. "Such a mistake and everyone asks this question," Gadsby told Meyers. "In Australia, I do the festival circuit, so I'd write an hour every year and you've got to come up with names well before you write the show because—Well, I do, because I don't do the work in a timely fashion. So, I had this idea for a show, and I'd just met this woman called Nanette, and I thought I'd get an hour of laughs out of it, easy." After she sat down to write it, well, she didn't get an hour of laughs.
"I really overshot the potential of Nanette," she said.
Nanette was a barista in a small town who Gadsby assumed was an older woman because of her name…but "she was just a bruiser," Gadsby said. "She was just full of hate."
Nanette, the show, starts off like a typical stand-up special. Things take an emotional turn toward the end, an emotional turn that will make viewers think about comedy, comics and their own senses of humor in new ways. Specifically, Gadsby says in the special, "I built a career out of self-deprecating humor and I simply will not do that anymore, not to myself or anybody who identifies with me. Do you understand what self-deprecation means? It's not humility, it's humiliation."
Gadsby said when she first started comedy she went into the self-deprecation arena because that's how she said she learned to "defuse…this situation," referring to herself. While she personally loves that style of humor, she "realized in stand-up, it is very much a man's game, and that's fine…But what I was finding is I was diffusing everything that people would assume about someone like me."
"So basically I'm a fat, queer woman who makes no attempts to be attractive to men…I'm quite a cerebral comic, and I had to undermine all this, and I found that I was putting myself down all the time," she said.
She said she found herself playing into stereotypes, like that lesbians are angry, but she decided to quit comedy and address everything in Nanette because "I was hurting myself."
"I was doing all the fat jokes…And I realized, then, the power I had on stage was not reflected in the world and I didn't know how to reconcile the power I had in the reach with my platform, and then I go out in the world and just be all my sub-human in certain parts," she said. "That's what the show's about…Putting the line in the sand, saying, 'How can I do this job if I'm putting myself down?'"
In an interview with Vulture, Gadsby said she really committed to leaving comedy and telling her story with Nanette. "Yeah, I made the decision that I was gonna be happy to get a job in my brother's fruit and vegetable shop, and I could live with that," she said. "I honestly didn't think this show would do so well. I knew it was gonna be great, for me, but I did not expect it to be received as it was."
The show tackles everything from art history to trauma Gadsby has experienced in her life. Effectively, she is "basically reliving trauma, quite significant trauma, every night."
"I've had psychiatrists and psychologists reach out to me over the course of the 18 months I've been touring, saying 'Nobody's done this, we don't know what you're possibly doing to yourself,'" Gadsby said. "It's like an extreme form of CBT, or neurobiological rewiring, or something like that. It's never easy to perform. It has not gotten easier on the stage. I've really upset audiences, and I can feel that. That affects me in turn. I believe that's just called empathy."
However, it has gotten easier for her Gadsby to leave the trauma and experiences on stage, she said, and the audiences have become more and more understanding and accepting.
"I feel like I suddenly connected to the world, and I didn't understand just how disconnected and isolated I was," she said. "The show hints at that — finding myself more and more connected to so many different people and their stories, or who have connected to mine. It's made me realize just how isolated I felt."
Hear her story now. Hannah Gadsby: Nanette is now streaming on Netflix.