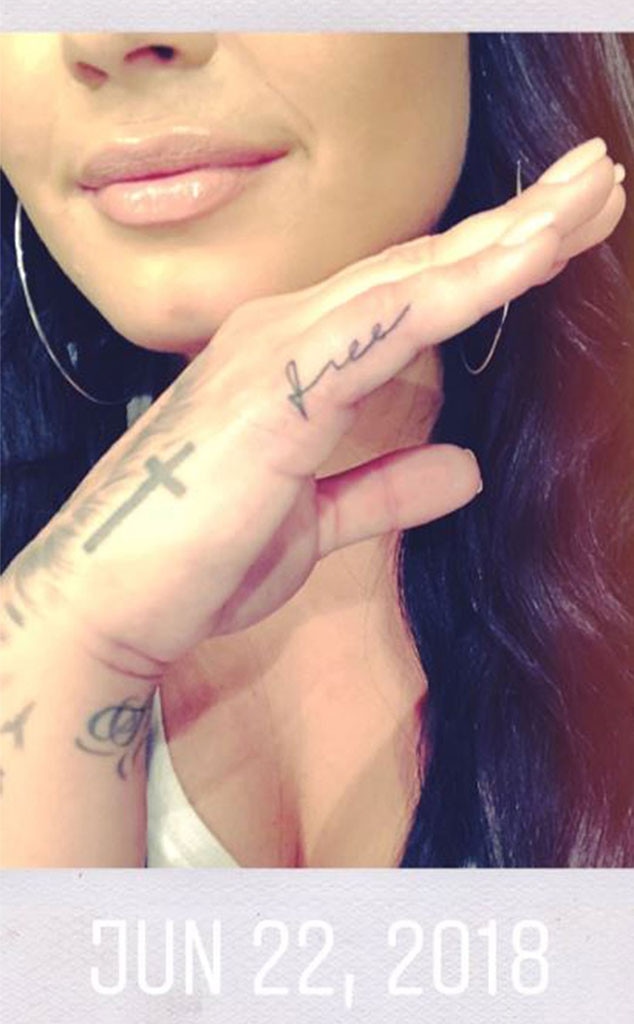 Instagram
Fresh ink for a fresh start.
Demi Lovato took to Instagram Stories on Monday to share her new tattoo, which says "free" in cursive writing on her pinky finger. This is far from the first tattoo for Lovato, who already has more than 20.
The time stamp of the photo reveals that she actually got the tat last Friday on June 22.
In another photo posted to her story, she revealed that her whole team got inked together, showcasing multiple other identical tattoos. "The team that tats together stays together," she captioned the shot while on tour with her band.
Her new ink comes just days after she revealed that she broke her six-year long sobriety in her new song "Sober," which was released last Thursday alongside a lyric video.
In the song, she sings, "Mama, I'm so sorry I'm not sober anymore / And Daddy please forgive me for the drinks spilled on the floor / To the ones who never left me / We've been down this road before I'm so sorry, I'm not sober anymore." 
The tattoo is perhaps part of her "new life" after revealing her truth to her fans.
In her first tweet after announcing her relapse, Demi shared an emotional performance of "Sober." In the video, she sings to a crowd in Lisbon, Portugal while the arena is lit up by fans' cell phones.
"Tonight I took the stage, a new person with a new life. Thank you to everyone who has supported me throughout this journey. It will never be forgotten," the 25-year-old shared on Twitter.
The singer, who has openly shared her battles with addiction and mental illness, seems to be back on track to a sober life with fan and family support.