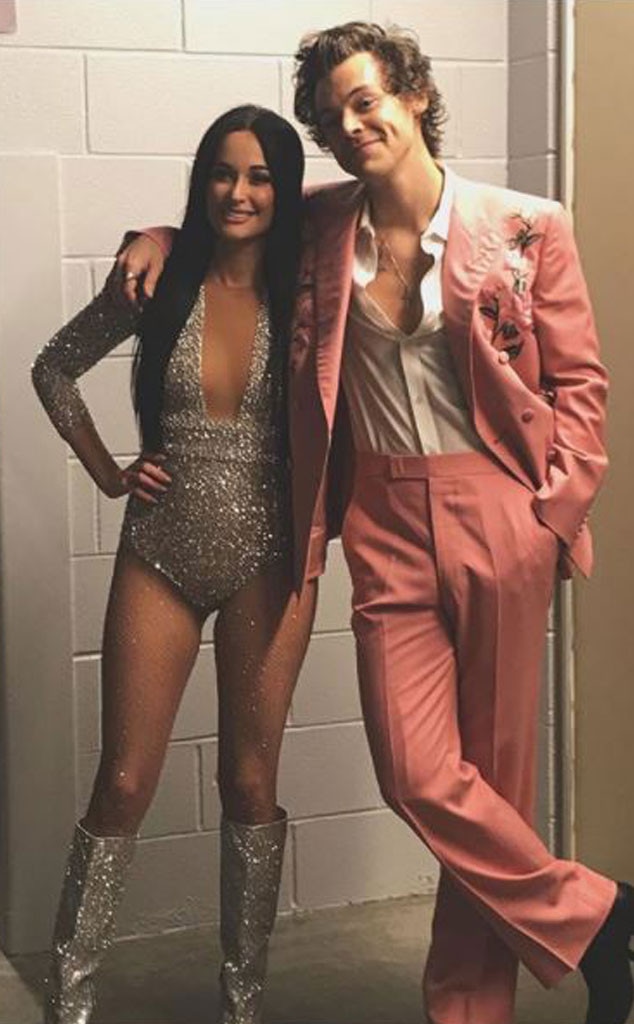 Instagram
Harry Styles is a musical genius. Yes, we said it and we mean it!
In case we weren't already jealous of the fans that have seen Styles on his current tour with Kacey Musgraves, the British crooner just did an amazing collaboration with her and we're obsessed with the duet.
Over the weekend, the two artists took the stage together for one additional song and although it wasn't one of their own tracks, it was a very iconic song...especially in the country music world.
During his Madison Square Garden show on Friday Styles told fans that he and Musgraves were going to sing "one of my personal favorites" and the cover they did was wonderful. 
The two sang Shania Twain's 1997 hit "You're Still the One" and it was everything we've always wanted from the English singer and the country powerhouse, and yet we never actually knew we needed it.  
Even though we are still a little in awe of this music moment, it's not the first time that the former One Direction singer has covered a song so perfectly.
Honestly, he's covered a lot of hits over the years and we're fans of each and every one of them.
If you haven't heard the 24-year-old singer's rendition of "You're Still the One," or his Fleetwood Mac covers, or even his Ariana Grande cover then you are seriously missing out.
Listen to his best covers below and vote for the one you are currently obsessing over.
They're all ah-mazing so it won't be easy to choose...trust us!
"You're Still the One" by Shania Twain
In case you need another reason to love Styles, his rendition of Twain's "You're Still the One" with his tour mate Musgraves is flawless. Styles not only melted our hearts by singing the romantic ballad in concert, but when he plays the guitar and pauses to show off his dimples we just about fell off our chairs. It's totally swoon worthy!
"The Chain" by Fleetwood Mac
In 2017, the "Sign of the Times" singer performed "The Chain" by Fleetwood Mac at the BBC Radio Radio 1 Live Lounge and it was so good. We all know that the British singer has a killer voice but singing such a memorable track live just proves how talented he really is. PS: He claps throughout the track to keep the beat and it just makes it that much better to watch.
"Wild Thoughts" by DJ Khaled (feat. Rihanna & Bryson Tiller)
During the same episode of BBC Radio 1 Live Lounge last year Styles also covered DJ Khaled's "Wild Thoughts" and we can't handle how much of a chameleon he is. Even though the artist slows down the original beat of the song he manages to pull us in from the very beginning and we never wanted this musical moment to end. Plus, he technically sings three different parts in one song, which is just so impressive.
"Girl Crush" by Little Big Town
Clearly the "Sweet Creature" singer is a bit of a country fan and we are now in need of a full country record from the singer! When Styles took the stage for his own show called Harry Styles at the BBC in the fall he did a slower, stripped down version of Little Big Town's hit song and it was absolutely beautiful.
"Just a Little Bit of Your Heart" by Ariana Grande
Styles actually wrote this Grande hit and although he decided not to record it himself he has covered it. When he sings this song you can feel every emotion in the lyrics and it makes us love him even more. Grande's version is emotional and at times haunting and Styles manages to capture that same feeling even with a little quicker pace and added guitar work.
"Ultralight Beam" by Kanye West
During a secret London show last year, Styles took on the hip hop world by covering Kanye West's "Ultralight Beam" and seriously, what can't this singer do? West's version of the track is dramatic and demands your attention while listening to it and Styles lived up to the same vibe with his rendition. His however was more gritty than West's but equally as dramatic.
"Landslide" by Fleetwood Mac
"The Chain" isn't the only song that the former One Direction singer has covered by the legendary band Fleetwood Mac. In 2017, he took the stage with Stevie Nicks herself to sing "Landslide" and the moment was magical. Styles could barely contain his emotions while singing alongside her—he even shed a few tears during this performance—but when he sang it was clear that he knows these songs like the back of his hand.
Bonus: Carpool Karaoke Covers
Last spring, Styles did an episode of James Corden's Carpool Karaoke and in addition to singing his own songs he did a few covers that were brilliant. He performed "Hey Ya" by Outkast and not only did he nail the vocals throughout, but he brought it with the dance moves too.
Next, he sang "Endless Love" and although Corden rocked when singing the Diana Ross part, Styles made the song his when he belted out the Lionel Richie parts. Together they were pretty phenomenal and we wish they'd do even more cover songs together. 
Now that you've heard all of Styles' cover tracks, cast your vote for the one you think he did best!
Harry Styles' Best Cover Songs