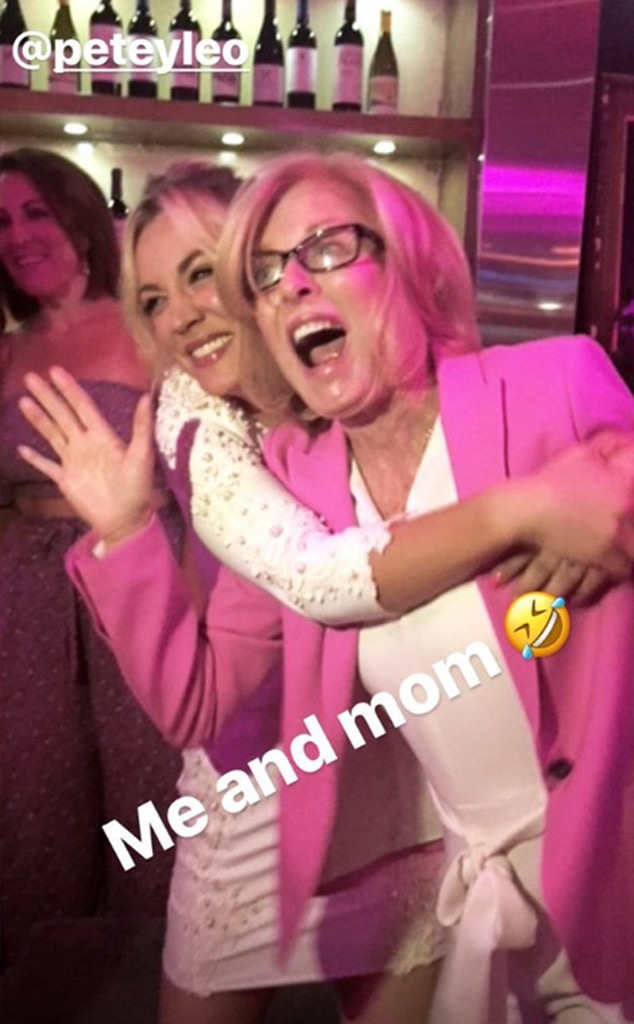 Instagram / Kaley Cuoco
Here comes the bride, all dressed in white...
On Saturday, Kaley Cuoco celebrated with friends at her pink paradise-themed bachelorette party. The Big Bang Theory star wore a long sleeve, studded white mini dress, while most of her guests wore pink. In a video posted on Instagram Stories by makeup artist Jamie Greenberg, the bride-to-be offered a hint about her wedding look, saying, "I'm getting married in white."
Cuoco had worn a pink dress to her first wedding to Ryan Sweeting in 2013. The two divorced in 2016. Cuoco got engaged to Karl Cook last November on her 32nd birthday. The two have been together for more than two years.
The party took place at a bar. Dozens of pink balloons and streamers hung from the ceiling. Cuoco and her guests, which included both men and women, including her sister Briana Cuoco and mother Layne Cuoco, danced to songs from mostly female artists, such as Kelis' "Milkshake," Britney Spears' "Piece of Me" and "I'm a Slave 4 U," Gwen Stefani's "Hollaback Girl," Beyoncé's "Crazy In Love" and "Single Ladies" and Madonna's "Like a Virgin" and "Vogue."
Instagram / Jamie Greenberg
Instagram / Jamie Greenberg
Instagram / Jamie Greenberg
"The most magical night ever," Cuoco wrote on Instagram. "Thank you to my amazing friends and family for celebrating my future as Mrs. Cook! I have never felt more loved."
"Loved is not a strong enough word for how loved you are @normancook," Cuoco's sister wrote on Instagram.