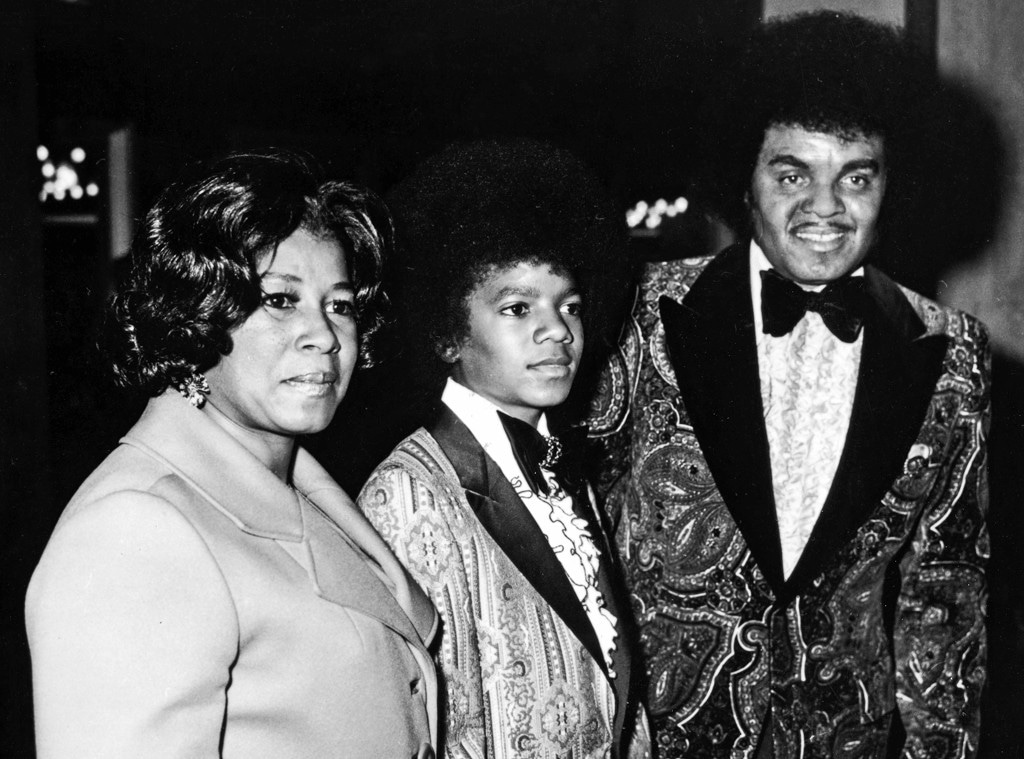 Fotos International/Getty Images
Joe Jackson made his children call him Joseph.
But a controlling father with grand designs on his kids' future does not necessarily a musical dynasty make. Jackson's family just so happened to have included a bevy of talented performers, including a couple of extra-shiny little stars named Michael and Janet.
Joe Jackson is generally thought of as having been an abusive patriarch, one who admittedly used corporal punishment to discipline his children and who had been estranged from wife Katherine Jackson for more than 10 years. Suffice it to say, however, that the global pop landscape might not exist as it is if he hadn't insisted his offspring enter—and stick with—show business.
"I'm glad I was tough, because look what I came out with," Jackson, who died Wednesday morning at the age of 89 after a battle with cancer, told CNN's Piers Morgan in 2013. "I came out with some kids that everybody loved all over the world. And they treated everybody right."
How he treated them, though, has been a subject of controversy, and will ensure that his legacy—as father, husband, head of one of the world's most famous families and a talent manager who set two of the biggest pop stars of all time on their destined course—is a complicated one.
Michael Jackson was 5 when he started performing with the group soon to be called The Jackson 5, with brothers Jermaine, Tito, Jackie and Marlon in their hometown of Gary, Ind.
"It hit me before I was a teenager," Michael said during a series of conversations with Rabbi Shmuley Boteach that he intended to be for a book, which after the artist's death in 2009 became The Michael Jackson Tapes: A Tragic Icon Reveals His Soul in Intimate Conversation.
"I wanted so badly to play in the park across the street because the kids were playing baseball and football but I had to record," said the platinum-selling artist, who at his iconic heights was designated the "King of Pop," per Today.com. "I could see the park, right across the street. But I had to go in the other building and work until late at night making the albums.
"I sat there looking at the kids with tears running down my face and I would say, 'I am trapped and I have to do this for the rest of my life. I am under contract.' But I wanted to go over there so bad it was killing me, just to make a friend to say, 'Hi.' I used to walk the streets looking for someone to talk to."
Talking about his father, Michael said, "One day—I hate to repeat it—but one day [Joe] said, and God bless my father because he did some wonderful things and he was brilliant, he was a genius, but one day he said, 'If you guys ever stop singing I will drop you like a hot potato.' It hurt me.
"You would think he would think, 'These kids have a heart and feelings.' Wouldn't he think that would hurt us? If I said something like that to [my kids] Prince and Paris that would hurt. You don't say something like that to children and I never forgot it. It affects my relationship with him today."
Frank Edwards/Fotos International/Getty Images
Joe joined other family members in his son's camp in 2005 when Michael was on trial for alleged child molestation. He was in the courtroom and reportedly showed no reaction when Michael was found not guilty on all charges that June.
"Well, you know that there was a reason why that happened," Jackson said about the accusations against his son. "They were trying to take control over Michael's life. Michael has paid out a lot of money, you know, what is it? Something like $22 million, you know, to keep this thing hushed down."
"They" were never explicitly identified.
When Michael Jackson died of an accidental propofol overdose at the age of 50, Joe—who was not included in the Thriller artist's will—told various media outlets that his son had feared for his life but no one told had clued him in until after Michael was gone. 
"They treated him like Howard Hughes. Family couldn't get to him, like they should've," he told Morgan on CNN in 2013.
In 2010 he lost a bid to challenge the administration of his late son's estate, which started to rake in money after Michael died, in court. On Wednesday, a rep for John Branca and John McClain, co-executors of the estate since 2009, told E! News that the estate had "developed a warm relationship with Joe in recent years and will miss him tremendously." 
Pool Photographer/Getty Images
At a press conference after Michael's death, Joe said, "Michael knew something was going to happen to him, before it happened. He told his mother, said, 'they are going to kill me for my publishing.' She never did tell me anything about it until after he is gone."
Michael remained close to mom Katherine Jackson, now 88, and she assumed custody of his three children after his death. But she could only do so much about her husband's behavior back when the family was all under one roof.
"She was always the one in the background when he would lose his temper—hitting us and beating us," Michael recalled to Boteach. "I hear it now." Feigning his mother's voice, he said, "'Joe, no, you are going to kill them. No! No, Joe, it's too much,' and he would be breaking furniture and it was terrible.
"I always said if I ever have kids I will never behave like this way," the singer said. "I won't touch a hair on their heads. Because people always say the abused abuse and it is not true. It is not true. I am totally the opposite. The worst I do is I make them stand in the corner for a little bit and that's it and that's my time out for them."
Though some family members have equivocated about the word "abuse," reconciling Joe's harsh ways to the time and culture he was brought up in, Katherine prompted him to talk about it during a 2010 interview with Oprah Winfrey.
"You might as well admit it, that's the way black people raised their children," Katherine said to him, then, turning to Winfrey, "He used a strap. Yes, he did use a strap."
"I don't regret it," Joe insisted.
Talking to Piers Morgan (who hosted a revolving door of Jacksons when he was at CNN) in 2011, Janet Jackson, the youngest of her parent's 10 children together (Marlon's twin, Brandon, died hours after he was born), said she felt her father had meant well.
"I think he means well and wants nothing but the best for his kids," said Janet. "I just think that the way he went about certain things wasn't the best way, but it got the job done. And that's because of maybe how he was raised, doing what he thought was best, not knowing any better."
She wrote in her memoir, True You, that the only time her father hit her, she must have been younger than 8 years old and she was getting out of the bathtub.
"And I can't remember what it was that I did," Janet said. "I can't remember if I truly deserved it. My father's never touched me aside from that time." She acknowledged Joe was quite hard on the boys. "My parents were a lot more lenient with [me and Randy Jackson, the youngest brother], and I thought they were very strict."
Janet acknowledged that her father didn't show his affection much. "Very tough. Jacksons don't cry," Janet quipped.
At the time, though, the "Rhythm Nation" artist said she did not have much of a relationship with him. They had talked a few weeks prior, but "we don't speak that much," Janet said. And she was sorry they weren't closer.
"But I know that he loves me," she added. "There's no question about it—I know that he loves me, and he's told me before... He has his issues, his things, the way he was brought up. He's set in his ways and I think he did the best that he could and I think he did a wonderful job with us—the outcome—but the way he went about it, I don't know if I agree with that. But we turned out OK."
Even La Toya Jackson, who claimed in her 1991 book La Toya: Growing Up in the Jackson Family that her father also sexually abused her and sister Rebbie Jackson, later regretted writing those things. (In his book The Jacksons, Joe accused La Toya's ex-husband of brainwashing her against the family.)
"I was young then and had a lot of people in my life that didn't need to be there,'' La Toya told The Daily Beast in 2011. "So l lashed out at my father, both of my parents really, because of things other people said. Failing to understand that my parents did the best they could for us. They were the best parents they could be to us and that's all you can ask."
On her 2013 OWN show Life With La Toya, the fifth-eldest Jackson child asked "Joseph," who had just given her one of his paintings, if she could call him "Dad" for a change. They were camping and she was wearing a flowing white robe and furry hat as they sat in front of a campfire, roasting marshmallows.
"I'm just happy that we're able to spend this time together," La Toya said. Joe replied, "Means a lot to me, knowing that you care so much, OK?...That's very important to a person like me."
"I care about you so much, you have no clue," she also said, getting emotional, to which Joe said, "I don't like to see a woman cry...Dry those tears up."
Asked if she could call him "dad" from then on, Joe exclaimed, "You don't have to ask me that! You can call me Dad if you like...I love you. Always will, and you're a good person."
In 2013, Joe told Piers Morgan, about the whole "Joseph" thing, "You had all those kids running hollering around. "They're hollering, 'Dad, Dad, Dad,' you know, and it gets to be—it sounds kind of funny to me. But I didn't care too much about what they called me, just as long as they [were] able to listen to me and what I had to tell them, you know, in order to make their lives successful. This was the main thing."
Also on Life With La Toya, Joe told his daughter that he missed Michael "so much."
"My father doesn't feel that men should cry and he's very strong, but he's older now," La Toya said, "and things are different in life. As you get older you change a bit and I think he's becoming more sentimental at his age, he really is."
Harrison Funk/The Jackson Family via Getty Images
In 2010, Katherine was reportedly set to divorce Joe, angry that he seemed to be implying that she could have done more to prevent Michael's death. A spokesperson for the family matriarch told DailyMail.com that his words and conduct toward his estranged wife were "outrageous."
"The world also knows who Joe Jackson is and he seems bent on never letting us forget," the rep said. 
The pair haven't lived together full-time for at least 13 years, but they never did divorce and Katherine was at Joe's hospital bedside shortly before his death in Las Vegas, and there when he died, according to TMZ. But even that wasn't cut and dry, with son Jermaine Jackson telling the DailyMail.com that his father's handlers wouldn't let them see him at first.
"We were not being told where he was and couldn't get the full picture," Jermaine, 63, said. "Even from the doctor. My mother was worried sick."
Various members of the family—Joe had 10 children, including a daughter from another relationship, and numerous grandchildren and great-grandchildren—visited in his final days.
Disney Channel/Image Group LA
On Saturday, Janet Jackson paid tribute to her family, including her dad, at the 2018 Radio Disney Music Awards.
"My mother nourished me with the most extravagant love imaginable, my father, my incredible father, drove me to be the best that I can," the 52-year-old pop icon, who welcomed her first child last year, said. "My siblings set an incredibly high standard for artistic excellence… Sometimes, having an impact can be as simple as a smile, a handshake, or a hug."
Despite their conflicted relationship, as her father's health declined over the years, Janet continued to show up for him, and he was at the 2015 BET Awards when she was given the Ultimate Icon Award.
"When I suffered four strokes last year and was in the hospital recovering, only two people in my family traveled all the way to see me," Joe wrote on his website in 2014, per the New York Post. "My granddaughter Brandi [Jackie Jackson's daughter] and my baby girl, ­Janet. She sat right next to me as I lay in bed, and she spent time with me. We were talking a lot together and it meant a lot to me.
"I never tell this, but I am proud of Janet."