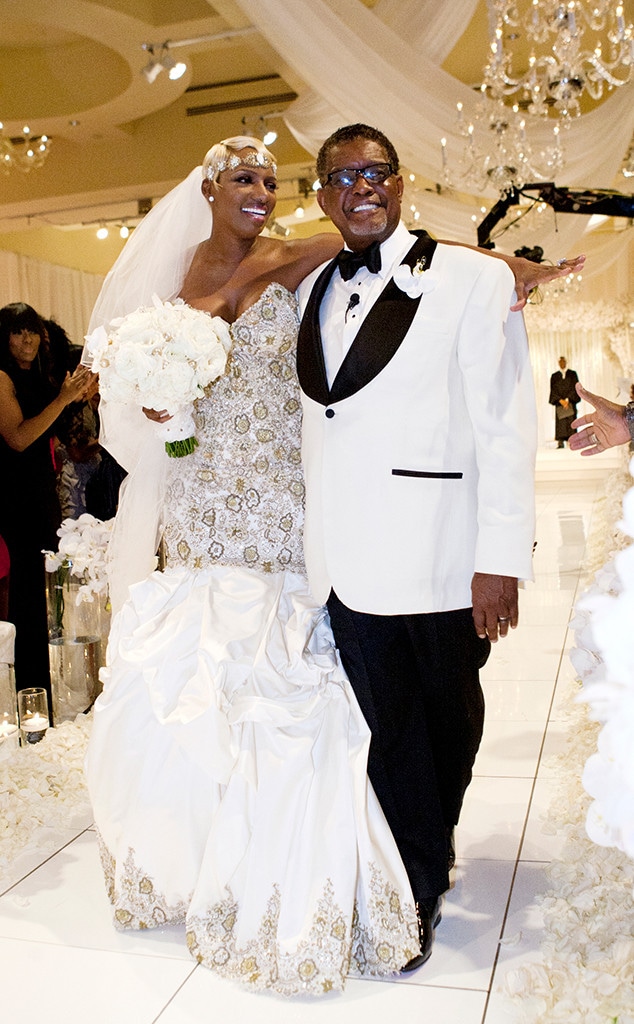 Wilford Harewood/Bravo/NBCU Photo Bank via Getty Images
No battle is too big for NeNe Leakes and Gregg Leakes to overcome.
Earlier this month, the Real Housewives of Atlanta star dropped some unexpected news on Instagram. As it turns out, her husband is currently battling cancer.
"Our New Normal and the fight begins #f--kcancer," NeNe wrote on Instagram while visiting the MD Anderson Cancer Center in Houston.
Since then, the pair has been keeping fans updated on their journey to getting Gregg healthy again.
And as the couple celebrates the five-year anniversary of their second wedding that was documented on Bravo's I Dream of NeNe: The Wedding, the pair remains more united than ever before.
Just last weekend, NeNe and Gregg decided to mark Father's Day in a far more casual way than years' past.  Step one was just spending quality time together at home.
"This Father's Day will probably be one of the most memorable ones we've ever had together! We are usually doing something all fancy but today we chose to just enjoy each other, have some company over and take tons of pics right here in the kitchen," NeNe previously shared with her followers. "No really, I love you more today than ever Gregg."
And while Gregg may not be the most active on social media, his wife is making fans know that he appreciates the love and support coming from co-stars, fans and those at home.
Much of the cast including Porsha Williams, Cynthia Bailey and Eva Marcille have stopped by to visit Gregg. In fact, former enemy Kim Zolciak-Biermann delivered gifts that the couple graciously expected.
As to what keeps these two strong during difficult times, Gregg previously explained his mindset with Bravo.
 "Respect, communication, love, and we will never stop trying," he told BravoTV.com about his wife that he first married in 1997 before remarrying her in 2013 after a brief separation. "I respect her, that's first. And I let her be her. That's it."
And when Gregg traveled to the Big Apple with his leading lady to support her work at New York Fashion Week, he was the first to admit that he works hard to care for his wife when she's working.
"I pump her up. I keep her going. I rub her feet," he said. "I whisper sweet nothings in her ear. And I do whatever it takes to keep her going, keep mama happy. Mama happy, daddy happy."
Perhaps the roles are being reversed this summer as Gregg continues to heal after his cancer was removed. If anyone can handle it, it's these two. After all, they don't call themselves the "the unstoppable Leakes" for nothing.
(E! and Bravo are part of the NBCUniversal family)