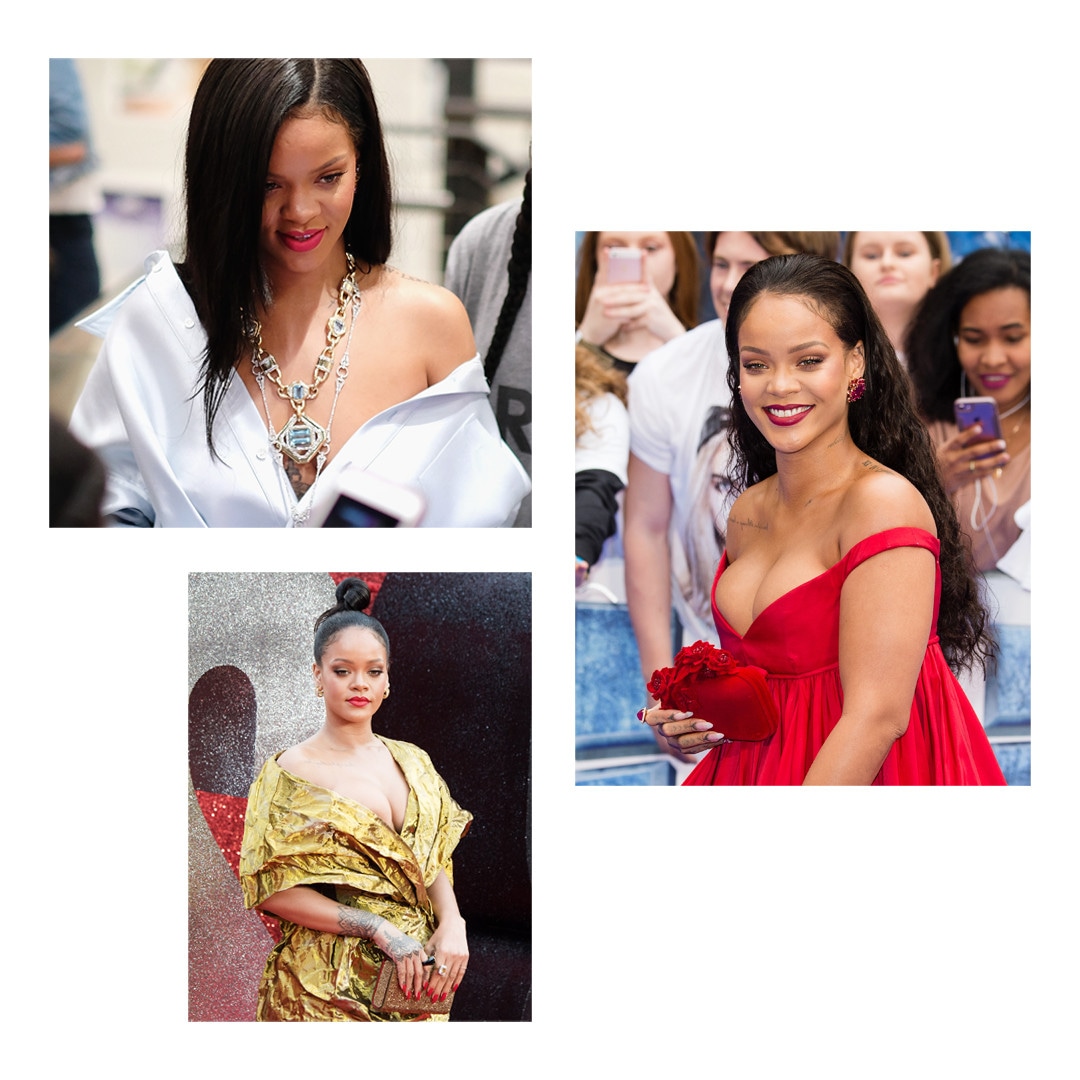 Getty Images
Let's be real: One size does not fit all. 
Some of us are built curvier. Some like their collarbones more; others, their legs. No matter what shape you are, there's a way to flaunt your best assets. Case in point: Certain celebrities are masters of this technique, focusing on one body part and wearing the same cut or silhouette to showcase it over and over.
Can this look be a little redundant? If it ain't broke, why fix it?
If You Like Your Décolletage...
Rihanna—the "Lemon" singer can do no wrong, but she often opts for an off-the-shoulder neckline, which not only shows cleavage but the contours of the collarbone and shoulders. The Ocean's 8 actress champions this look whether she's on the red carpet or casually out and about. In more informal settings, opt for a denim jacket or an oversize blouse, keep the top half unbuttoned, drape it over one or both shoulders and belt the top around your waist, creating an exaggerated hourglass shape. Bonus: This look is very flattering for those feeling a little bloated. 
If You Like Your Thighs...
A sliver of skin will get you far—just ask Beyoncé, whose tour wardrobe is practically an homage to her beautiful assets. You needn't the deep pockets to re-create this look either—simply pair your shortest shorts with your highest thigh-high boots. Bey is a fan of heavier looks, layering oversize or structural garments on top. Since it may be too hot to do this in everyday life, a simple oversize tee or denim jacket will create the same proportions. 
Getty Images / Rex Shutterstock / Splash News
If You Like Your Hips...
Two words and a hyphen: body-con! But like Kylie Jenner, you don't always need to depend on a tight dress to flaunt those body parts. High-waist leggings paired with a cropped top can enhance the hips your mama gave you. Very important: Consider stretch fabrics as well for added impact. 
If You Like Your Curves...
Take notes from Sofia Vergara and don a fit-and-flare at all times. There's a reason why a va-va-voom reaction is synonymous with the Modern Family actress' name. The trick to mastering this silhouette is following a proportions formula: A fitted top plus cinch-in waist plus the dress, skirt or pants hem needs to jut out equals a very hourglass-friendly look.  
Getty Images / Splash News
If You Like Your Abs...
This one is easy: Crop tops. All Day. Every Day. To elevate the look like Gigi Hadid, play with layers. While high-waist pants and a top will do the trick, think about creating more dimension with levels: perhaps a longer bralette or sports bra under a shorter top with a jacket over top. It balances out that svelte core. 
Getty Images / Rex Shutterstock
If You Like Your Waist...
If you're a fan of Octavia Spencer's look and want to showcase your waist like the A-list actress, it's all about a cinch-in A-line silhouette. Opt for dresses with an accented waist or built-in belt, so that the silhouette of the skirt flares out like an "A." For more casual occasions, try high-waist bottoms paired with a tucked-in shirt. 
If You Like Your Legs...
Make sure they are always on display! It doesn't matter what hem length model Joan Smalls wears, with her mile-long legs, she can make it work. However, if you're not blessed with such stems, there are a few tricks of the trade. If you're going for a longer hem, elongate the legs with heels. Additionally, adding vertical lines along with your ensemble creates an optical illusion. For example, opt for vertical stripes or if you're wearing a top and bottom, pair the look with a maxi trench or cardigan. 
What's your favorite body part?