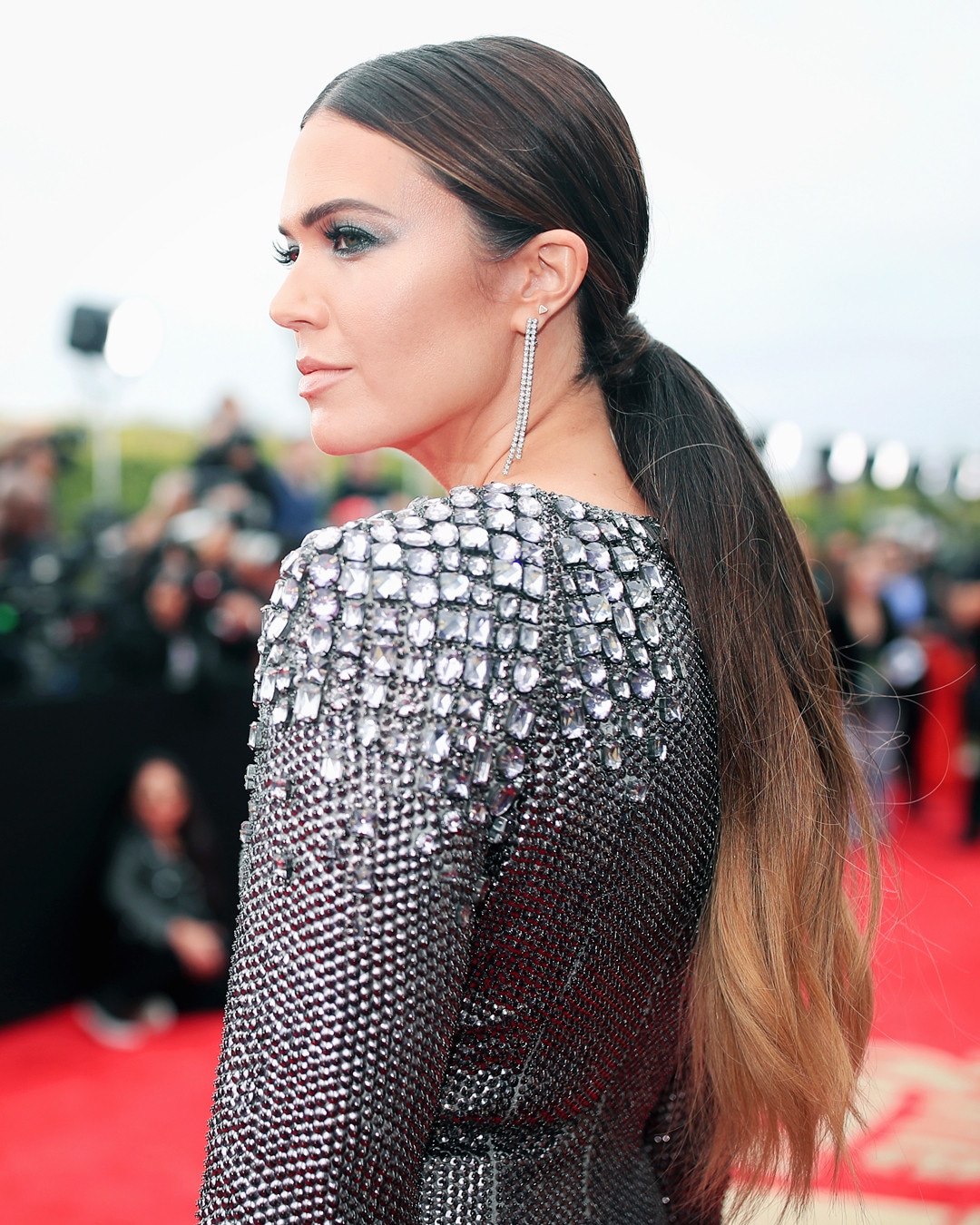 Christopher Polk/Getty Images for MTV
As mermaid hair continues to dominate the red carpet, have you ever wondered what goes into creating these long-hair styles?
Celebrity hairstylist Ashley Streicher has the answers. After Mandy Moore appeared at the MTV Movie and TV Awards with an low, ombre ponytail, the beauty pro revealed the secrets behind the look. Spoiler alert: You don't need long hair to recreate it.
After straightening the This Is Us star's hair with Pro Beauty Tools, "I gave her a tight sleek low pony tail and secured it with a plastic elastic," she said in a press release. "I used a weft of hair the same color as Mandy's and wrapped the weft of 18-inch hair around her ponytail, securing it with bobby pins along the way."
Once the added hair was secured, she continued, "I wrapped all of the hair around the 1.5 inch barrel attachment of the Pro Beauty Tools 3-in-1 Copper Ceramic Styling Wand Kit just to give her pony some texture."
Pretty simple, right? To recreate the red carpet style that Jennifer Lopez, Beyoncé, Tiffany Haddish and more celebs have worn, the hairstylist shared three tips to perfect the look:
Tip 1: Invest in Real Hair
"I definitely recommend real hair," she said. "I love the Hair Shop in LA—they're also online. They literally have something for everyone and the employees are very knowledgable and helpful. The weft we used for Mandy was just a long sewn weft, which made it easy to wrap around a ponytail. You can also buy an actual extension ponytail—much easier for users at home!"
Watch:
Mandy Moore Reveals If She Prefers Being Blond or Brunette
Tip 2: Find the Right Color
"In this case, because it was just a ponytail, the most important factor was making sure the the color matched exactly. I even made sure that the ombre was correct with the color of Mandy's naturally lightened ends. So in this case, there's no need to trim or blend the hair with her natural hair. Her real hair was pretty much hidden in the ponytail. Be sure that the color weft you choose is the same color as the roots of your hair."
Tip 3: Give It a Little Texture
While you don't need heat protectant on the weft, "It's usually too soft and I need to use product to texture it up a bit if anything!"