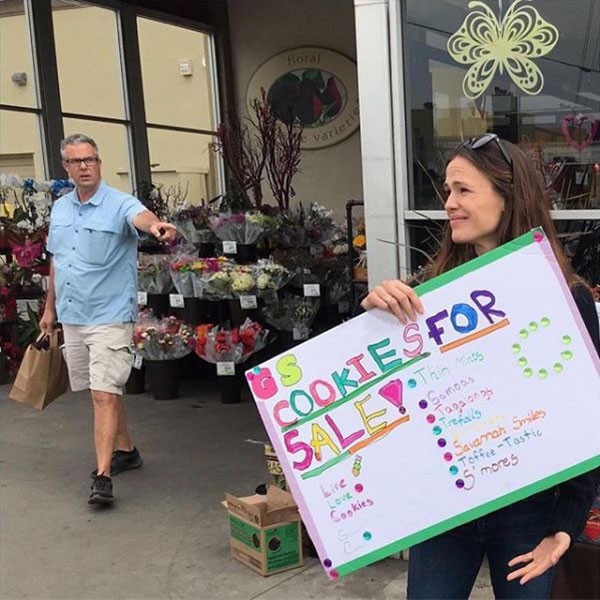 Instagram
Jennifer Garner is the definition of a cool mom.
The award-winning actress is remembered for iconic roles in movies such as Alias and 13 Going On 30. Her most important role, however, is as a parent to her children.
Jennifer has three kids with her ex-husband Ben Affleck including 12-year-old Violet, 9-year-old Seraphina and 6-year-old Samuel.
One look at mom's Instagram and you'll be able to see how Jennifer goes above and beyond the call of parenthood through cooking, joking and dressing up for her kids.
Don't believe us? See all of the reasons why Jen is the prime candidate for mom-of-the-year below. 
She Helps Sell Girl Scout Cookies: Now that's one food stand we'd definitely stop for! Jen showed us that she's not afraid to go to work as she stood outside a grocery story holding her kids' cookie sign. She hilariously captioned the shot, "Why yes, kind sir, we do have Thin Mints." She's previously proven to be a supportive Girl Scout mom in an earlier post of her chaperoning a camping trip writing, "Taking a Girl Scout to pee at 4am is [love]. #RoarAndSnore #Chaperonelife."
She Cooks Meals From Scratch: Jen is quite the cook. She often shares Instagrams of herself making delicious homemade meals for her kids. But that doesn't mean it's always appreciated. The actress shared this hilarious meme that suggests her kids don't always love her meals.
She Has a Great Sense of Humor: The proud mom has proven that she can take a joke—and make one too. She shared a post-it her kid wrote that said "I love farts," writing, "In case Monday has got you down, focus on the little things that make you happy." She also posted a hilarious rap from when she was a guest on The Ellen Show captioning it, "For all the mamas out there— I see you, I hear you, and I celebrate you. And I rap for you. #HappyMothersDay #JennyGTheNextCardiB."
She Makes Target Trips Hilarious: While supporting Once Upon a Farm, the actress decided to put on her acting shoes and play the role as a Target employee. And yes, she also played a curious shopper wanting some healthy food for her kids. By the way, did anyone notice how full her shopping cart was? Trust us, we get it. 
She Gives Us Fashion Inspiration Thanks to Her Kids: Homemade gifts? Jen says yes please! "When your nine year old weaves a 12ft long scarf on a peg loom for your birthday present, you'd better #werk," the mom of three hilariously captioned the shot of her wearing the colorful garment.
She Wants Her Kids to Have a Good Relationship With Their Dad: Even though Jen and her ex-husband Ben Affleck separated in 2015, there's no bad blood between the exes. Jen is often seen hanging out with her ex and kids and even posted an adorable Father's Day tribute for Affleck. "Our kids are lucky to have a dad who looks at them the way you look at them and loves them the way you love them," Garner wrote.
She Lets Her Kids Have Adorable Pets: Garner has a full house! The family has an adorable puppy they named Birdie. In addition to her dog, Garner recently welcomed seven chicks to her family. "The votes are in and the answer overwhelmingly clear at this house— please meet our new friend, #Hennifer," she captioned a video of her new addition.
She Dresses Up for Her Kids: A mom who's willing to wear embarrassing costumes is the best type of mom. Jen shared a funny post of herself wearing a costume for a celebration at her kids' school writing, "SPOTTED on the 100th Day of School: ZERO THE HERO!" She even dressed up in full Halloween attire to read a book to the family dog.
She Teaches Her Kids Important Lessons: Jen often shares inspirational quotes to her Instagram and it seems like they're the lessons she teaches to her three kids too. Her efforts have obviously paid off as she shared an example of her son spreading the love by writing, "You are loved. I believe in you," on a sheet of paper. The proud mom wrote alongside his note, "When the librarian finds a love note your son tucked into a picture book... #ActsofKindness #SpreadLove."
She Supports Her Kids Even When She's Far Away: The busy actress makes sure to not let her career get in the way of supporting her kids. "Live streaming the school talent show from set = have your cake and eat it, too. #workingmom #pixelatedbutcute #imissthehugafter," Jen captioned this shot while watching her kids' talent show while she was away working.