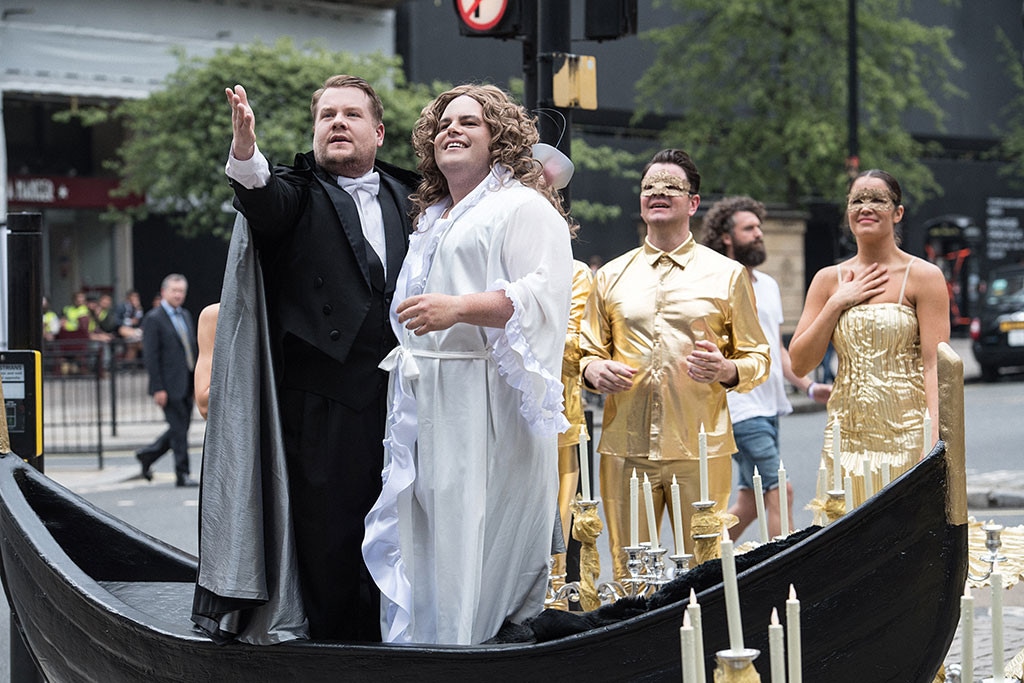 Craig Sugden/CBS
When in London, Andrew Lloyd Webber musicals are a must. 
James Corden certainly got the memo when he took The Late Late Show to England this week for days of fun in his home city. Naturally, the Tonny winner could not leave without performing a version of his signature "Crosswalk the Musical" set to the work of a fellow London native and acclaimed composer. 
On Monday night, the late-night host revealed his troupe's latest creation—a show dedicated solely to Webber's iconic shows, including Evita, Phantom of the Opera and Cats. 
However, it seems Corden wasn't so keen on sharing the lead roles because he landed all of the major characters. Coincidence? We don't think so, either. 
Of course, it proved to be all the more entertaining when he had to dress up as Eva Perón in a strapless white gown and blond wig. However, he did not play all of the female roles. When it came time for the Opera section, the cast realized they had not enlisted a Christina for Corden's Phantom. Not to fret! He had someone on speed dial: Josh Gad. 
The Frozen star showed off his higher range as he serenaded passengers on the street in a curly wig and nightgown. Meanwhile, Corden was equally committed to his roles as he licked milk out of a bowl following his Cats choreography. 
The musical theater extravaganza concluded with a finale set to Joseph and the Amazing Technicolor Dreamcoat, complete with—you guessed it—a jumbo-sized technicolor coat. 
However, words just won't do this show justice. Check out the clip above for your own front-row seat!