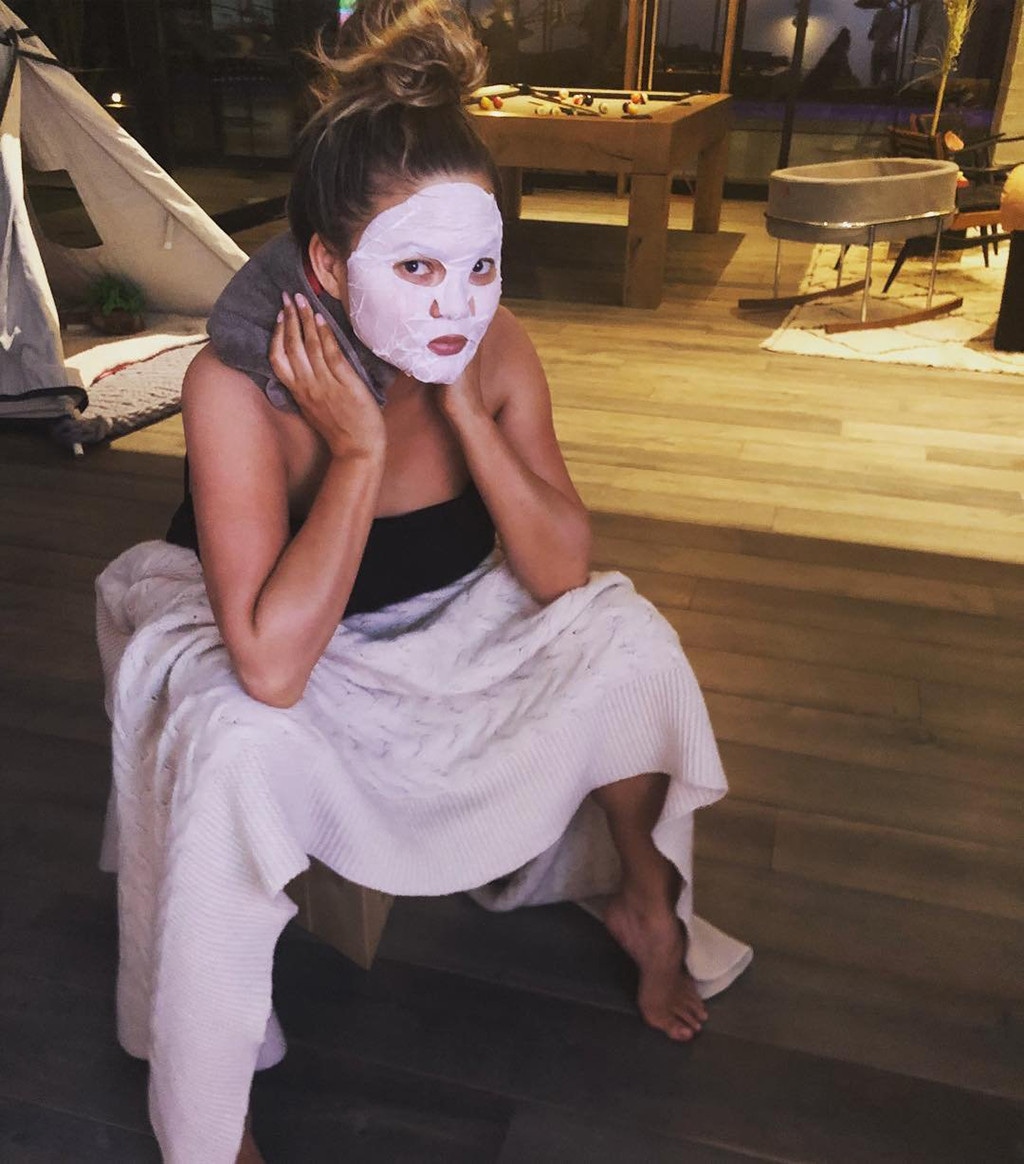 Instagram
Only Chrissy Teigen could manage to be simultaneously humble and vain.
Last night on Instagram, the new mom gave her 18 million followers a glimpse of her unusual beauty routine. "face mask / heat pad / vagina steam," the cookbook author explained in her photo caption. "No I don't know if any of this works but it can't hurt right? *vagina dissolves*."
After sharing a link to the funny photo on Twitter, a somewhat embarrassed Teigen tweeted, "I said vagina. It looks so weird I wanna change it to vajay but I'm gonna try to be adult about this." So, um, why did she decide to get a vagina steam in the first place? "Don't ask," she said. One of Teigen's Twitter followers, Dr. Jennifer Gunter, argued the practice is a "scam" and warned her it's "potentially harmful." However, she added, Sitz baths are "definitely endorsed." Teigen gave a tongue-in-cheek response to the OB/GYN, writing, "what are you a f--king vagina doctor!!!!! Jk jk I love you literally everything I buy is a scam." Another user urged her to heed Gunter's advice, but she jokingly replied, "Too late. It's dead." Lest anyone take her seriously, Teigen clarified she's "friends" with Gunter and wrote, "I love u thank you for caring about my vagina."
Teigen isn't the first celebrity to get her vagina steamed, of course. Three years ago, Gwyneth Paltrow made headlines when she told people to visit Tikkun Spa, which is the "next level when it comes to Korean spas." In a Goop newsletter, she raved about the Mugwort V-Steam, writing, "You sit on what is essentially a mini-throne, and a combination of infrared and mugwort steam cleanses your uterus, et al." Best of all, the businesswoman said, "It is an energetic release—not just a steam douche—that balances female hormone levels...If you're in L.A., you have to do it."
(Unlike Paltrow, Teigen appeared to be doing her steam in the privacy of her own home.)
Two years later, Paltrow's Country Strong co-star Leighton Meester was asked whether she would ever follow Paltrow's advice. "What?!" she asked in a Byrdie interview. "What is that?"
"I personally don't feel like you should be adding anything into your vagina; it's self-cleaning," she added after learning more about it. "We're fine; I'm going to say neither on the vag steam."
Paltrow is less skeptical about such things. "When you're at the forefront of something that's new, people can get really reactive: 'This is crazy! Why are you doing this?' Then, five years later, everyone's fine with it," she explained to Women's Health in 2017.  "When someone doesn't like something you do, or doesn't share your interest in something, that doesn't have anything to do with you. One of the best things someone ever said to me was that the only time criticism hurts is if you have a judgment about yourself about that very thing," she added. "If someone's like, 'You dick, you have red hair!' and you've got brown hair, it doesn't bother you."
Watch Daily Pop weekdays at 12:30 p.m., only on E!