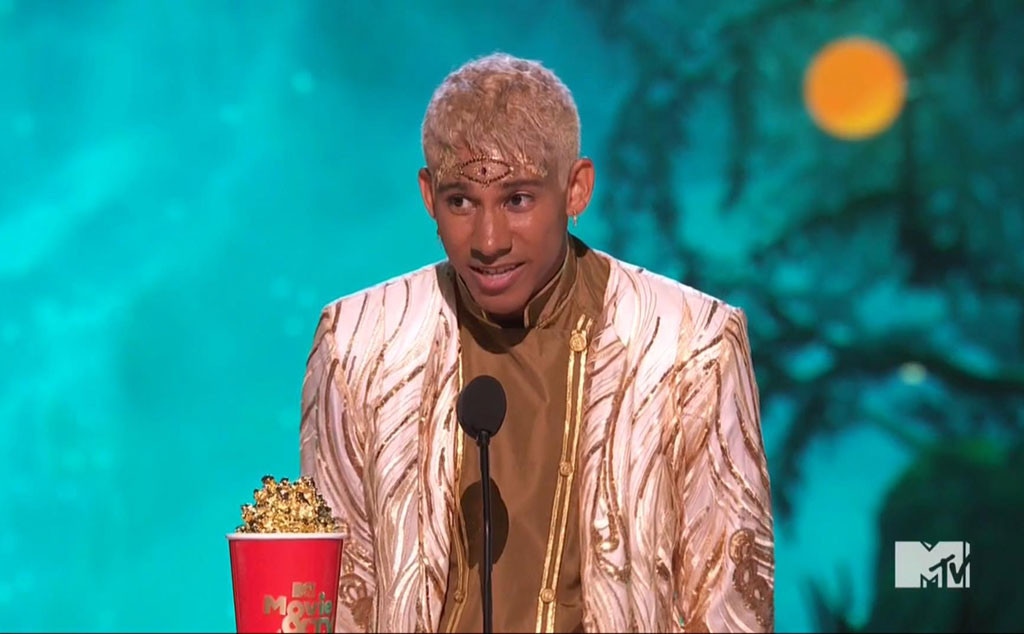 MTV
Keiynan Lonsdale and Nick Robinson won the award for Best Kiss at the 2018 MTV Movie & TV Awards.

The cast of 13 Reasons Why took the stage to present the award and announced the Love, Simon co-stars as the winners of the category during the show, which aired on MTV on Monday evening. Robinson was not in attendance at the award show, but Lonsdale was there to take the stage to accept the award.
"First of all, I know Nick really wishes he could be here, because I know he would be so grateful for this moment," Lonsdale said. "I just want to say to every kid, you can live your dreams and wear dresses."
"You can live your dreams and kiss the one that you love, no matter what gender they are. You can live your dreams and believe in magic," Lonsdale concluded his speech. "You can be yourself. Thank you so much."
In addition to starring in Love, Simon, 26-year-old Lonsdale plays Wally West/Kid Flash on The Flash, he also played Uriah in Insurgent and Allegiant.
From 2012 to 2013, Lonsdale starred as Ollie in the series Dance Academy. He's also a singer and songwriter.
You can check out the complete list of 2018 MTV Movie & TV Award winners HERE!