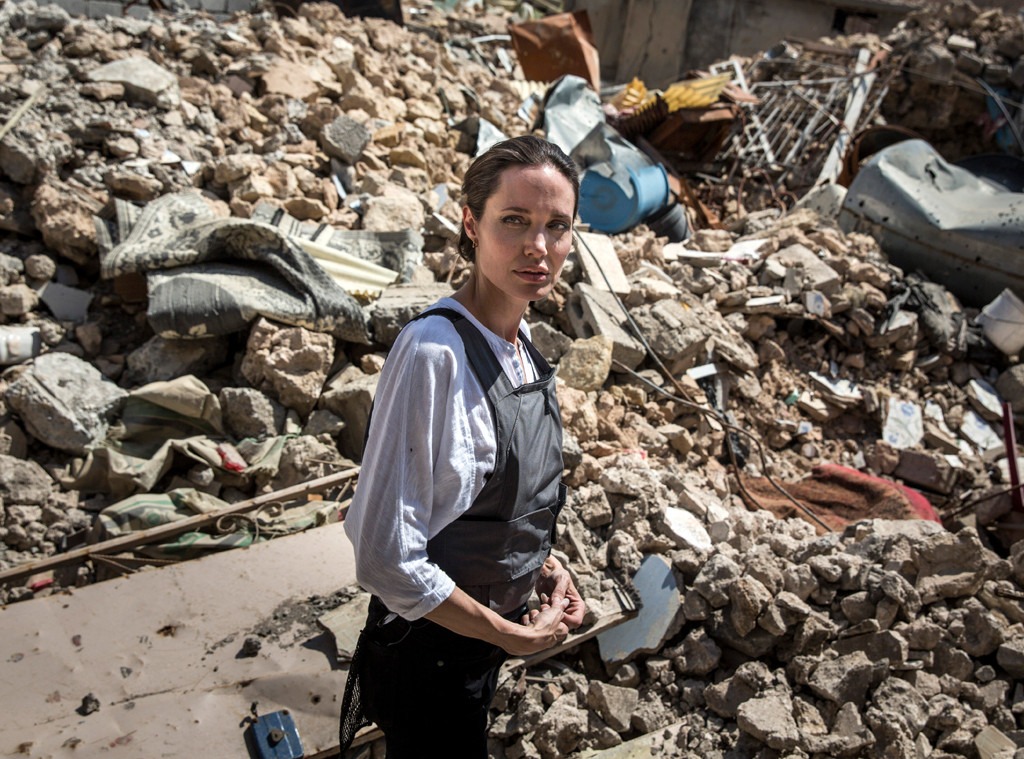 Andrew McConnell / UNHCR via Getty Images
Like many dads, Brad Pitt celebrated Father's Day by spending time with his kids.
The actor enjoyed the big day with his children in London. The Moneyball star shares six children with his ex Angelina Jolie: Maddox, 16; Pax, 14; Zahara, 13; Shiloh, 12; and Vivienne and Knox, 10. However, it is unclear if all of the children were in attendance.
The news comes shortly after Jolie and Pitt reached a new custody agreement for the summer. According to the documents, Pitt will have physical custody of the children for four hours per day from June 8 to June 17. These hours will then change to 10 hours per day from June 27 to July 1. Pitt is also scheduled to have custody for set dates later in July.
Maddox, however, is allowed to determine how much time he spends with each parent.
Per the court documents, a judge in Jolie and Pitt's divorce case determined "not having a relationship with their father is harmful" to the children. The judge also noted that it is "critical that each of them have a healthy and strong relationship with their father and mother."
While Pitt celebrated the holiday with the kids, Jolie was in Iraq visiting a refugee camp ahead of World Refugee Day. The Maleficent star, who is also a special envoy for the United Nations refugee agency UNHCR, made a statement during her visit. 
"In my country, when we speak of the Middle East, we often focus on conflict and human suffering. And it is true that countless families in Iraq, Syria, Libya and Yemen are suffering from conflict they personally have no part in, instability they cannot control, and extremism that they reject," she said, per UNHCR. "But on this visit I have been reminded, as I am every time I am here, of the truly extraordinary dignity, resilience, warmth, generosity and grace of the people of the Middle East."
Jolie went on to "thank the people of Iraq for their generosity towards refugees and displaced people." She also said she was happy to be in Iraq during the celebration of Eid al-Fitr. In addition, Jolie spoke about the number of displaced people and the durations of their exiles, which she said are "the highest they have ever been."
"At the same time, political solutions seem completely lacking, leaving a void that humanitarian aid cannot fill," she said. "Words like "unsustainable" don't paint a picture of how desperate these times are."
According to the actress, UNHCR's Syria response is funded 17 percent this year—down from 50 percent the year prior.
"When there is not even the bare minimum of aid, refugee families cannot receive adequate medical treatment, women and girls are left vulnerable to sexual violence, many children cannot go to school and we squander the opportunity of being able to invest in refugees so that they can acquire new skills and support their families," she said. "This is the picture in Iraq, in Syria, and wherever in the world you find refugees and displaced people today. The only answer is to end the conflicts that are forcing people to flee their homes—and for all governments to meet their responsibilities."
This isn't the first time Jolie has visited a refugee camp. She visited a Syrian refugee camp in Jordan with Zahara and Shiloh in January. She also visited adolescent refugee girls in Kenya last year.