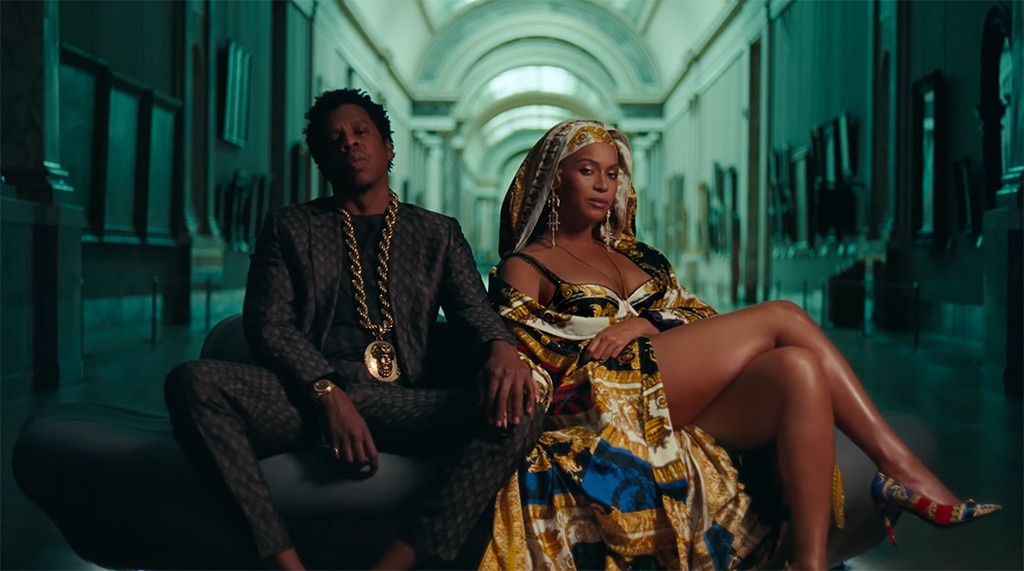 YouTube
Beyoncé and Jay Z have gone "Apes**t" and surprisingly that's a good thing.
After dropping their new joint album, Everything is Love, on Saturday the couple has cemented their status as one of Hollywood's most powerful couples of all time.
They sing together, rap alongside one another, rise up to each other's fashion icon status and of course make legendary music videos together.
Over the years, the duo has had their fair share of ups and downs, but throughout it all their music has triumphed.
In fact, they have done a lot of collaborative projects throughout their relationship and this new music video for "Apes**t" off their latest record is just one of many memorable videos from the pair.
This video might be wild and so fashionable it hurts, but we're not sure it's their best video as a couple. It sounds crazy we know, but there are so many amazing videos to choose from!
The couple has had a ton of successful joint videos over the past few decades—sometimes Jay Z is featured on a Beyoncé track while other times the mother-of-three pops up in her husband's videos—and we really do love them all.
There can only be one winner however when it comes to which of the couple's music videos together is actually the best.
That being said, prepare yourself for a trip down memory lane via Jay Z and Beyoncé and then vote for your favorite video from the duo below!
"Apes**t"
In June 2018, the power couple dropped an unexpected video for their new song, "Apes**t" and it's probably the most intricate and unique video from their projects together. The video was shot in the Louvre because why not film in the most impressive museum of all time?
It features amazing choreography by a group of dancers as well as Beyoncé herself and a lot of amazing fashion moments from the duo. It's definitely a wild video and worthy of art status in our minds.
"Bonnie & Clyde"
Have you ever wondered what it would be like to see Beyoncé and Jay Z on the run? Well, in the rapper's video for "Bonnie & Clyde" we see the two out on the road and running from the cops. They are cruising as they make a break for the border and somehow go undetected. Throughout the semi-mellow video you see that these two are definitely a ride-or-die couple and therefore we can't help but love watching it.
"Upgrade U"
Ah, who can forget this classic Jay and Bey track? The video from 2009 is one of our favorites from this duo. It shows Beyoncé lying in a pool, and rolling around in dirt all while wearing a lot of bling and showing off how fierce she is. The former Destiny's Child singer even dresses up as her husband before he makes his appearance and it's brilliant.
"Crazy in Love"
This is easily one of Beyoncé and Jay Z's most iconic songs to date. The video for "Crazy in Love" features Queen Bey in those iconic denim shorts dancing in red heels before doing her amazing booty bounce, which many have tried to replicate but never can. When her husband shows up for his portion of the song he lights a car on fire and then Beyoncé comes out with a fur shawl and dances with him in Los Angeles. It is fiery and so fierce.
"Drunk in Love"
As the follow-up to "Crazy in Love," "Drunk in Love" was a highly anticipated video and it didn't disappoint. The video begins with Beyoncé holding a trophy on the sand in a sexy bathing suit and sheer dress. It's much more dramatic than the video that came before it and accurately depicts what it's like to be "drunk in love." Jay Z eventually meets his wife on the beach and raps while holding her and drinking wine…it is epic. Plus, the video is in black-and-white which makes it even more artistic and memorable.
"On The Run (Part II)"
The video for "On The Run (Part II)" is the closest thing to this couple starring in a movie together and it's amazing. It shows the musical couple getting through everything together and is thought to be the follow-up to "Bonnie & Clyde." They rob places, run from a lot of people, fight and end up in the desert together. The whole video is theatrical, intense and lets us imagine what these two would be like as an outlaw couple.
"Déjà Vu"
"Déjà Vu" shows off just how hot these two are as a couple. Throughout the video you see Beyoncé in a variety of saucy outfits in a room as Jay Z lounges on a big chair and brags about getting Beyoncé. You then see the sexy singer out in the wild, again in gorgeous dresses, before it switches back to the rapper singing as Beyoncé dances on and around him. It's hot...really hot!
"Family Feud"
In January 2018, Jay Z released his video for "Family Feud" off of the 4:44 album and it is one dramatic video to say the least. In addition to the power couple of Beyoncé and Jay Z, it stars Michael B. Jordan, Jessica Chastain and many others. There is murder, time travel, fighting and constant images of strong and powerful families that rise and fall together. When it comes to Jay Z and Beyoncé's parts they sing in a church and it's like watching art come to life on screen.
Beyoncé & Jay Z's Best Videos