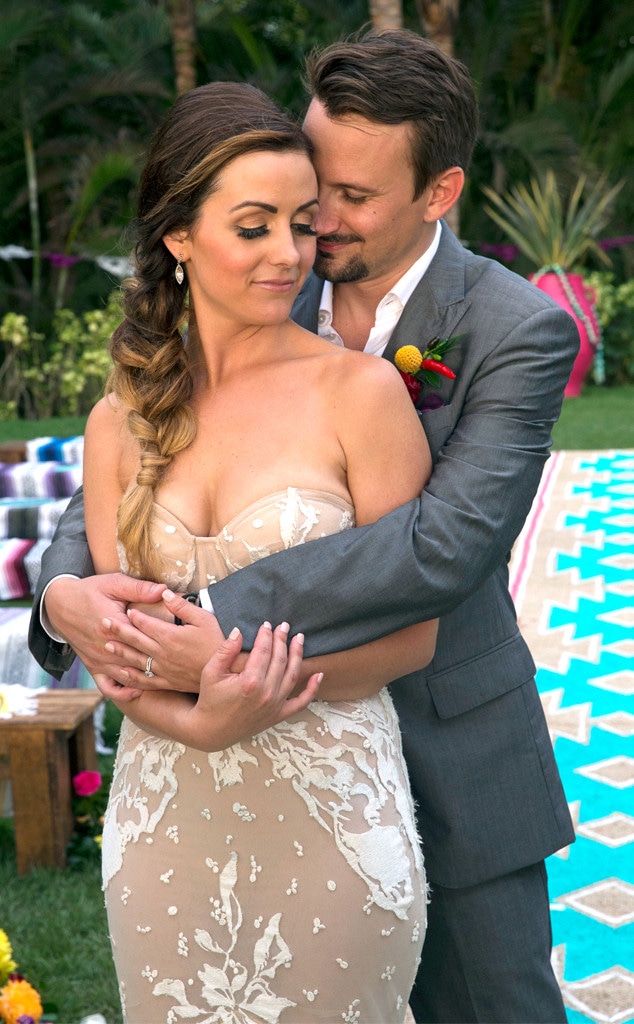 Paul Hebert via Getty Images
It's the fairytale ending Bachelor in Paradise fans didn't see coming.
When Carly Waddell and Evan Bass first laid eyes on each other near Puerto Vallarta, Mexico, it wasn't exactly love at first sight.
But as Bachelor Nation fans know all too well, love has a funny way of showing up at unexpected times. For these two reality stars, the popular ABC franchise led to an engagement and televised wedding.
And as the couple celebrates their one-year anniversary today, it's clear these two have found their happily ever after.
In the first 12 months of married life, things have changed for the better in this famous household. One big reason is partly due to the birth of their baby girl named Isabella Evelyn Bass.
Watch:
Carly Waddell & Evan Bass Talk Being a Successful "BIP" Couple
"Before Bella, Carly would never have called herself nurturing, but afterwards, she is the most loving, caring and selfless mom," Evan shared with E! News exclusively ahead of Father's Day. "She is untiring in her maternal love and it's so, so cool to watch a side of her come out that I'd never seen before."
As for Carly, she's also noticed a change in her husband. While he's a father to three boys named Ensley, Liam and Nathan Bass, Evan adjusted well to having a baby girl around the house.
"I've always known Evan as a dad, a boy dad, and it's really fun and hilarious to watch him as a girl dad. With every fifth outfit change during the day, he always goes, 'Oh wow! Look at that cute outfit. What a beautiful girl!' He's so gentle and loving with her," Carly gushed. "He was so nervous to even figure out how to wipe a girl, but now he's an old pro and enjoying every second."
Paul Hebert via Getty Images
While a newborn has made lavish date nights even more difficult, the pair is committed to keeping things romantic. During Carly's pregnancy, the duo was able to enjoy a few weekend getaways.
And while helicopters may not be involved, fun little adventures are still possible.
"Carly had a photoshoot in Los Angeles and Evan came for one night just to get some alone [time] and we had a romantic night out," the couple shared with us. "You take what you can."
In fact, the couple is planning a trip to Mexico on their anniversary. After all, their biggest moments have happened on the beach.
As for life back at home, Carly and Evan have tried their best to blend families as smoothly as possible. According to the couple, having Bella in the mix has brought everyone together. In fact, Evan's sons are "mesmerized" by their newest family member.
"We just give everyone a lot of grace to figure things out and try not to put a lot of pressure on Carly as a new mom and step mom or the boys with so much happening and changing," the couple explained. "Every day we see things Bella does that look like us. Little facial expressions and personality that makes us so happy about this little treasure we've created. Our bond with her grows every day and that strengthens the relationship we have as parents, friends and partners."
Congratulations you two on your big anniversary! Here's to many more.
Hear more about Carly's life as a mom in her Babes and Babies podcast streaming now online.