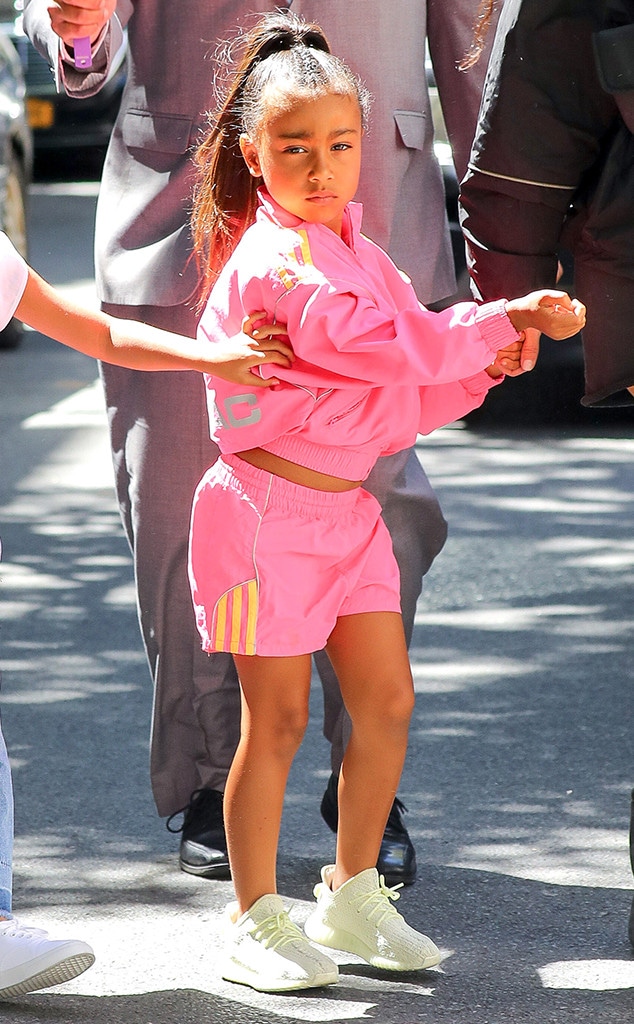 Mega Agency - Photos taken with parental consent
North West is taking New York City by storm on her 5th birthday! 
Kim Kardashian and Kanye West's little girl touched down in the Big Apple earlier this week, where she was spotted out and about with her bestie Ryan Romulus and famous 'rents. On Thursday, North's typically curly 'do was pulled back into a straightened high ponytail, leading many to assume the celeb spawn was rocking extra long hair extensions. 
Kim shared the adorable daughter of her firstborn dressed in a hot pink Adidas tracksuit on Twitter, writing, "North serving LOOKS on her 5th birthday!!!!!"
The E! reality star and business mogul added, "Now that you're 5, don't you think it's the mature thing to try to be nice to your brother!?!" 
Jawad Elatab / SplashNews.com - Photos taken with parental consent
Of course, Kim shared a much more heartfelt message to North on Instagram, sharing a recent photo from her joint birthday bash with cousin Penelope Disick. 
"My baby girl turns 5 today," she wrote. "Never did I think back then that I would have my best friend for life! I'm so honored to be your mom Northie! You have brought more joy into my world than I ever could have imagined. I can't believe your so big now! The luckiest girl in the world to be best friends with your cousins and have the most magical parties together! I love you so much birthday girl!" 
On Friday, the mom-of-three documented North's trip to the Sugar Factory. Alongside Kardashian family-friend Jonathan Cheban, the birthday girl indulged in confections like cotton candy, ice cream and lollipops. 
Proud grandma Kris Jenner shared her own tribute to North on social media, posting several photos of her granddaughter through the years. 
"Happy birthday to our sweet angel North!! I can't believe you are 5 today! I love you so much, you are the greatest blessing, and it brings me so much joy to watch you grow into such a beautiful, fun-loving, spirited, kind, smart and funny little lady! Love, Lovey," she gushed. 
Happy birthday, North! Enjoy the sugar rush.