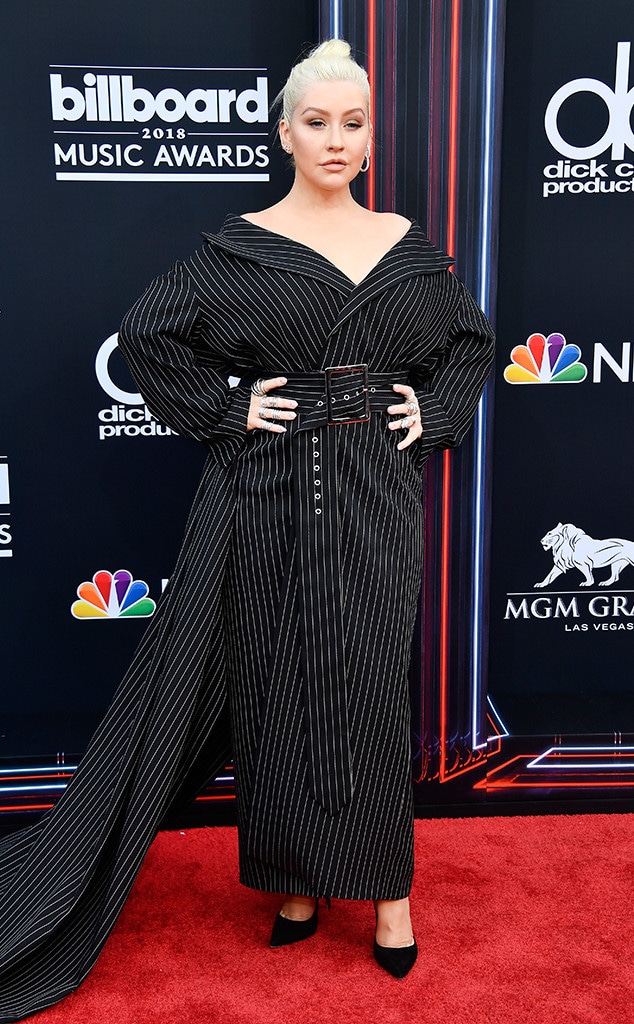 Kevin Mazur/WireImage
Christina Aguilera has just been nominated for two Grammys! The superstar singer is up for Best Pop Duo/Group Performance alongside Demi Lovato for their song "Fall in Line" and Best Rap/Sung Performance for "Like I Do" featuring Goldlink.
Earlier this year, Aguilera released her eighth studio album, Liberation. This was the first time in six years that the 37-year-old Grammy winner has released an album, and her fans couldn't have been more excited to hear her new tracks. The release of Liberation came 19 years after Aguilera dropped her self-tilted first album in Aug. 1999. Months after the album's release, Aguilera would go on to score her first Grammy, beating out Mickey Mouse Club co-star Britney Spears for the coveted Best New Artist award.
Since that time, the singer's career has seen many highs, including multiple Grammy wins, but also some admitted lows.
Early Success: Back in 1998, Aguilera was signed to RCA Records, shortly after she showed off her powerful vocals on the song "Reflection," off of the Mulan soundtrack.
The following year, Aguilera released her first album, Christina Aguilera, in the summer of 1999. The album introduced the world to hits like "Genie in a Bottle" and "What a Girl Wants." Following the success of the album, Aguilera scored the Best New Artist Grammy at the Feb. 2000 award show.
Later that year, Aguilera released two albums, Mi Reflejo in September followed by holiday album My Kind of Christmas in October. Mi Reflejo went on to become the top-selling Latin pop album of the year and earned Aguilera the Best Female Pop Vocal Album at the Latin Grammy Awards. Following a change in her management, Aguilera took more control over her career at the end of 2000 into 2001.
Stripped Era: In 2002, Aguilera picked up another Grammy along with Pink, Mýa and Lil' Kim for their cover of "Lady Marmalade," which was featured on the Moulin Rouge! soundtrack.

Later that year, Aguilera debuted her more mature image and sound on her fourth album, Stripped, released in October. Xtina's album included songs such as "Dirrty" and "Beautiful," the latter of which would go on to win the Grammy award for Best Female Pop Vocal Performance in 2004.
Three years later, Aguilera would be nominated in the same category for her song "Ain't No Other Man," off of her fifth album, Back to Basics.
Marriage, Motherhood and the Movie Business: In Nov. 2005, Aguilera tied the knot with Jordan Bratman. In between her fifth and sixth studio albums, Aguilera gave birth to her first child, a boy named Max Bratman, in Jan. 2008.
Two years later, Aguilera released her sixth studio album, Bionic, in June 2010, which didn't see as much success on the charts as she had on previous albums. Four months after the release of Bionic, Aguilera filed for divorce from Bratman. The following month, Aguilera starred alongside Cher in the movie Burlesque. The movie went on to receive three Golden Globe nominations and even scored one win for Best Original Song.
In Feb. 2011, Aguilera flubbed the lyrics to the National Anthem at the Super Bowl. "I can only hope that everyone could feel my love for this country and that the true spirit of its anthem still came through," she said in a statement after the performance.
"I was longing for freedom," she shared about her time on the show. She later added that she felt "suffocated and restricted" during that time period.
"I didn't get into this business to be a television show host and to be given all these [rules]. Especially as a female: You can't wear this, can't say that. I would find myself on that show desperately trying to express myself through clothing or makeup or hair. It was my only kind of outlet," she said. "It became something that I didn't feel was what I had signed up for in season 1. You realize it's not about music. It's about making good TV moments and massaging a story."
Lotus: After going through a lot of ups and downs since the release of Bionic, Aguilera dropped her seventh studio album, Lotus, in Nov. 2012. While the album wasn't exactly a success, Aguilera did find success with her collaborations with other artists. In 2013, A Great Big World re-recorded their track "Say Something" with Aguilera, which later earned them a Grammy in 2015 for Best Pop Duo/Group Performance.
In 2014, Aguilera and Matthew Rutler welcomed a daughter, Summer Rain Rutler. And now, after taking some time to work on various TV and movie projects and spending time with her family, Aguilera is back and ready to show off her vocals on her latest album.
Aguilera's eighth studio album, Liberation, is out now.