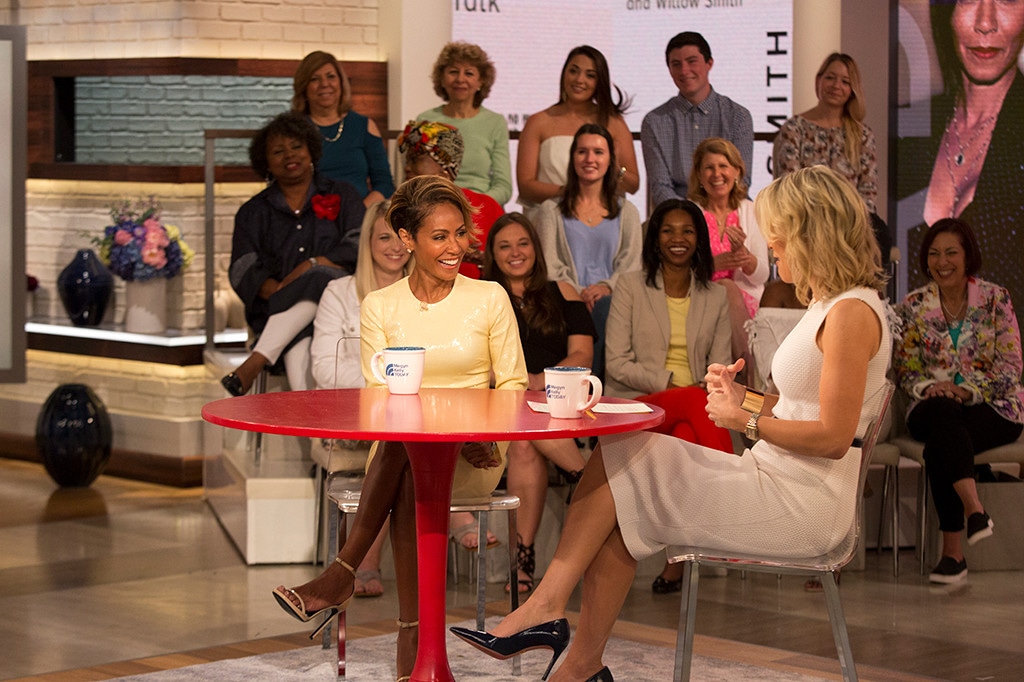 NBC's <i>Megyn Kelly TODAY</i>
Jada Pinkett Smith opened up about her past suicidal thoughts on Wednesday's episode of NBC's Megyn Kelly Today.
During the show, the actress said there were times when she was in "such deep despair" that she "thought about taking my life." She also said "life is a journey to help us get to a place of healing"—a message she wished someone had shared with her when she was going through difficult times. 
"I wish somebody had told me that it's going to be OK," she told host Megyn Kelly. "You know, we're going to have obstacles. You're going to have difficult times. You're going to have really dark times, you know? But just understand, keep stepping. Because life starts to reveal itself to you, and the light will come. Keep stepping." 
Pinkett Smith also said she wanted to share this message because "there are so many people that are going through such difficulty."
Pinkett Smith's interview comes shortly after Kate Spade's and Anthony Bourdain's deaths. Both the fashion designer and the celebrity chef died of suicide.
Yesterday, the Madagascar star paid tribute to Spade and Bourdain on Instagram and claimed she had "considered the same demise…often."
"One thing I've learned in my life over the years is that mental health is something we should practice daily, not just when issues arise," she wrote alongside a photo of the two legends. "We should take care of our mind and spirit in the same way we do our body. With the suicides of Kate and Anthony it brought up feelings of when I was in such despair and had considered the same demise...often. In the years I spent towards my healing, many moons ago, I realized the mind and heart can be extremely delicate without the foundation of a formidable spirit. What I eat, what I watch on TV, what music I listen to, how I care for my body, my spiritual practice, what people I surround myself with, the amount of stress I allow and so on... either contribute to or deteriorate my mental health. "
She then explained that "mental health is a daily practice for me"—one that is a "practice of deep self-love." 
"May Kate and Anthony Rest In Peace," she wrote. "Many may not understand... but I do, and this morning I have the deepest gratitude that I pulled through. Love."
Watch the video to hear more of Pinkett Smith's interview.
If you or someone you know needs help, call 988 to reach the Suicide and Crisis Lifeline. You can also call the network, previously known as the National Suicide Prevention Lifeline, at 800-273-8255, text HOME to 741741 or visit SpeakingOfSuicide.com/resources for additional resources.