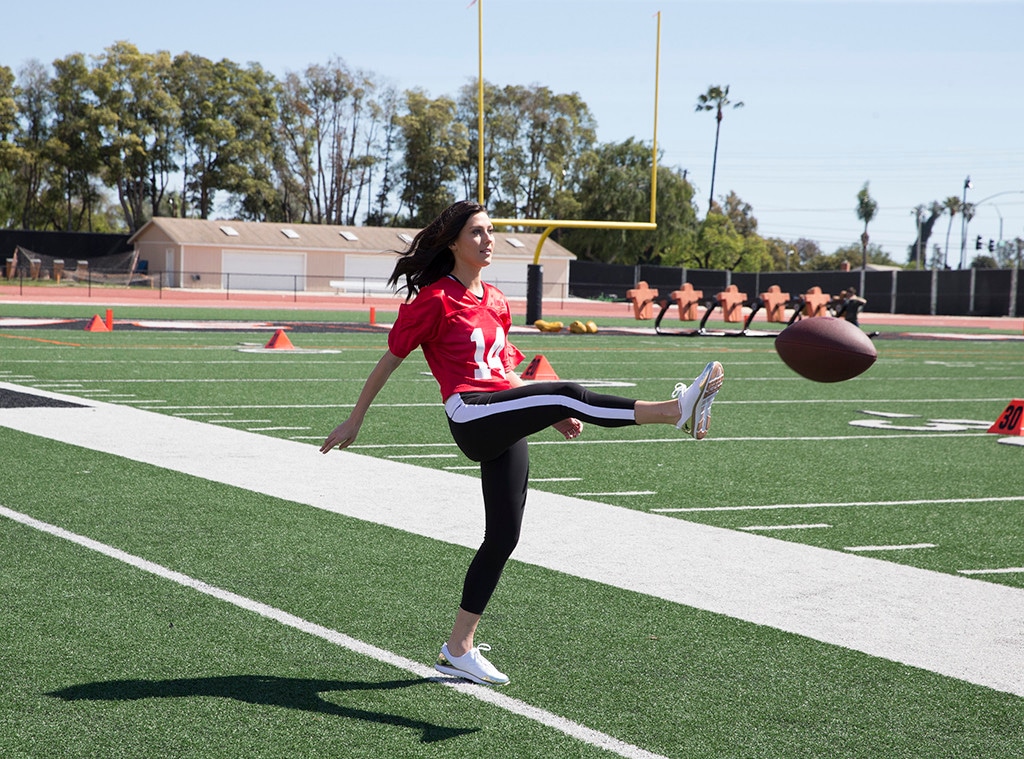 ABC
What a NIGHT, y'all.
That was one hell of an episode of The Bachelorette, complete with ambulance rides, serious injuries, a super awkward ex confrontation in bathrobes, a tearful exit, and all the lines necessary to write a really bad Zoolander reboot.  
How is it possible that this season is already so much? It is week three! We're still referring to everyone by their nicknames! We're not ready for serious bodily injuries! 
We were, however, fully ready for completely ridiculous verbal arguments between grown men, so let's get into it, shall we? 
The Chicken vs. the Golden Retriever
We began with our (least) favorite thing in the world: guys who spend all their time complaining about other guys. We loved Chicken David during the premiere when he really pulled off some tricky chicken puns, but now we're at the point where he's just the guy who dressed up like a chicken and hates Male Model Jordan. 
Yeah, Jordan and his 4,000 Tinder matches (how, though?) are very hateable, but complaining about another dude isn't even a way to make viewers love you, let alone the woman whose heart you're supposed to be competing for.
We did get a few priceless moments after Chicken David told Becca about Male Model Jordan's Tinder bragging, like her (possibly sarcastic?) high five with Male Model Jordan and this insult from Male Model Jordan: 
"You are the skeleton of a man, David."
And then Male Model Jordan sat down with Becca and the moments got even pricelessier. 
"I know it's hard with me being like, a model. It's tough, like genuinely. I can't find anyone that matches the intensity or the fun. I'm looking for someone that's wholesome, not only someone that's pretty but smart and has that bright smile. You have such a bright smile." 
Ugh, yes, it is so hard to date models. 
Becca then started asking some questions, starting with "what are you like as a partner?" He likened himself to a golden retriever and went on about how much he loves a girl's day, but in the most manly way possible.
Once the chicken and the model were back together, Chicken David taunted Male Model Jordan while Jason and Wills (our new favorite duo) proceeded to give us some really really excellent reaction gifs which we have compiled for you here. 
"What's the look that I'm getting from you right now? What's that one called?" 
"Is this the Clint Eastwood? Ooh, that's the pensive one." 
"I'm a Wilhelmina model. I don't think you know what that means. I have an image and if you're trying to tear down my image and my three year contract with them, it's actually pretty serious. It's something some people consider the top. So if you're trying to do that, you're failing at it because attached to me, is professionality, it's my face. It's in everything I do, it's in the way I walk, it's in the way I talk, OK. So if you want to try to wreck my image, you'll never succeed, you know why? 'Cause my image is me." 
Consider that our acting monologue for the rest of time. (We don't act...but we will if we can recite that monologue.) 
Bathrobe Breakthrough 
In a move that could have only been concocted by brilliant reality TV producers, Becca invited six guys (including Colton) and five girls (including Tia) to join her on a pampering date where the guys had to give massages and mani pedis. The trick was that while the guys were supposed to be pampering all the girls, they mostly had to be pampering Becca. 
It was really weird in a lot of ways, including the strange lighting and very small room they were doing the pampering in, but it would have been kinda chill and cute if it weren't for the Tia and Colton of it all looming overhead. Becca sat down with each of them and apparently determined that nothing shady is happening, because she gave Colton the date rose, which was weird, actually. 
Piano Man
It never ceases to entertain us when contestants on these shows have to walk into rooms and act like they recognize the musician awkwardly waiting there to play them a private concert. This week, it was famous pianist Richard Marx! Chris pretended very well. 
Richard Marx made Becca join him for a song, which she tried to do, and then he made Becca and Chris write song lyrics to each other. It was terrible for us and very rude of this show to do to us personally, especially when it was so painfully obvious that writing intimate song lyrics about a girl he barely knew was obviously painful for Chris. 
Chris got a rose anyway, even though we believe he is not long for this Bachelor world. 
How Did the Chicken Fall Out of the Bunk Bed? 
"There was an incident at the house last night," Chris Harrison began as he went to Becca to explain the state of Chicken David. 
"He fell out of bed...and landed on his face." 
Listen, this isn't funny. He got seriously hurt and had to be carried away in an ambulance on a stretcher. But he fell out of bed and landed on his face! That's a comical sentence!
We thought for a second that perhaps Male Model Jordan and his professionality had something to do with it, and then cut to Jordan apparently installing a railing, David-proofing the bed. The beds should have had railings to begin with, honestly. 
A Bunch of Show-Offs 
Because these are a bunch of manly men who are very manly, the pampering group date was followed by a football date, where the manly men got a chance to show off their muscles and their sports know-how. Clay, a professional football player, got real into it. Too into it, in fact. 
He went a little wild midway through the game, scoring a touchdown and breaking his wrist in the process. He also scored the date rose, which felt a little bit boring honestly. How are we bored with two injuries in one episode?? Is it because the injuries were lame?? 
Clay's lame injury ended up causing him a conundrum, because his wrist injury required immediate surgery if he wanted to keep playing football, so he had to decide if he should leave or not. He ended up deciding he had to leave (the correct decision), just after Becca was "finally finding the spark" with him.
Apparently, she found so much spark that she cried when Clay left, and cried enough that the previews for next week could convince us that she's so distraught by Clay leaving that she has trouble continuing with the other guys. 
That was some spark! 
We clearly didn't feel it, but hey, we're still over here thinking about Joe from Chicago, so our hearts might not be fully in this yet. Sorry!
Other notes: one of the guys noted at the beginning that "it's supposed to rain all day." If they don't have access to the internet or reading materials, how does he know? Does he have ESPN or something?? 
The Bachelorette airs Mondays at 8 p.m. on ABC.