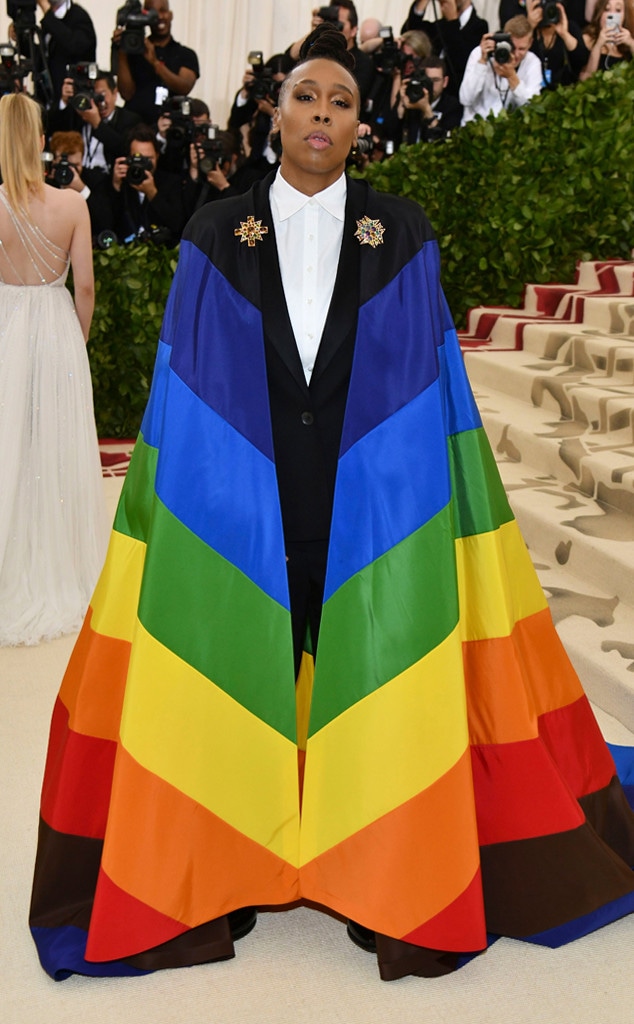 Charles Sykes/Invision/AP/REX/Shutterstock
2018 isn't even halfway over yet, but when Lena Waithe takes the stage at Barker Hanger in Santa Monica to accept the Trailblazer Award at the 2018 MTV Movie & TV Awards, she'll have proven that there's no one in Hollywood having a year quite like hers.
Though the triple threat (actor-writer-producer) had been active in the industry since 2014 when she became a staff writer on Bones and produced Justin Simien's breakthrough film Dear White People, Waithe's breakthrough seemed to have happened when she was cast as Denise in Aziz Ansari and Alan Yang's Netflix series Master of None. Immediately after its debut in 2015, the LGBTQ woman of color's work began to fill a void for audiences that had been ignored for far too long.
By season two, with Denise becoming such an extension of Waithe, she wrote a form-breaking series of the episode alongside Ansari that detailed a handful of Thanksgiving dinners spent at Denise's home that proved pivotal during her coming out process. The episode, which debuted in 2017, proved to be the highlight of the season, earning guest star Angela Bassett her first Emmy nomination for comedy thanks to her powerful work as Denise's mom. Oh, and did we mention that the Academy awarded Waithe and Ansari the year's trophy for Outstanding Writing for a Comedy Series, making her the first black woman to have done so?
It was a moment that should've knocked down any door Waithe wanted to walk through, except for the small fact that she didn't really need the lift.
By the time the Academy was making history with Waithe's powerful speech in September, she'd already had plenty in the works that would guarantee her 2018 was an unarguably impressive one. For starters, she was hard at work on a drama written to showcase a different side of her hometown that had been ordered to pilot by Showtime back in 2014. The Chi debuted on the cable network in January of 2018, delivering a textured tapestry of life on the South Side of Chicago. The series, which Waithe remained behind-the-scenes on, proved to be both a critical and ratings success for Showtime and was quickly renewed for a second season.
For some, that would be enough. But not for Waithe. Two weeks after The Chi aired its season finale, Waithe made her big screen debut as a performer in Steven Spielberg's Ready Player One. The highly-anticipated film, an adaptation of Ernest Cline's best-selling 2011 sci-fi celebration of geek culture, didn't exactly light the world on fire, but it certainly earned Waithe high praise from Hollywood's most powerful
"She was accessible at a glance. Her honesty was glaring," Spielberg told Vanity Fair of Waithe's work as Aech in the film. "And she couldn't hit a wrong note, because she found a way to be herself on-camera. I suddenly felt like I had hit the jackpot. The magic hadn't walked into the room—until Lena did."
However much the spate of accolades may have seemed to rise Waithe's star, she's accurately argues that her last six months aren't an exact result. "Here's the irony of it all," she told the publication. "I don't need an Emmy to tell me to go to work. I've been working. I've been writing, I've been developing, I've been putting pieces together and I'm bullets, you know what I'm saying?"
On top of her work behind-the-scenes on The Chi and her promotional duties on Ready Player One, Waithe still managed to find time to guest star in an episode late in the second season of This Is Us, as well as make a handful of hilarious appearances in the second season of Netflix's Dear White People adaptation. And then there's the upcoming TBS comedy Twenties, loosely based on her early years in Los Angeles, as well as her work as the co-chair of the Committee of Black Writers at the Writers Guild and her efforts with Franklin Leonard's The Black List, which helps aspiring screenwriters get their projects seen by established professionals. She's also been a vocal proponent of the Time's Up movement and indisputably won the red carpet at this year's Met Gala when she showed up to the event, themed Heavenly Bodies: Fashion and the Catholic Imagination, rocking a rainbow pride flag as a cape over her black suit.
It's not hard to see how, even despite her relatively young career, MTV couldn't resist bestowing her with the Trailblazer Award, an honor meant to celebrate content creators that introduce new and unique voices within the entertainment industry.
"Lena is shaking up Hollywood and breaking cultural boundaries through her innovative and authentic storytelling," Amy Doyle, general manager of MTV, VH1 and Logo, said in a statement announcing the award recipient. "Her unwavering passion for equality and inclusion make her the perfect recipient for this year's Trailblazer Award."
Can't argue with that.
The MTV Movie & TV Awards will air on Monday, June 18 at 9 p.m.