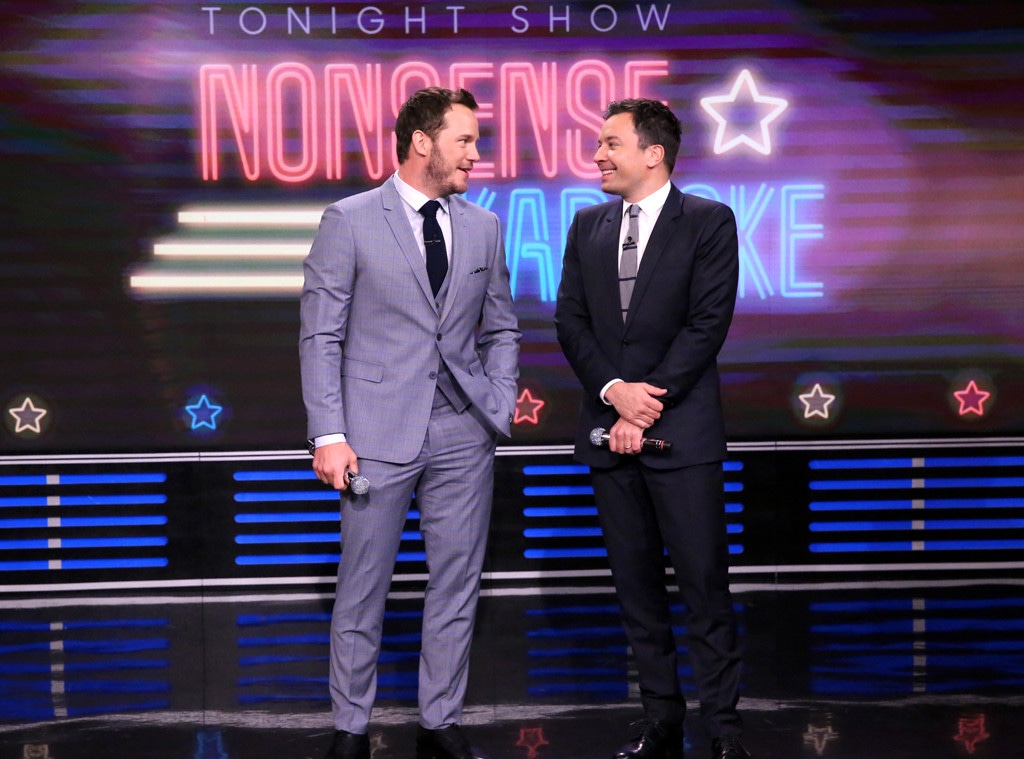 Douglas Gorenstein/NBC/NBCU Photo Bank via Getty Images
Welcome to Jurassic World: Fallon Kingdom.
Jimmy Fallon has transformed The Tonight Show into a weeklong tribute to the new movie (which is out next week), and to celebrate we're taking a look back at some of the host's best moments with the movie's biggest star, Chris Pratt. 
Pratt has been a somewhat frequent guest on Fallon's shows since his Parks and Recreation days, before he was a major movie star, and has proven time and time again that when you invite Chris Pratt to play a silly game, the game's gonna get more than silly. It's gonna get truly weird. 
Mad Lib Theater 
Pratt's version of Jimmy's classic Mad Lib Theater was always going to be ridiculous, but we knew as soon as he brought Jennifer Lawrence into it, then made sure "spanking" and "the nad" made an appearance that this was going to be truly something. 
"Hello ding dongs," he declared, dressed in a slightly off Santa costume. "I was counting my toys and was one doinker short." 
Only Pratt is believable as a Santa who sits by the fire shaking his 'nad, eating cookies and drinking Milwaukee's Best Ice. 
Tonight Show Celebrity Photobomb 
Photobombs are kind of the worst, unless it's Jimmy Fallon and two Chrises doing the photobombing. Fallon and Pratt were joined by Chris Evans for a fun round of jumping into photos behind unsuspecting football fans. They ate sandwiches, they stuck sandwiches in their pants, they rode on each other's backs, and even jumped over each other's heads 
Chris Pratt's Karaoke & "Real Jurassic Park Guy" Stories
Hearing about Pratt trying to impress a girl with a disastrous karaoke performance of a Michael Jackson song is fun, but the real treat of this interview is the tale about when Chris' son Jack went to Universal Studios and met "the Real Jurassic Park guy," believing his dad's character was based on the theme park employee, and not the other way around. 
Bubble Soccer
Honestly this whole thing is a mess because you can't tell who anyone is or really what's going on at any time, but watching Fallon, Pratt, Colin Farrell, and The Roots' Frank Knuckles play soccer in an elevator bay dressed in giant bubbles is entertaining anyway. 
Charades 
An oldie but a goodie. Pratt was still mostly known as goofy Andy Dwyer from Parks and Rec at this point, and he and Lupe Fiasco could not keep up with the Charades dream team of Fallon and Kathy Bates. It's also worth going back a bit to hear Pratt's interview and his story about his roommate named Zeb. 
Nonsense Karaoke
It's hard to ever want to sing the real lyrics to "Uptown Funk" after hearing Pratt's nonsense version.
Arm pit is ice cold / egg shell diaper that's quite old / this one, for them drunk squirrels / them drunk squirrels that love Aspercreme
And we're definitely never singing Kelly Clarkson's "Since U Been Gone" again, since it is now called "Scissor Named Shawn." Or "Pickles in Thongs." Or "Kiss an Old Swan." 
Word Sneak
If you're gonna eat gravy, don't leave it in your soul patch. Those are just some of the words of wisdom brought to us by Chris and Jimmy in this hilarious game, in which Pratt proves once again that Fallon's tricks are no match for him. 
Jurassic World: Fallen Kingdom premieres Friday, June 22.
The Tonight Show with Jimmy Fallon airs weeknights at 11:35 p.m. on NBC., and Pratt will return to the show as a guest this Thursday. 
(E! and NBC are both part of the NBC Universal family.)