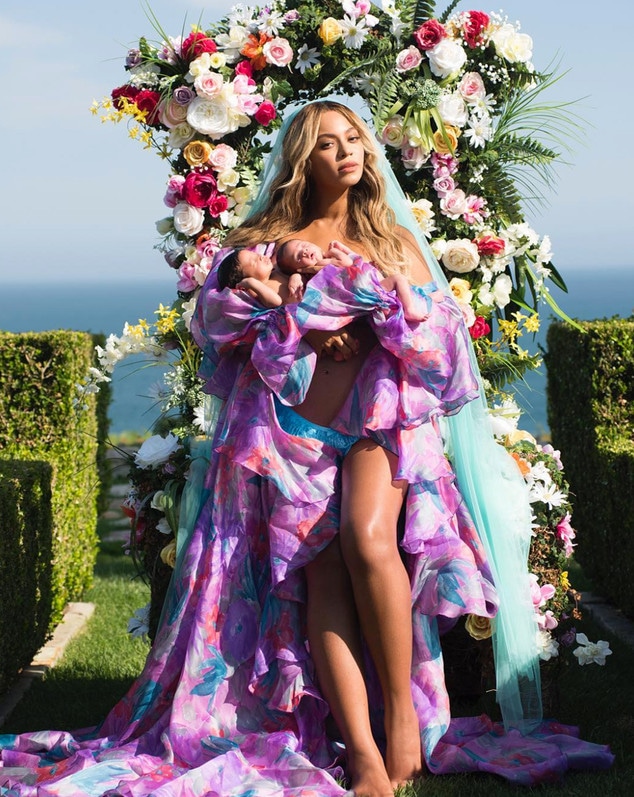 Instagram
It may be the same song, but Beyoncé and Jay-Z are singing it with two new people in mind.
As has become customary for the superstar couple, the two artists close out each show of their current On The Run II joint tour with the rapper's 2009 track, "Young Forever." The song is far from foreign to the couple. They've serenaded crowds with the duet for nearly a decade and have used the track as a theme song for their personal milestones. 
When they took the stage for their first tour together back in 2014, "Young Forever" was featured prominently toward the end of the set list as screens played home footage of the new family of three for every audience.
At the time, their firstborn Blue Ivy Carter was just a toddler and the couple decided to share glimpses into their lives as new parents with footage of their youngster, including clips of her blowing out candles, learning to walk and playing the piano. 
Nearly three years later, Beyoncé stunned the world when she announced she was going to become a mom of three.  "We would like to share our love and happiness. We have been blessed two times over. We are incredibly grateful that our family will be growing by two, and we thank you for your well wishes. - The Carters," she captioned a now iconic photo of herself, veiled and dressed in a pink bra and blue underwear, cradling her growing baby bump against a floral backdrop. 
On the heels of her eyebrow-raising sixth studio album, Lemonade, the songstress' pregnancy was one of the most-followed of the year as fans tracked the stars progress through her social media styles and limited public appearances. When she took the 2017 Grammys stage, the star merged her lives as a musician and a mother for one captivating performance, of which her unborn son and daughter were very much the focal point. 
Watch:
Tina Knowles Says Beyonce Is Focused on Coachella
By June, birth speculation had ramped up when Jay-Z and Blue Ivy were spotted at a Los Angeles area hospital, fueling the rumors that Beyoncé was about to give birth or already had. The attention only ramped up when a woman was photographed toting a congratulatory floral arrangement to the hospital. 
The new mother of three would have the final say a month later when she confirmed the twins' arrival by sharing the first photo of the newborns in the same fashion as her pregnancy announcement. By that point, the brother and sister were already a month old. 
"Sir Carter and Rumi 1 month today," she captioned the shot posted on July 13, 2017. 
"Rumi is our favorite poet, so it was for our daughter," the proud dad explained a month later during an interview for the Rap Radar podcast. "Sir was like, man, come out the gate. He carries himself like that. He just came out, like, Sir."
For the rest of the year, the twins were out of sight as the family adjusted to their new life together as five. "My grandkids are amazing," grandma Tina Knowles gushed to E! News in March. We would have to take her word for it as there wasn't much talk of the tots since their public debut seven months earlier. 
However, after wrapping up her Coachella performances in April, the triple threat packed up her kids and headed to Paris, where a source told E! News she was rehearsing ahead of the couple's joint summer tour. While she was keeping a low profile with her three kids, Jay-Z was flying back and forth from New York. 
"Beyoncé is very focused and dedicated to getting the show right," the insider explained. "She is working around the clock to make everything perfect." 
Of course, Knowles gave her daughter a hand when she showed up in Paris and subsequently took Blue Ivy for a night out at the ballet.  
But, just because the twins were out of sight doesn't mean they were out of mind. When it came time for the husband and wife to kick off the tour in Wales on June 6, they knew exactly what fans wanted to see. 
Set to the tune of "Young Forever" yet again, the couple shared new videos of their family's private highlights, including what appeared to be a vow renewal ceremony. To fans' delight, Sir and Rumi were featured prominently in the shot—an adorable sight for sore eyes everywhere. "My babies," Knowles later wrote on Instagram. There was also footage of the pregnant star at her baby shower and later cuddling her new son and daughter together. 
As the twins celebrate their first birthday today, it remains to be seen when we'll see the youngsters again. For now, fans can count on catching glimpses of them during every show as they virtually travel the world with their famous mom and dad.