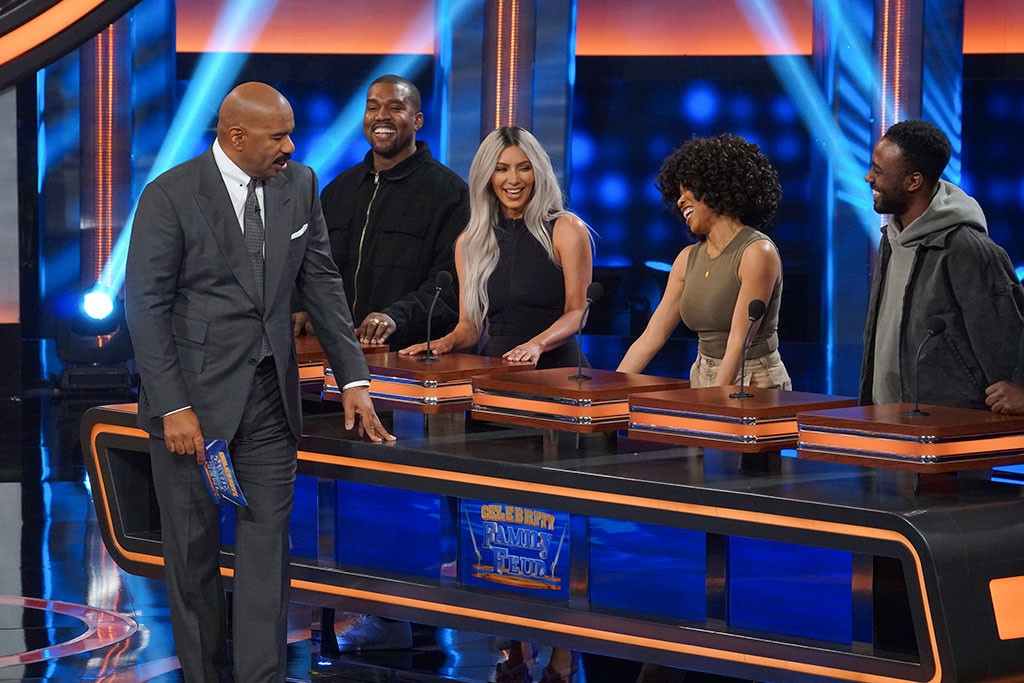 ABC/Byron Cohen
Steve Harvey gathered two of the most famous families in Hollywood for the newest round of Celebrity Family Feud. Needless to say, you'll definitely recognize them. 
For the season four premiere of the ABC series that aired on Sunday, the Kardashian and West families went head to head on set to give the classic game a go. As self-proclaimed fans of the show, Kim Kardashian and Kanye West were excited to play alongside West's cousins, Kim Wallace, Ricky Anderson and Jalil Peraza. 
Over on the other side of this showdown, Kardashian's famous siblings Kendall Jenner and Khloe Kardashian assumed their positions on a panel also featuring BFF Jonathan Cheban, cousin CiCi Bussey, grandma M.J. Houghton and their famous momager, Kris Jenner. While the episode played Sunday night, the show was taped months ago as new mom Khloe is still pregnant in the segment. 
Competing for a $25,000 donation to the Children's Hospital Los Angeles, both teams may have been playing, but they weren't playing around. As Kanye quipped after his first answer, "I'm here to win, bro." So, who did win? Check out our episode highlights below to find out!
Some Sisterly Spatting
There was very little sisterly love on this set. When it came time for Kim and Khloe to go up against each other, KoKo did not waste time on manners. When Kim put out her hand for a shake, she was unapologetically rebuffed by her younger sister. 
"Nope, not here Kim," Khloe quipped. "Not today, Kim."
"I see how it is," Kim retorted. 
"It's called Family Feud—not today," Khloe answered. 
When Kim asked Harvey if he had other families compete against each other like they were doing, Khloe took a dig at her sister. 
"You're a big fan," she said sarcastically, mocking Kim's earlier comments that she watches the show every night. 
However, Kim had the last laugh when she beat her sibling and snagged the second round with the top answer. "That's what she gets for that attitude," Kim slammed back. 
Private Parent Time
One of the most memorable answers of the episode came when Kanye had to say who he would not want to come to a party where everyone is naked. 
"I just told my wife—this is why we lock the door. Your kids!" the father of three responded. 
Then, Steve turned his attention to Kim, who wasn't as keen on the idea. At the time of the taping, the couple had just welcomed their third child, daughter Chicago, who joined her older siblings North and Saint. "I feel bad. They sneak in our room in the middle of the night," she explained. 
"That's the problem," Kanye hilariously quipped back. "I don't need them sneaking in the room."
A Dig at Donald Trump
When it was Kendall's turn at the podium against Kanye's cousin, Kim, they were tasked with answering, "You're at a party and everyone is naked. Who would you hate to see show up?"
Though Kim answered first with "my dad," it was not the top answer, so Kendall got a turn also. "Donald Trump," she responded, inciting applause and laughs. 
"Good one, Kendall," Kris shouted from the panel. It turned out to be the right answer because "a celeb" was the top choice. 
Cheater Alert
When Kris had to give a final answer about spotted animals, there was some chatting on the panel amongst her, her mom and her daughters. 
"No cheating over there," Kim called out. "No discussing." 
"That's an automatic disqualification. I guess we win this," Kanye added. 
Not so fast, Kanye. Instead, Kris got the final answer and the Kardashians won the game. Sorry, Kim and Kanye!
A Game Show Olive Branch
While the Kardashian team ultimately took home the victory, when it was time for Khloe and Kendall to play the show's "Fast Money" segment, thy announced a little surprise. 
"Kim and Kanye were dying to do this and they really thought they were going to win," Khloe told the audience. "As sisters, Kendall and I are deciding to let them play 'Fast Money' because it's going to the same charity."
"That's what families would do," Kendall added. 
Needless to say, Kim could forgive Khloe for all of the earlier teasing. Ultimately, Kim and Kanye came up with enough winning answers to secure the families' $25,000 donation to the Children's Hospital. 
Job well done, everyone!