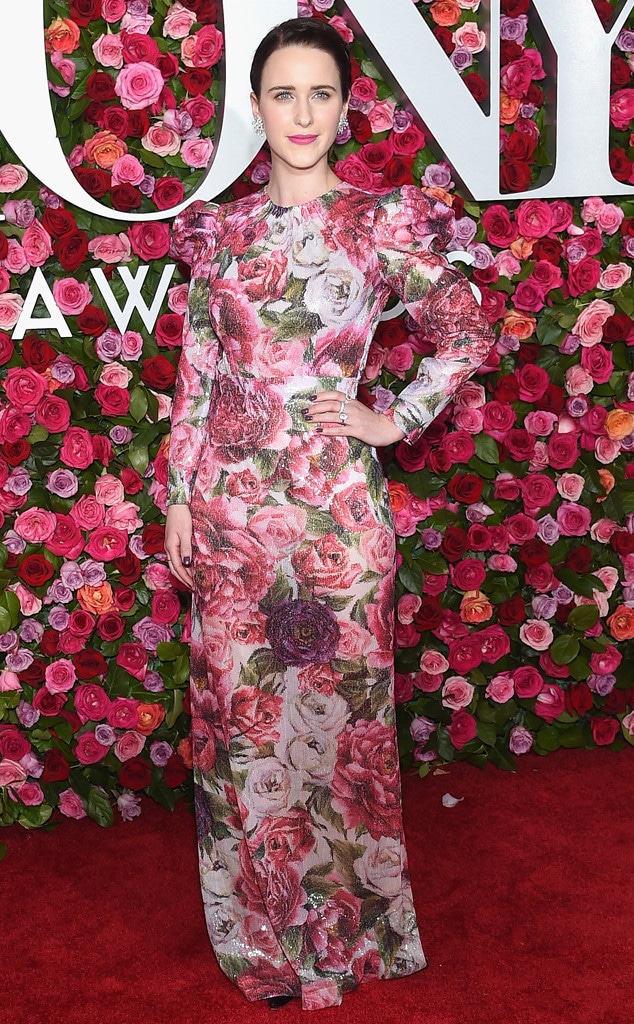 Jamie McCarthy/Getty Images
The show must go on...
Days after the apparent suicide of her aunt Kate Spade, the Marvelous Miss Maisel actress Rachel Brosnahan put on a brave face when she attended the 2018 Tony Awards at Radio City Music Hall in New York City on Sunday night.
The 27-year-old star, whose father was the brother of the late designer, opted for a pink floral Dolce & Gabbana gown with puffed sleeves and a chignon hairstyle.
The former House of Cards actress introduced the performance of The Band's Visit. 
Last year, the Marvelous Mrs. Maisel star told WWD she had admired fashion "from afar" for most of her life. "People around me have said I've inherited little pieces of Katy's style. For example, I love a good shoe and a good bag, and I know that she was largely influenced by my grandmother, her mother, June—who actually, fun fact, [my character] is slightly inspired by."
When Brosnahan won the Golden Globe in January for her work on the Amazon series, Spade told Page Six, "I am beside myself! My daughter and I jumped up and down when she won. She deserves this recognition as she's put her heart and soul into the role. We are insanely proud."
Walter McBride/Getty Images
On Wednesday, Brosnahan shared an Instagram video of joyful Kate dancing around with her husband Andy Spade while a mariachi band plays.
Along with the bittersweet video, Rachel wrote, "Knowing Katy, this is how she would want to be remembered. She had a light that words can't capture but touched everyone she came into contact with. She was exceedingly kind, beautifully sensitive, insanely talented, funny as heck and one of the most generous people I have ever known. She was effervescent."
She ended the heartfelt post, "Hug your loved ones extra tight today."
On Tuesday, E! News reported that the 55-year-old designer was found dead in the bedroom of her Park Avenue apartment in New York City after an apparent suicide. Her husband was home at the time.
Hours later, her family released a statement.
"We are all devastated by today's tragedy. We loved Kate dearly and will miss her terribly. We would ask that our privacy be respected as we grieve during this very difficult time," the statement read via The New York Times.
A note was also said to be left at the scene. 
If you or someone you know needs help, please call the National Suicide Prevention Lifeline at 1-800-273-TALK (8255).