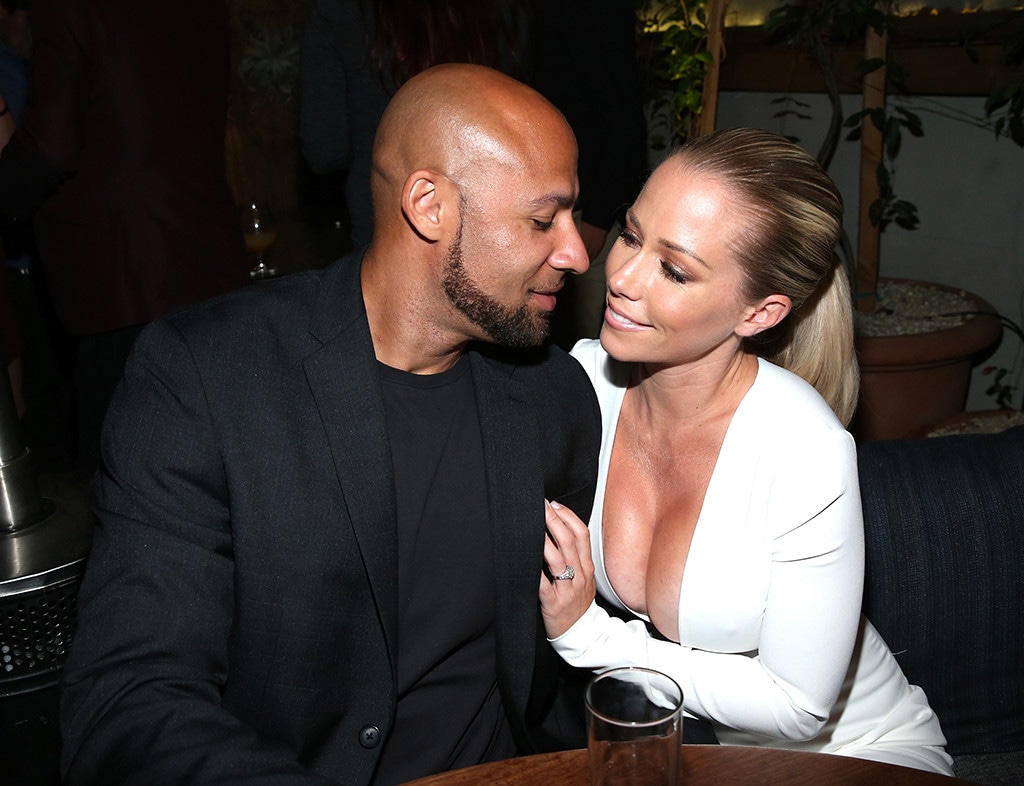 Jonathan Leibson/Getty Images for WE tv
As she edged toward today's birthday, Kendra Wilkinson was feeling reflective.
Posting a photo of her younger self to Instagram May 30, she mused that dreams had gotten her everything she ever wanted. (Briefly a dental office administrative assistant, the high school grad parlayed a role on The Girls Next Door into a series of reality gigs, acting jobs and book deals.) "You woke up and it's ok," she continued in a not-so-veiled reference to her recent split from husband Hank Baskett, "but now it's time to dream again and work hard for your next phase in life and get all you've ever dreamed of again." 
And in the meantime, she added in her note to "Lil Kdub" it was crucial to remember one bit of advice: "Don't let anyone pop your party balloons."
It'd take more than one jab to break Wilkinson's spirit. While most celebrities navigate public splits with carefully parsed statements asking fans to respect their privacy, the candid reality star has taken a different tack. In the weeks since she tearfully confided on Instagram that she was leaving former football pro Baskett, 35, Wilkinson has been painfully honest about her struggles. Every raw moment—from choosing which outfit she'd wear to fill out divorce papers to packing up the contents of her Mediterranean spread in Calabasas, Calif.—has found its way to social media.
It's not that the 33-year-old thinks she's providing some sort of master class in handling one of life's more challenging curveballs. In fact, she admitted to crossing the line when she live-tweeted a June 5 tiff with Baskett—a move she vowed not to repeat out of respect to their son Hank Baskett IV, 8, and daughter Alijah Mary Baskett, 4. But after spending the better part of 13 years documenting her life, first on The Girls Next Door, then on her spinoffs, Kendra and Kendra on Top, it would feel almost disingenuous to tend to her wounds in private. 
Besides, surviving the end of an eight-year marriage is one of those do what you've got to do to get through it situations. And for Wilkinson the antidote is venting to her mom Patti, dad Eric, her tight-knit circle of friends, a therapist and, yes, her combined 5 million-plus social media followers. 
"I'm not perfect with the way I'm reacting to my pain sometimes but I am getting stronger," she shared in a May 28 post, vowing, "I'll be able to breathe again soon." 
She's been waiting to exhale for years now. That's how long, one insider told E! News, that she and Baskett had been struggling to be a proper team. Even while praising the athlete on their ninth anniversary last year, she acknowledged that they'd had to deal with what she called "little bumps in the road".
At times those bumps could feel like insurmountable hurdles. First there was the postpartum depression that set in after their son's 2009 arrival and left Wilkinson feeling "devastated, helpless—like I was in a black hole," she recalled in her 2011 memoir, Being Kendra: Cribs, Cocktails and Getting My Sexy Back. At her lowest, she admitted, "I even thought of harming myself."
Jerod Harris/Getty Images for Knott's Berry Farm
Then came the end of Baskett's five-season NFL career in 2011, a blow he says left him in a deep depression. "I fell into what happens to a lot of professional athletes who change careers," he explained to People. "It hit me, and it hit hard."
But the toughest blow came mere weeks after Wilkinson gave birth to Alijah in 2014. That's when Baskett found himself entwined in an alleged cheating scandal involving a transgender model. Though the former University of New Mexico standout insisted to People he "didn't engage in anything" when the model fondled him through his basketball shorts—"It was like a bank robbery. You never know when you'll freeze,"—Wilkinson felt betrayed. Copping to going "ballistic", she flushed her rings, she told the mag and threatened divorce: "I couldn't control my emotions."
Fans watched the fallout—during a Kendra on Top episode, Wilkinson informed her spouse he was wasn't "wanted in this house"—and the slow, tedious repair, with the partners committing to counseling and a 2015 stint on Marriage Boot Camp Reality Stars.
"We needed the help and we really needed to focus on what our real issues were and what we need to do to solve them," Wilkinson explained to People of the decision. "We went in fighting each other, we went out fighting the world."
Isaac Brekken/Getty Images for WE tv
And, well, sometimes each other a little bit too. Because for all Wilkinson's assertions that she believed in the power of forgiveness and the vows she and Baskett had exchanged on that June 2009 day at the Playboy mansion, the pair simply couldn't work through their issues. 
"Kendra has not been able to repair the trust and their relationship has continued to crumble," one insider told E! News. Desperate for her kids to have the happiest environment possible, continued the insider, she realized their union simply couldn't be salvaged: "Her and Hank have been having many arguments lately and they haven't been able to compromise on their disagreements. Kendra is really unhappy and thinks that splitting is the only solution." 
That's not to say it was an easy one. Filling out divorce paperwork Apr. 2 left Wilkinson feeling like "a wreck" admitted the insider. "She was going through different waves of various emotions. She was very angry at first and then she switched to being very emotional." 
And, at times, even a little hopeful. Dedicating an Instagram post to Baskett days later, she said she felt "thankful and blessed" for the time they shared and that she was eager "to see happy Hank again." She'd have plenty of opportunity, she swore, telling followers, "Marriage was just a piece of paper and a piece of jewelry but our hearts will always be real. U will prob see us together a lot but it's because there's no hate."
Attending their kids' soccer and hockey matches in the immediate weeks following their separation, the former spouses put on an impressive display of conscious uncoupling. "Her and Hank are civil right now," the insider explains to E! News. "They aren't overly friendly by any means, but they are putting on a good front for their kids. They want to be a good role model and make this transition as easy as possible for the kids right now."
Which means even their slip-ups—one source attributes their June 5 squabble to the fact that Baskett is "taking big digs at Kendra to get under her skin"—are quickly corrected. After tweeting, then deleting, a series of apologies to the former footballer, Wilkinson let one final mea culpa stand. "I am done tweeting about hank out of respect for my kids," she wrote. "Love will always win and he's a great guy... we will all be fine after this hurdle is over." 
Conquering obstacles with the father of her children is one thing, but the outspoken star is certainly not jumping through hoops to please her haters. Taken to task for (gasp!) spending time with friends in the wake of her divorce—and the April death of her beloved Jack Russell terrier Martini—she defended herself in a lengthy Instagram. 
"I don't know what the f--k some of u haters think u know but you better get your heads checked because your assumptions based on pictures and clips of shows make u straight up delusional," she chided. "I'm a lover and a free spirit by nature, not a fighter but lately I've been feeling pushed into a corner by judgement and opinions that are 100 false n not me. While people on the internet AND in real life are feeling bad for my kids cuz mama has to work, my kids at the same time are thanking me. I make my sacrifices so my kids can have a life they deserve. I drink to celebrate only and i enjoy my friends. One day I'll get the credit i deserve for all the hard work i do but til then I'm going to keep doing me."
That means continuing to fill her social calendar, whether that means outings to the Stagecoach Festival, getaways with her kids or events with fellow reality stars such as Tori Spelling and Jersey Shore's Nicole "Snooki" Polizzi and Deena Cortese. "Laughter is the best medicine," she explained in one post. "Getting back to being Kdub again n feels good."
Nor will she apologize for employing whatever means necessary to heal her shattered heart. Sexy breakover in place, the newly brunette star inquired to fans how best to rebound from a decade-long union. "What's your opinion," she tweeted May 15, "Do i start dating/sex now or give myself more time? My heart is broken but i have needs." When one follower told her to use a vibrator, she shot down the suggestion, "All out of batteries. It's time my friend."
Make no mistake, despite her jovial tone, Wilkinson fully intends to reenter the dating scene. "It's no secret that Kendra is excited to explore her options for men, and loves that she has a new look," a source tells E! News. "Kendra's main focus is her children and her happiness, but she is excited to meet new people and put herself out there." 
Because through all the crying jags and the arguments, Wilkinson has long been adept at spotting the silver lining. The Sex Tips For Straight Women From A Gay Man star, says the source, is "looking forward to this new chapter of her life. She feels like she is going to make a comeback and have a full revival." 
And she's willing to document every step of the journey. "My goal," she tweeted June 1, "is to teach my kids what it looks like to get back up again." 
Sounds like the perfect birthday wish!