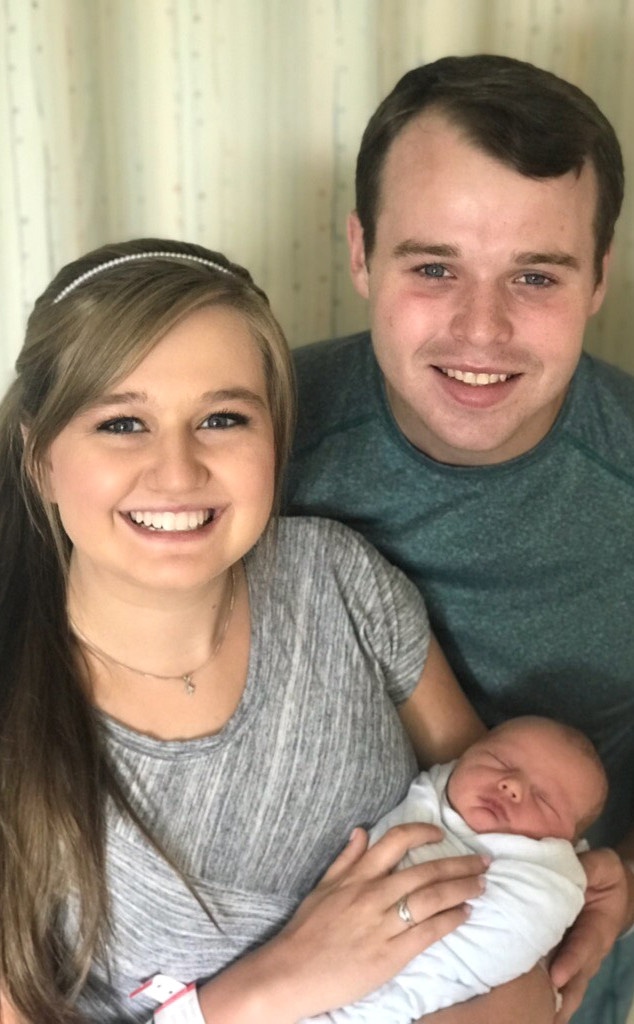 TLC
It's three and counting...
Joseph Duggar and Kendra Duggar have welcomed their first child, a son, on June 8.
Joseph's parents Jim Bob Duggar and Michelle Duggar took to their website to announce the exciting news and share a photo of the trio.
The proud grandparents wrote, "We are so thrilled to announce the arrival of our newest grandbaby, Garrett David Duggar. Kendra and the baby are healthy and happy! Thank you all for your prayers and well wishes!"
TLC tells E! News that Kendra delivered yesterday without complications and that, "Mom and baby are both doing great."
Joe and Kendra also added, "No matter how many times we've experienced the joy of babies born in our families, there's nothing comparable to the joy in our hearts today! Children truly are a gift from God. We are so thankful for his safe arrival and this new journey as parents."
The baby-loving grandparents, known for their former TLC reality show 19 Kids and Counting, also added that the bouncing baby boy was born at 1:36 pm, weighed 7 lbs. 8 oz. and was 20 1/2 inches.
In December, the pair announced that they were expecting their first child in a video message.
"I've always dreamed of having my own family, and it's really just kind of surreal that it's actually here," the 22-year-old father-to-be said.
At the time, Joseph said "I kind of think it's going to be a boy," he also said he's "happy just to have the baby."
"I think it could be a girl—you never know," Kendra added.
Despite what Mama Duggar thought, The couple confirmed they were having a boy in February.
The TLC stars also shared the traits they hope their bundle of joy inherits from their spouse. Joseph said he hopes the baby shares the mother's laugh while Kendra hopes the baby inherits the father's patience.
While she married into a family famous for having offspring, Kendra admitted she'd already gotten some advice.
"The biggest piece of advice probably I've heard was just to get lots of sleep," she said.
Joseph and Kendra tied the knot this past September. The seventh child of Jim-Bob Duggar and Michelle Duggar and his bride said "I do" and shared their "amazing" first kiss after a four-month engagement. The lovebirds then enjoyed a romantic honeymoon in Greece.
Congratulations to the family of three!