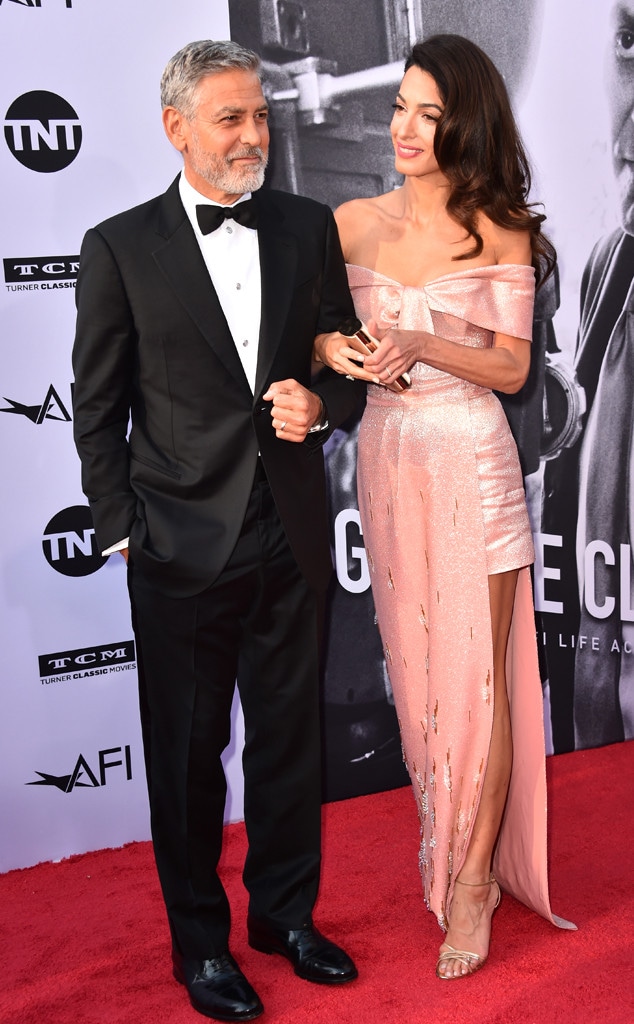 Alberto E. Rodriguez/Getty Images for Turner
Another day, another accolade for the one and only George Clooney! 
Several of the A-list actor's co-stars and close friends gathered to celebrate as he received the AFI Life Achievement Award on Thursday evening. A special tribute event was held in his honor at the Dolby Theatre in Hollywood. Attendees included Jennifer Aniston, Courteney Cox, Cindy Crawford, Rande Gerber, Jimmy Kimmel, Cate Blanchett, Anna Kendrick, Don Cheadle, Laura Dern, Jane Seymour, Bill Murray, and Julianna Margulies. 
Former President Barack Obama also appeared in a pre-taped video message.  "George Clooney is a good man, a good citizen and an outstanding maker of film," he shared while kicking off the tribute. 
George walked the red carpet alongside wife Amal Clooney, who looked radiant in a pale pink Prada gown. Inside, the couple sat front and center alongside their celebrity pals and George's parents. The duo held hands and exchanged a few kisses throughout the evening. Before Amal took the stage to give a speech about her husband, George gave her a sweet peck on the lips.
Michael Kovac/Getty Images for AFI
During her speech, the barrister spoke about George's gentlemanly demeanor, his generosity, his fight for justice and his love of a good prank. She also spoke about her admiration for her spouse.
"Although George's modesty attributes much of the success we are celebrating here tonight to luck, I think it's incredible talent and character that got him here and these attributes also make him an amazing husband and father," she said.
Amal recalled how she met George when she was 35 and "starting to become quite resigned to the idea that I was going to be a spinster." Soon, it became clear to her that "no matter what happened, I would never want to be with anyone else."
"I couldn't sleep when we were apart and I'm told that I would display a particular grin and head-tilt when reading his text messages or the letters that he would hide in my bag," she said. "Five years later, none of that has changed. He is the person who has my complete admiration and also the person whose smile makes me melt every time." 
As Amal continued her speech, George started to tear up.
"My love, what I have found with you is the great love that I always hoped existed. And seeing you with our children, Ella and Alexander, is the greatest joy in my life," she added. "You fill our home with laughter and happiness and that's even before the children have worked out that 'dada' is actually Batman, a talking fox, and friends with Mary Poppins."
She then concluded, "I'm so proud of you my love. Congratulations on this great honor that you're receiving tonight. I'm proud of you, but I also know that when our children find out not only what you have done, but who you are, they will be so proud of you too."
The big night came one day after George and Amal celebrated their twins' first birthday. According to People, George joked the young ones may have partied a little too hard.
"Well, the kids got drunk. I came home they had a bottle of booze. They're feeling better today," the Ocean's Eleven star told reporters at the AFI tribute, per the magazine. He also said raising kids with his wife is "really fun" and "perfect."
While he joked the 1-year-old babies "are making me a cake already" and "working on a card" for Father's Day," People reported, Amal said the celebration would be a "surprise."
Sadly, not all of Clooney's famous friends could be there for the big day. While Julia Roberts was scheduled to present George with the award, his Money Monster co-star was ultimately unable to attend due to a change in production schedule.
"Julia Roberts is regretfully unable to attend this evening's AFI Life Achievement Award honoring George Clooney,"  a statement from AFI read. "Ms. Roberts is currently in production and due to a change in schedule, it was not possible to participate as planned."
Shirley MacLaine presented the award in Roberts' place.  
Previous recipients of the AFI Life Achievement Award include Diane Keaton, composer John Williams, Steve Martin and Jane Fonda. 
TNT will air The 46th AFI Life Achievement Award: A Tribute to George Clooney on Thursday, June 21, at 10:00 p.m. ET/PT.