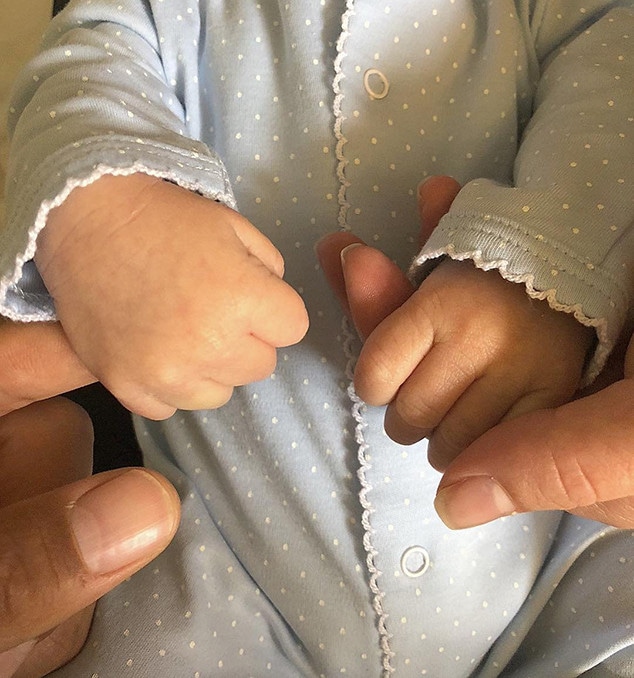 Instagram
Chloe Green has given birth to her first child with "Hot Felon" Jeremy Meeks.
In twin Instagram posts Thursday, the couple shared a photo of their son holding their fingers. "We are pleased to announce the birth of our beautiful baby boy Jayden Meeks-Green. Born May 29th 2018. Mommy and Baby both doing well. We kindly ask to respect our privacy please," Chloe, 27, and Jeremy, 34, wrote in their photo captions. "Much love Chloe & Jeremy."
Jeremy is already father to a 9-year-old son with his ex-wife, Melissa Meeks. In March, Melissa told The Daily Mail it felt as if her "heart stopped for a little bit" when her son revealed the Topshop heiress was pregnant. "I was in shock, but at the same time I knew it was coming," Melissa said. "To me, starting a family with a billionaire's daughter is the golden ticket, right?"
Neither Chloe nor Jeremy ever publicly commented on her pregnancy.
"Deep down I knew," Melissa said. "I had a gut feeling."
Pascal Le Segretain/Getty Images
According to Melissa, Jeremy began seeing Chloe last summer—while he was still married. "I noticed he had started following this Chloe Green on his Instagram account and asked him who she was. He told me she was his manager's business partner. I asked if he was seeing her, and straight away he said no," she recalled. "Three or four days later, the pictures on the boat came out. When he came back around July 4, he came to the house to take the boys. I was hardly functioning. I couldn't sleep. I couldn't eat. I was a mess. He said he was sorry for the way it came out and that he didn't mean to hurt me. He told me he wanted a divorce, but a few days later he came to the house and we went swimming with the kids. I went upstairs for a shower."
"He came up to shower and one thing led to another. Emotions were running pretty high, and we ended up sleeping together. He swore to me he hadn't slept with Chloe and said he'd be back the next day to talk. The next day, however, he came to collect his things, left and went to Los Angeles. He filed for legal separation and I was served with the papers on July 11," Melissa told the Daily Mail. "Next thing I know is there are more pictures of her and him out and about on the town in L.A. Those came out on my birthday, July 14. It felt very cruel. A few weeks later I discovered I was pregnant, but I was under so much stress I lost the child." Melissa said she "tried" to talk to Jeremy, "but he won't communicate with me." It broke her heart, she said, since she thought their relationship would last forever, as "it was based upon truth and love."
"What we had was real," Melissa added. "This life he's in now is a fantasy life."
Jeremy filed for divorce from Melissa in October, citing "irreconcilable differences." A source told E! News at the time, "Jeremy wants to marry Chloe eventually," but he "wants to make sure everything is sealed shut with his ex first." Jeremy, whose viral mug shot landed him a lucrative modeling contract, has since "moved on" from Melissa. "He is very in love with Chloe."