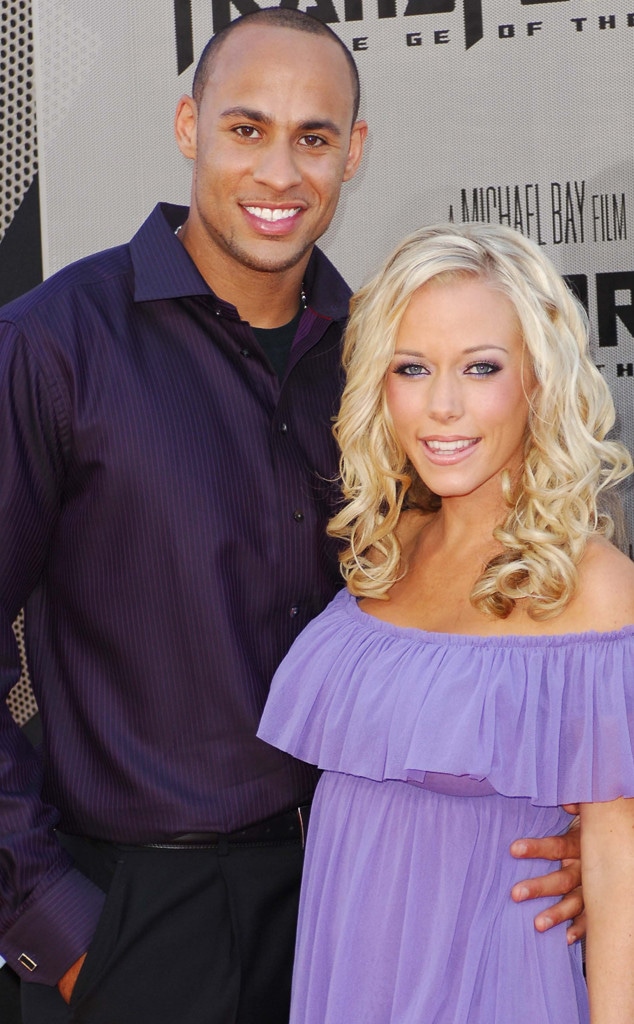 Picture Perfect/REX/Shutterstock
UPDATE: Kendra Wilkinson says she's done airing her dirty laundry on social media once and for all... sort of.
After deleting her apology to ex-husband Hank Baskett, she tweeted, "I am done tweeting about hank out of respect for my kids. Love will always win and he's a great guy... we will all be fine after this hurdle is over." 
In true Kendra fashion, she added, "I think I just need some d--k." Whatever works, girl! 
______
After live-tweeting a recent argument with Hank Baskett, Kendra Wilkinson returned to Twitter to apologize to her ex.
"I want to apologize publicly to Hank," she wrote on Wednesday. "I was the reason your football career ended. I regret doing that to u and I hope u learn to forgive me one day. I loved u and was always your number one fan."
The Kendra on Top celeb tweeted Baskett blamed her for ending his time in the NFL on Tuesday.
"I was 24 when I got married," Wilkinson continued. "Now I'm 33. I made a lot of mistakes through those young years and Im sorry for making u feel the way I did."
She then added, "All I ever wanted was family because I never had a solid one but me being immature was the reason I couldn't give u more."
Her tweets have since been deleted.
Wilkinson and Baskett tied the knot at the Playboy Mansion in June 2009. Later that year, Baskett was released by the Philadelphia Eagles and joined the Indianapolis Colts. He then returned to the Eagles in 2010 but was quickly cut. After signing with the Minnesota Vikings later that year, his football career ended in 2011.
During this time, the two experienced a series of highs and lows. They shared the joy of welcoming their first child, Hank Baskett IV, in 2009. Then, in 2010, they dealt with the release of a sex tape Wilkinson made when she was 18.
They both also battled with depression. In her book, Being Kendra: Cribs, Cocktails and Getting My Sexy Back, Wilkinson wrote she went through a "dark depression" shortly after the birth of son. Baskett also told People he struggled with depression after the end of his athletic career and turned to alcohol and recreational drugs.
"The stress and depression was eating away at me," he told the magazine in 2015, recalling a low point in 2013. "I fell into what happens to a lot of professional athletes who change careers. It hit me, and it hit hard." 
In 2014, the couple welcomed their daughter Alijah Mary Baskett; however, the former athlete was also at the center of an alleged cheating scandal involving a transgender model. Although, he told People he "didn't engage in anything."
Fans watched Kendra flush her wedding ring down the toilet on Kendra on Top. However, the two continued to work on their relationship. A source told E! News they went to counseling, and they appeared on Marriage Boot Camp Reality Stars.
In April 2018, Wilkinson filed for divorce.
After the split, a source told E! News Baskett has been "taking big digs at Kendra to get under her skin."
 "He knows what bothers her most," the insider said "He sees that she is trying to move on and wants to date again, and it's something that triggers him. It has been an ongoing battle between the two."
While the source said the exes "were in a good place," the insider claimed they "will resurface things and will start fights with each other." 
"This has been happening a lot throughout the divorce process," the source added. "There is a lot of animosity."
Still, Wilkinson seems to be leaning on her friends and family for support. After tweeting her apology to Baskett, she wrote she was excited for her daughter's upcoming ballet dance.
"She is in a really emotional place right now," the source added "Her friends are trying to keep her busy and out of the house, and she spends a lot of time with the kids."
(This story was originally published Wednesday, June 6, 2018 at 1:20 p.m.)