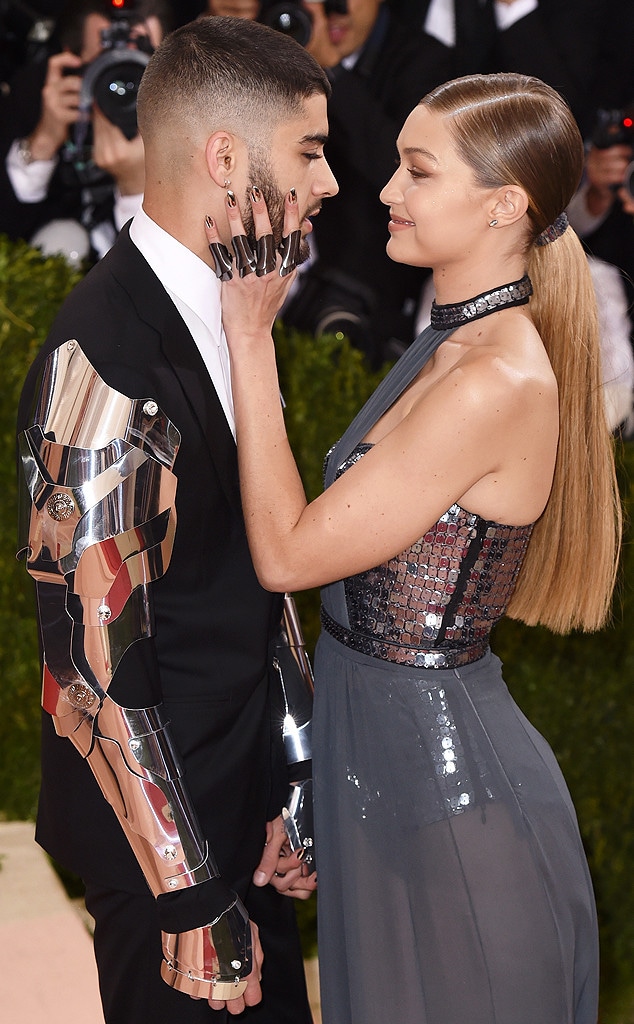 David Fisher/REX/Shutterstock
Love is in the air…well, maybe and it has Gigi Hadid and Zayn Malik fans very excited!
After a few months of being apart it looks like Hadid and Malik could be back together and we're so ready for this romance to be official once more. On Tuesday night, following a red carpet appearance at the premiere of Ocean's 8 in New York City, Hadid shared a photo of herself with her former flame on Instagram Stories. You can't actually see the "PillowTalk" singer's face in the shot, but his blond hair and tattoos are pretty recognizable.
In the photo the two are snuggling up together and although this is the first sighting of the duo back together on social media, it's not the first time they've been spotted spending time together since their March 2018 split. In fact, in April the former lovebirds (who were together for two years) were caught kissing in NYC and from that moment on fans have been buzzing. While nothing is official, signs are pointing to the fact that these two could be getting back together, or rather they could already be back together and it's great news.
Since we don't have an official answer as to whether or not these two are starting up again, we have hope that they'll make it work. As we wait for confirmation that our favorite power couple is back on, why not relive some of their cutest moments thus far? It can't hurt!
Throughout their two-year relationship Hadid and Malik have given us a lot of reasons as to why they are one of the best celeb couples around and their social media snuggles just add to their cuteness factor. They are pretty great together and no matter what their relationship status is currently they will always be one of our favorite duos. Check out why they hold a special place in our hearts below!
1. They make the hottest music videos:
No one can forget the moment that Malik and Hadid took their relationship to the next level with his "PillowTalk" music video. It was steamy and sexy and showed their undeniable chemistry.
2. Social media sweethearts:
Every time these two post a photo together on social media our heart skips a beat. They are thoughtful and precious in every photo and we need them to be an item again. It just has to happen!
3. They're a power couple through and through:
Some couples stand back and lets the other one take the limelight, but not these two. They both shinned bright while together and pushed each other's careers forward. Hadid has her modeling career, numerous lines for Tommy Hilfiger and has photographed Malik for Versace. Malik is a musician, model and designer himself. They are the young power couple we all wish we could be.
4. Love language:
No matter where these two went they always seemed to be holding hands. It was a sweet gesture of love and proved they were a close couple. Plus, they frequently were style twins while holding hands, which was ultimate couple goals. Oh, and did we mention how adorable they were on social media?!
5. They both have model good looks:
Not only do both Hadid and Malik have extremely good looks, but they are actually models. While we know that Hadid makes a living as a model, she's modeled alongside her former beau on numerous occasions as well. Remember that Vogue cover where they rocked similar menswear items? What about the pre-kiss shot in a different Vogue issue? They are the model couple…get it?
6. Family time and couple time go hand-in-hand:
This duo has always made their families a priority, which is one of the many reasons we love them together. Spending time as a couple was often melded in with family time and it was magical. For example, the two spent Christmas with Hadid's family two years in a row. Plus, they shared time with Malik's family throughout the year for Muslim holidays.
7. Even when they broke up, the love was there:
When the couple announced their split on social media back in March, both of their posts were heartfelt and proved their love was strong...even in the end. "Gigi and I had an incredibly, meaningful, loving and fun relationship and I have a huge amount of respect and adoration for Gigi as a woman and a friend. She has such an incredible soul," Malik wrote in March on Twitter. Hadid shared similar sentiments on Twitter writing, "I'm forever grateful for the love, time, and life lessons that Z and I shared. I want nothing but the best for him and will continue to support him as a friend that I have immense respect and love for."
No matter what happens between these two we are major fans of their love. Just know, we're rooting for you Gigi and Zayn!