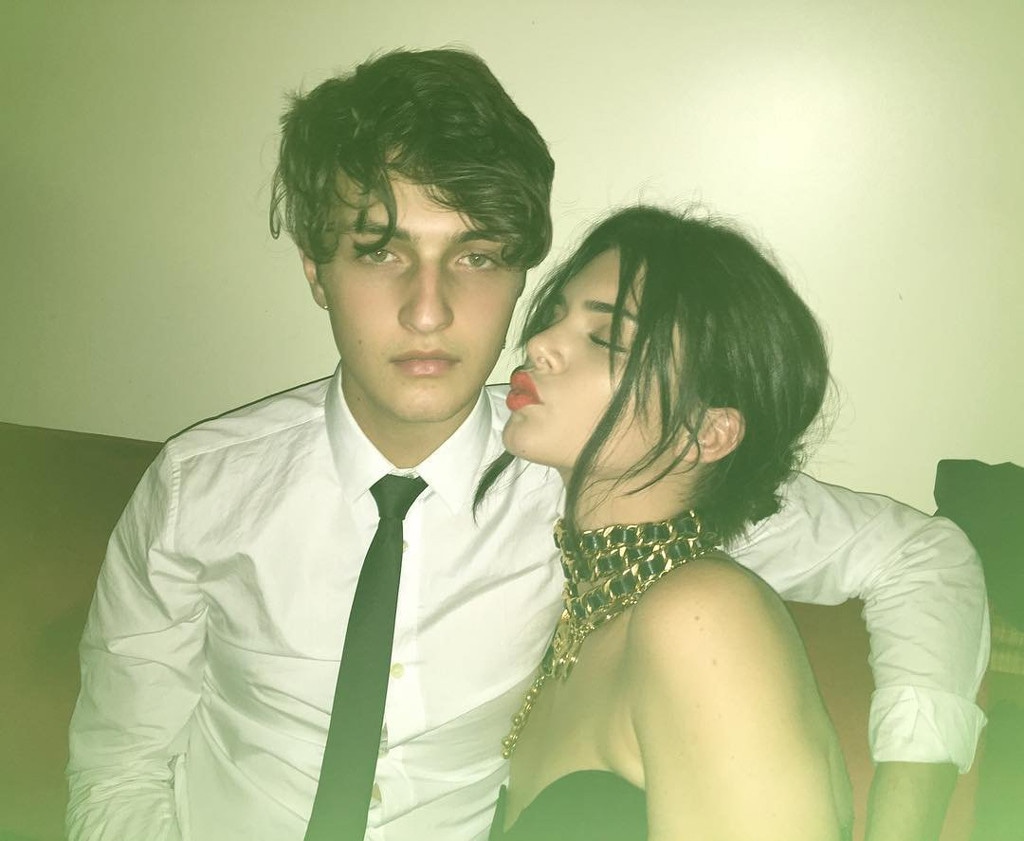 Instagram
Kendall Jenner doesn't kiss and tell... Or does she? 
The E! reality star and supermodel was caught locking lips with Anwar Hadid, younger brother of Gigi and Bella, at a 2018 CFDA Awards after-party in New York City last night.
TMZ published a grainy photo of Kendall straddling Anwar during the intimate makeout sesh, which according to the outlet lasted two hours and ended around 4 a.m. when the 22-year-old left the shindig on her own.
Kendall and Anwar have known each other for years (you don't become besties with Gigi and Bella without getting close to their famous family), and in 2016 she even posted a flirty photo with the aspiring runway star. Kendall, leaning in to plant a kiss on Anwar's cheek, called "dibs" on the 18-year-old in the caption of the Instagram snapshot. 
Gigi, who also attended the CFDA Awards and posed for photos with her little bro, and Bella have not commented on Kendall and Anwar's night out. 
Anwar was reported to have called things off with model girlfriend Nicola Peltz earlier this year, but the pair attended Prada's Resort 2019 fashion show together last month.
Likewise, Jenner is currently linked to NBA star Ben Simmons. A source close to the stunning celeb previously told E! News they were "hanging out" and "keeping things casual" as they get to know each other. Only one day before the CFDA Awards, photographers spotted Kendall and Ben on a bike ride through West Hollywood. 
Meanwhile, another source downplays Jenner's recent romantic ventures, telling us, "She's dating and having fun." 
Notoriously private about her love life, Kendall addressed her widely-discussed sexuality in a recent interview with in Vogue. 
Speaking to the public's fascination, she remarked, "I think it's because I'm not like all my other sisters, who are like, 'Here's me and my boyfriend!' So it was a thing for a minute because no one ever saw me with a guy. I would always go that extra mile to be low-key with guys, sneaking around all the time. You don't want to, like, look crazy."