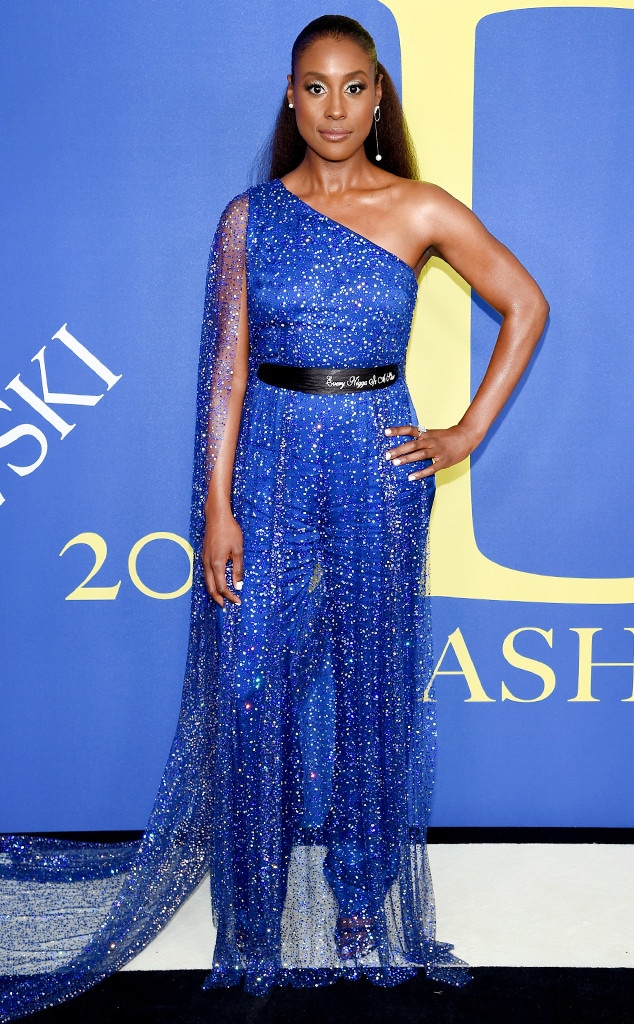 Dimitrios Kambouris/Getty Images
Issa Rae is a dream hostess for the CFDA Awards 2018 in a glittering blue ensemble.
For her hosting debut at the award ceremony, the Insecure star opted for a cobalt blue jumpsuit with a sheer, sparkling fabric layered over it with help from celebrity stylist Jason Rembert. The overall look is as eye-catching as a starry night with its embellished crystals. However, its brilliance is the layering of the jumpsuit with a sheer gown and train. It's glamorous and unique, yet also somewhat relatable, much like the star.
To complement the glimmering sensation, the star kept the rest of her look minimal. She added a drop earring with a contrasting stud and a ring. Her hair is pulled back into a voluminous ponytail, courtesy of Felicia Leatherwood. And, her makeup artist, Joanna Simkin kept her beauty relatively simple with the exception of her baby blue eyeshadow.
Her outfit also makes a very clear statement. Her belt reads, "Every N**** Is a Star." While the use of the n-word may offend, the actress takes a risk to continue to unapologetically place her identity as a black woman at the forefront of the conversation.
Her fashion-forward, statement-making ensemble does align to the progressive theme of this year's event. Issa will be the first female host in several years (Seth Meyers hosted last year's event), giving her an opportunity to set a fashion precedent for future hosts. The event is being held in Brooklyn for the first time, giving the high-society gathering a more modern vibe. Kim Kardashian will receive the first-ever Influencer Award. And, if designer Aurora James of Brother Vellies wins the CFDA's Swarovski Award for Emerging Talent, she will make history as the first African-American woman to do so.
In its own way, Issa's outfit celebrates it all with its unique layering, eye-catching fabric, feminine glamour and strong statement.