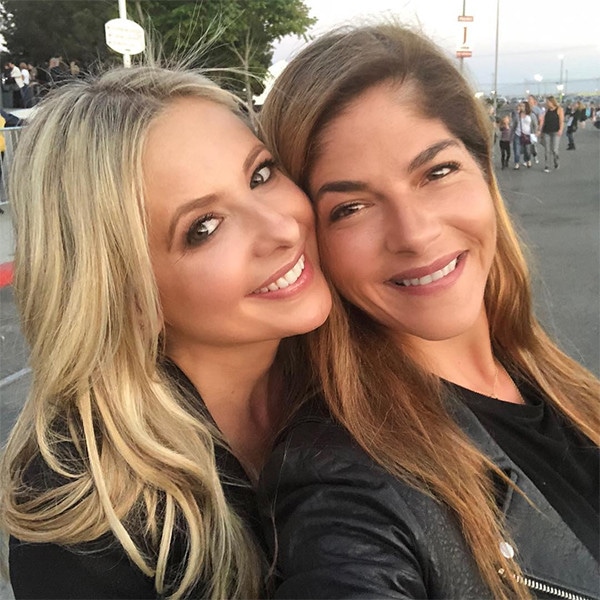 Instagram
Cruel Intentions fans rejoice: Kathryn and Cecile are together again! Kisses all around!
Sarah Michelle Gellar and Selma Blair, who played the crafty socialite and her naive friend in the 1999 cult teen film, reunited at Pink's concert at The Forum in Inglewood, Calif. on Friday.
"About last night.... @selmablair was the best date ever to go see @pink #beautifultraumatour," Gellar wrote on Instagram on Saturday, alongside a selfie of her and Blair. "Pink flipped from the ceilings and put her entire heart and soul on that stage. I have absolutely no idea how she does it, but I am so grateful she does. 'We help other people to change, so they can see more kinds of beauty' - @pink you are F**kin Perfect."
"We have big smiles cause we were together at @pink concert and loved every minute," Blair wrote on her own page, alongside the same photo. "It was the most incredible show I have ever been to and my heart is still blown open by what this incredible woman and performer does on that stage and in her life. We love you Pink!! #friendsforever @sarahmgellar #sarahmichellegellar #pink #beautifultraumatour #theforum #devastatinglyamazing #happybirthdaywillow #momsnightout #losangeles #icon #ilovepink #phenom #secretsociety."
She also posted on her Instagram Stories feed a photo of her and Gellar walking to the show, writing, "Friends love friends who love @pink."
The two wore black pants and jackets. Gellar also shared the pic, writing, "Great minds...dress alike."
At the show, the two accompanied by Gellar and husband Freddie Prinze Jr.'s 8-year-old daughter and one of the child's friends. The group got to meet Pink backstage, as seen in a photo of her hugging the two girls that the actress posted on her Instagram.
"Oh...we got the party started @pink," Gellar wrote.
Gellar and Blair had also reunited last year, at a theSkimm's cocktails event, and took a selfie together.
"Sometimes you make a decision to go out, even though you are tired, and magic happens," Sarah wrote on Instagram at the time. "@therealselmablair my girl crush, now and forever."
Derek Hough, Hayley Erbert and Chrissy Metz were also spotted enjoying the concert Friday night.