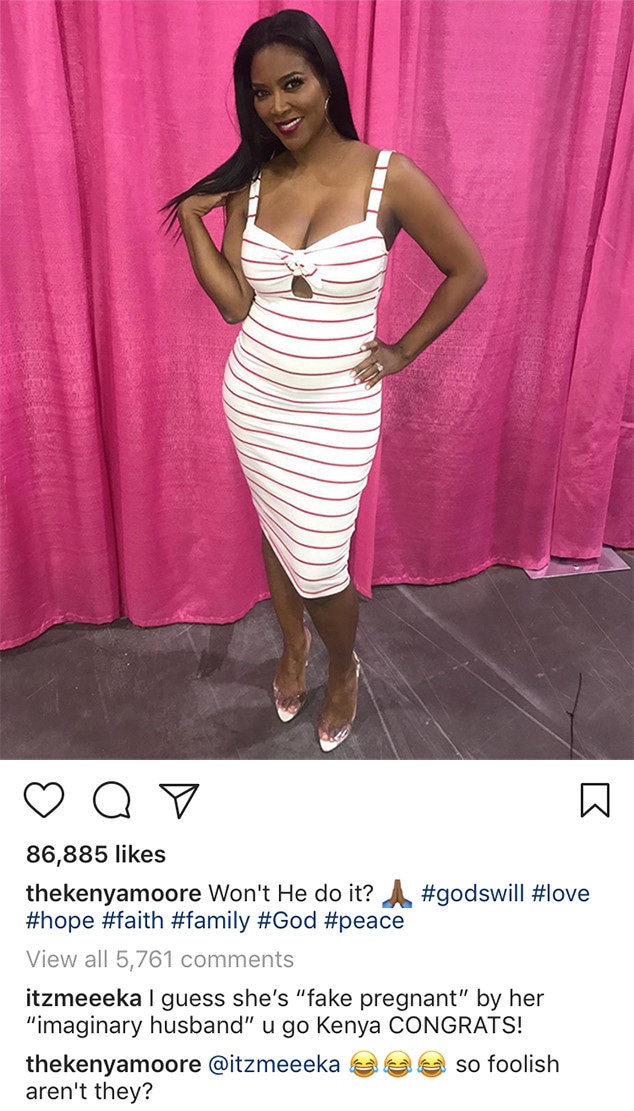 Instagram
Amid fake pregnancy rumors, Kenya Moore is firing back at skeptics with a baby bump pic.
The 47-year-old Real Housewives of Atlanta star announced in April that she and husband Marc Daly will welcome their first child together later this year and confirmed on Instagram that she was pregnant. She later said she had undergone IVF. Despite her comments on it, some online users and tabloids speculated she was faking a pregnancy.
On Saturday, Moore spoke at the 2018 Atlanta Ultimate Women's Expo, marking her first public appearance since announcing her pregnancy, and posted on her Instagram page a photo of her sporting a small bump in her outfit, a striped bodycon dress, with the caption, "Won't He do it? #godswill #love #hope #faith #family #God #peace."
"I guess she's 'fake pregnant' by her 'imaginary husband. U go Kenya CONGRATS!" wrote user @itzmeeeka.
"So foolish, aren't they?" Moore replied, using three laughing emojis.
Marcus Ingram/Getty Images
Marcus Ingram/Getty Images
Moore and Daly wed in a private ceremony in June 2017. Last month, she slammed tabloids over recent reports about her, writing on Instagram, "Fake Husband Fake Pregnancy Fake Boyfriends Fake Storyline Fired Fake Divorce...At least be effing original with your hateful lies...I'm used to you all making up stories to get clicks off my name but LEAVE MY FAMILY ALONE #thatamrsdaly2you #blacklove."
In November, months after her wedding, Moore was photographed at a fertility clinic in Barbados.
"I absolutely want children. My husband wants children with me and we are working on it," Kenya told E! News in December. "I'm hopeful that within the year, I'll have a little one running around."