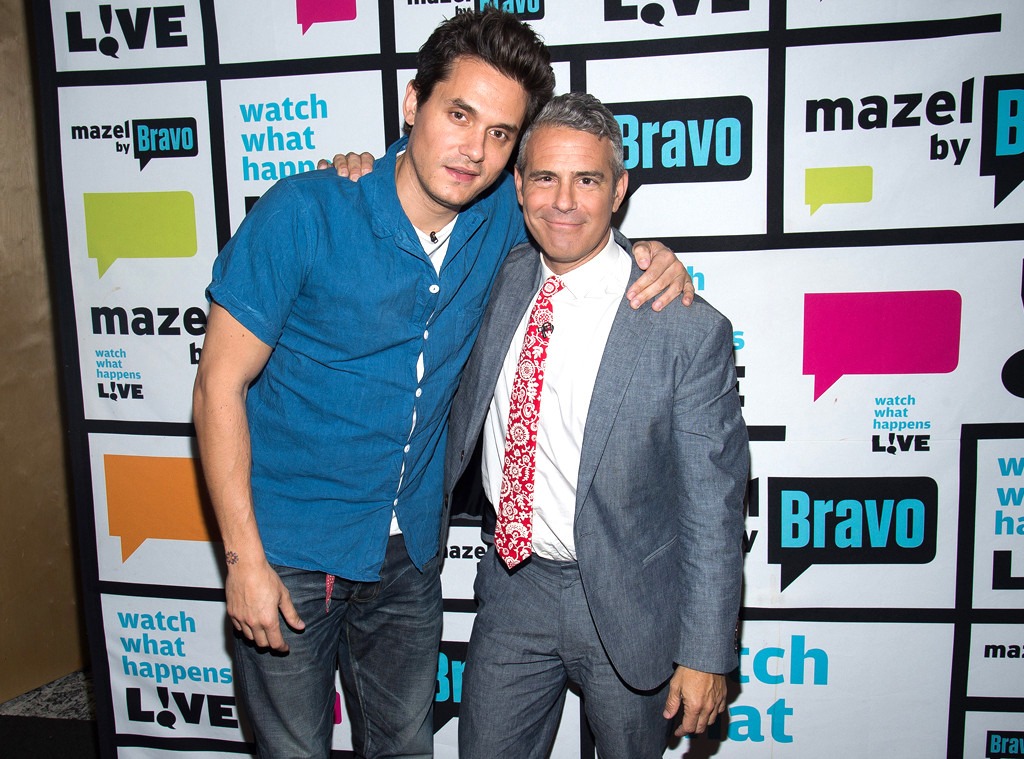 Charles Sykes/Bravo/NBCU Photo Bank via Getty Images
John Mayer and Andy Cohen are not your average bromance.
On one end of the spectrum, you have a Grammy-winning rock star who sells out arenas across the world. The other side includes a late-night host that can moderate a Real Housewives reunion like a boss.
While their day jobs may be completely different—but equally impressive and appreciated by pop culture fans—we can't help but notice that these two Hollywood stars have built a friendship that can survive busy schedules, time apart and distance.
In fact, Andy will celebrate his 50th birthday with a special edition of Watch What Happens Live this Sunday. And spoiler alert: His best friend John will definitely be joining the party.
So what makes this friendship so special? We've got the 4-1-1.
Whether flying to Brazil or exploring the great state of Montana, the pair makes it a priority to connect when their schedules allow.
They also showcase their love for each other in a variety of ways through social media. They comment on each other's outfits, steal each other's phones and even poke fun at their respective jobs.
After Andy posted a screengrab of NeNe Leakes and Kim Zolciak-Biermann fighting during two different Real Housewives of Atlanta reunion tapings, John couldn't deny the tension.
"You never introduce me to your work friends," the "Your Body Is a Wonderland" singer commented in a post. Andy replied, "You never ASK!"
For those who think these two get a little too close, both stars would say it's just nonsense. In fact, they are happy to set the record straight that they like each other, but don't like each other.
"I have love for him, but I'm not in love with him," Andy previously shared on Howard Stern's Sirius XM show. "John Mayer's great looking. I don't like to make a move on a straight guy."
Instead, Andy admitted that his close friend was an awesome wingman when they traveled to a gay bar.
"He was additive for me to go out with," the late-night host explained. "He's big and tall and handsome."
Ultimately, this bond is based on more than looks and celebrity connections. It's a genuine friendship that has parts anyone can relate to. There's honestly that only your true friend can tell you. Remember when John said Andy's most annoying travel habit is his "strong" cologne?
And if you want to get scoop on John's past relationship with Katy Perry, Andy won't break the bro code and feature it in his books.
Instead, they will let the good times roll and address more important matters such as who is the Oprah Winfrey and who is the Gayle King in this friendship.
"I think in this situation, I'm your Gayle," John recently shared on a Periscope. "No, I think you're Oprah," Andy explained before his friend added, "I'm happy to be your Gayle."
(E! and Bravo are part of the NBCUniversal family)