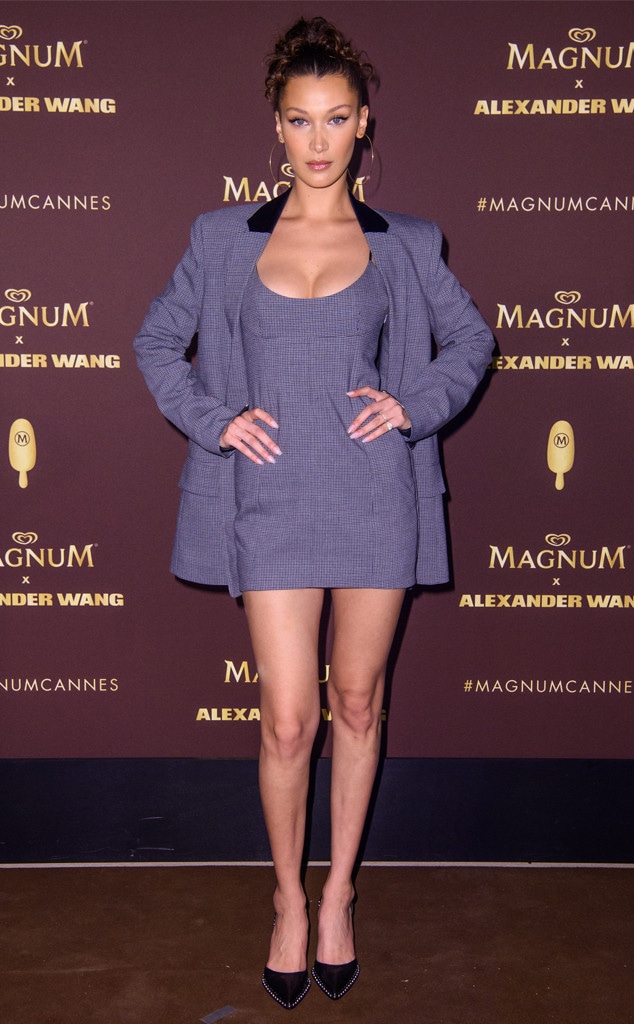 Matt Crossick/PA/Magnum
Bella Hadid is keeping it real.
Like many celebrities, the 21-year-old model is often scrutinized online over her looks. In an interview with InStyle, posted online on Thursday and in the magazine's July 2018 issue, she addresses rumors of getting cosmetic work done.
"People think I got all this surgery or did this or that," she said. "And you know what? We can do a scan of my face, darling. I'm scared of putting fillers into my lips. I wouldn't want to mess up my face."
Hadid also talked to InStyle about past body acceptance.
"I had a small waist and big hips and was kind of chubby," she said. "I love them now, but I was always self-conscious of my hips—whereas my sister [Gigi Hadid] had a six-pack and was very athletic. And I thought I had such a weird face. I remember very distinctly getting bullied because of my features." 
Arthur Mola/Invision/AP/REX/Shutterstock
A month ago, Hadid responded to an Instagram troll who implied that she had cosmetic surgery and fillers. Hadid told her, "Blessings to you sweetheart. Jealousy is a cry for help that I wish I could help you with."
Hadid talked to InStyle about how she deals with online critics.
"It's taken me a long time to learn not to listen," she said. "I turn my phone off and remember that the people around me are the only ones whose opinions I really care about. Why would I read those comments? They are usually coming more for my character than for my face, which is more hurtful."
"I don't [respond]," she said. "I've learned that people are going to hate you and there's nothing you can do about it except be yourself and love yourself. But I feel people's energy very intensely. Often I think, 'I just want to meet you and tell you I'm not a bad person. You don't have to be mean to me.'"