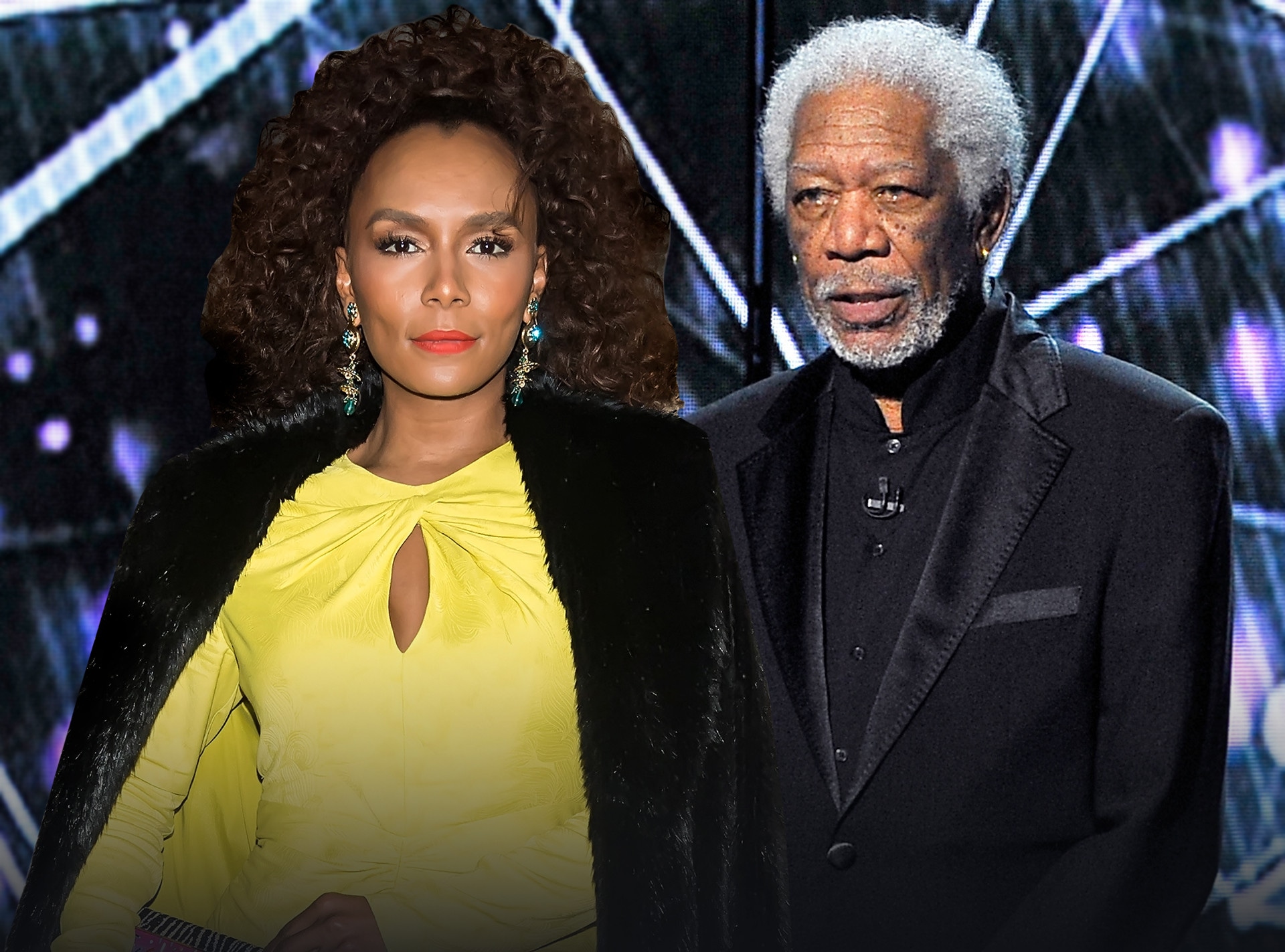 Getty Images/E! Illustration
It was just a few years ago that Janet Mock walked in for an interview with Morgan Freeman and walked out having experienced who she described as "the creepy uncle at the barbecue."
The star was working as an on-air reporter for Entertainment Tonight when she sat down with the Oscar winner to discuss his film at the time, 5 Flights Up. However, as revealed in a newly publish clip of their conversation, Freeman turned the conversation to Mock's legs. 
"How you all manage to do that all the time?" he asked Mock in the 2015 footage. When she asked if he was talking about hair and makeup, he responded, "No, you got a dress that's halfway between your knee and your hips and you sit down right across from me and you cross your legs."
"You feel like your grandfather just scolded you for wearing…," Mock told Wendy Williams on Thursday after the clip was replayed for the audience. She also said that Freeman knew the cameras were on.
"It shows how men in power just believe that they [have] free rein to do whatever they want," she continued. "So, I think that for me as a young woman who was just trying to do a job as a reporter for Entertainment Tonight, I just wanted to interview him about a movie and so for "America's grandfather" to really just turn to this…the voice of God…to turn into the creepy uncle at the barbecue was strange."
After the interview wrapped, Mock was "shocked" to find out the show wanted to air it. 
"I got a call from my former producers at Entertainment Tonight and they just said they were going to air it and I said 'Woah' because I knew that it was unairable because all he did the entire time was look at my legs, and so he wasn't even paying attention to anything that I was saying," she recalled. 
E! News has reached out to Freeman's camp for comment regarding Mock's comment and the newly released interview. 
The footage of Mock and Freeman comes on the heels of a CNN report first published on May 24 in which multiple people alleged they had experienced harassment or inappropriate behavior by the actor. 
One woman, who worked as a production assistant on the 2015 film, Going in Style, accused Freeman of subjecting her to "unwanted touching" and comments about her figure and clothes. 
In response to the report, Freeman initially said, "Anyone who knows me or has worked with me knows I am not someone who would intentionally offend or knowingly make anyone feel uneasy. I apologize to anyone who felt uncomfortable or disrespected—that was never my intent."
In a later additional statement, he continued, "I am devastated that 80 years of my life is at risk of being undermined, in the blink of an eye, by Thursday's media reports. All victims of assault and harassment deserve to be heard. And we need to listen to them. But it is not right to equate horrific incidents of sexual assault with misplaced compliments or humor. I admit that I am someone who feels a need to try to make women—and men—feel appreciated and at ease around me.
"As a part of that, I would often try to joke with and compliment women, in what I thought was a light-hearted and humorous way," the second statement continued. "Clearly I was not always coming across the way I intended. And that is why I apologized Thursday and will continue to apologize to anyone I might have upset, however unintentionally. But I also want to be clear: I did not create unsafe work environments. I did not assault women. I did not offer employment or advancement in exchange for sex. Any suggestion that I did so is completely false."
This week, Freeman's lawyer Robert Schwartz issued a letter to CNN calling the report a "product of malicious intent, falsehoods, slight-of-hand [sic], an absence of editorial control and journalistic malpractice." In the letter, Schwartz took issue with the fact that Chloe Melas, one of the report's authors, was permitted to both write the story and be a source for the story, claiming it was a breach of integrity. Melas alleged that Freeman made inappropriate comments to her during a junket interview for Going in Style.
Schwartz also claimed that CNN disregarded evidence by including Melas' accusation after it was investigated by the Warner Bros. Human Resources department. Schwartz claimed the report downplayed the investigation's conclusion. According to the CNN report, HR could not corroborate the account because not all of Freeman's alleged comments to her were captured on camera. Schwartz further accused CNN's reporters of prodding people into saying negative things about the actor. He concluded the letter by calling for CNN to immediately retract the report and issue a public apology to Freeman. 
In response to the letter, CNN Legal Vice President David Vigilante fiercely defended CNN's report as he individually countered the concerns and accusations outlined in Schwartz's letter and also noted Freeman's recently unearthed interview with Mock in addition to another.
"Designed for press consumption, [your letter] is rife with empty speculation, overheated rhetoric, and in some instances plainly false assertions. And this is the first time I have received a letter citing to anonymous Reddit criticism as support for a lawyer's retraction demands. In reality much, if not all of CNN's report remains unchallenged by you," he wrote. 
"We must assume that Mr. Freeman's apology is an acknowledgment that he said and did much if not all of what CNN reported, and that his behavior was unacceptable, or else what was he apologizing for?" Vigilante asked in the letter. "Indeed, reduced to its essence Mr. Freeman does not deny the claims but says he was just joking. This is not a defense. It is not an excuse. And it does not render the CNN report inaccurate."
Schwartz retorted, "CNN's letter is long on saber-rattling but short on substance. It fails to address the compelling evidence we provided that the story was tarnished by manipulation of the facts and conflict of interest.  It was flawed from its inception and still is. Enough is enough."