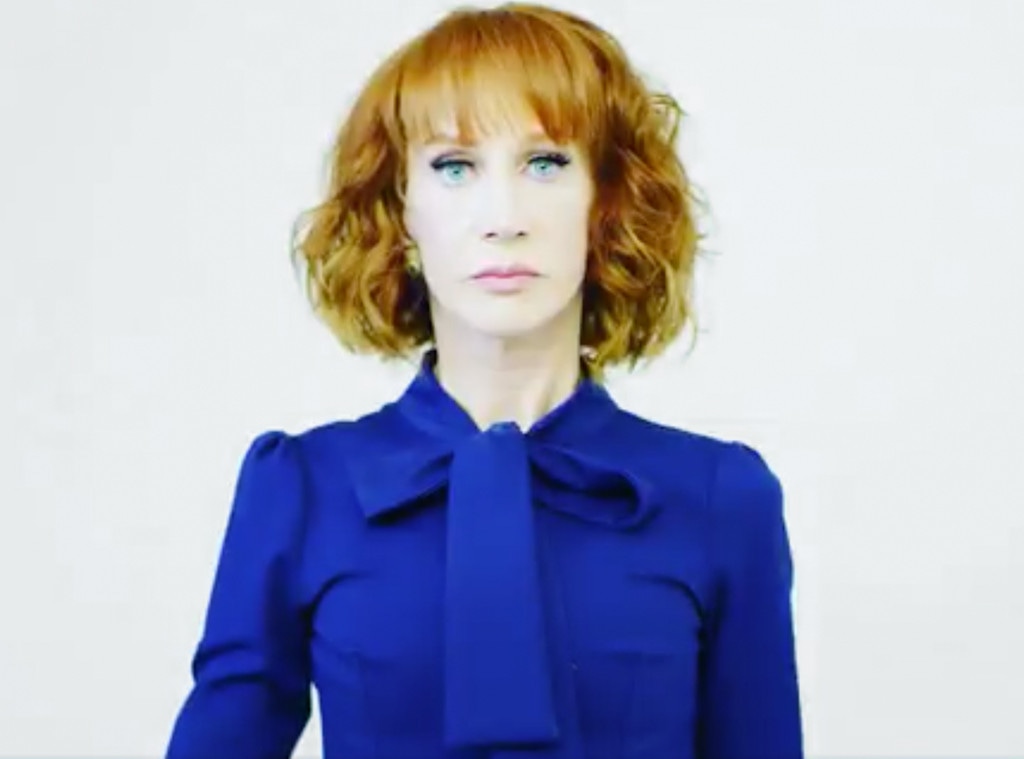 Twitter
A year ago, Kathy Griffin shared imagery that rocked her entire world. 
It was this time last year that the comedian came very quickly under fire for photos and video of herself holding up a mask that appeared to be the bloodied severed head of President Donald Trump. Upon sharing the imagery on her Twitter account, she tweeted, "I caption this 'there was blood coming out of his eyes, blood coming out of his...wherever'" and said she was "merely mocking the Mocker in Chief."
The president called Griffin's actions "sick" and said she should "be ashamed of herself." Despite quickly issuing a video apology and said she was wrong and had gone too far, the fallout was swift and fierce as she became the target of death threats, the focus of a Secret Service investigation and fired from her annual post as a New Year's Eve broadcast co-host for CNN as her tour shows were canceled one by one.
365 days later, the comic has publicly reflected on the events of last May, the impact they've had on her and her life and her plan to prevent anyone else from suffering the same fate. In a lengthy Twitter thread posted late Wednesday, Griffin revisited every step of her scandal. 
"One year ago today my Trump photo was released," she began/ "I have planned on doing this thread for a while but the fact that Sarah Sanders brought my name up at the podium today makes it even more appropriate for me to share some thoughts on what happened."
Griffin went on to acknowledge her privilege and access to resources during her controversy and explained that she wanted to speak out in the hope that what happened to her doesn't happen to those without the same resources. To start, she explained that the image that incited the uproar came out of a shoot she was having for her new tour and headshots. According to Griffin, the inspiration was Trump's controversial 2015 comments about Megyn Kelly after she questioned him for a debate as a then-presidential candidate. "You could see there was blood coming out of her eyes, blood coming out of her wherever," he famously said in a CNN interview, though his campaign staff later said he was referring to her nose and that he had actually said "whatever."
The comment was widely interpreted as sexist and Griffin explained on Twitter that she wanted to use the image to "keep the spotlight shining on his sexism" as she thought the focus on him was moving away from that at the time and onto other news involving him. 
"Our job is to shine a bright light on issues people are afraid to talk about, speak truth to power, push boundaries, take risks, and by being provocative...force people to pay attention to important issues. And yes..we often do that through humor but provocation is also a tool," she tweeted. 
Frederick M. Brown/Getty Images
The resulting provocative imagery did not come out of an "elaborate setup," she said. Instead, the shots with the mask—purchased at a Halloween store by her assistant and covered with ketchup—were a last-minute decision.
Looking back, Griffin said she would have used a blowup doll instead of a mask because it wasn't intended to be about a head, but about the "blood coming out of her eyes." She also would have released the images differently with context instead of them showing up on TMZ. 
She also revealed that as the scandal initially erupted, she got a phone call from Rosie O'Donnell, who immediately pointed out that Daniel Pearl's mother might see the images. Pearl was a journalist who was captured and beheaded in 2002 after going to Pakistan for an investigation. The fellow comedian advised she delete the images and apologize, which Griffin did. 
Griffin said her apology seemed to have an effect until Trump issued his reaction on Twitter. "I learned that day the power of the presidency and the power of the Trump machine," she tweeted. "Immediately the death threats started pouring in again but more violent and serious than the previous night. The news networks broke into their programming to put his tweet up."
She explained that she felt like Trump's target for his millions of followers and that he decided to "punch down." "Was that appropriate use of presidential power? I don't think so," she continued on Twitter. The comedian also took issue with First Lady Melania Trump's statement, which questioned Griffin's mental health. 
While she said the First Amendment gave her the right to put out those images, the president wrongfully used his power to come after her because she offended him. 
"No other president in modern times has used his power this way and that's why I keep speaking out about this," the comedian explained. "I don't want this to happen to others and while it doesn't always make for uplifting interviews - I'm not going to stop shining a bright light on this."
In the aftermath of the images, she said she had to hire security because of the death threats she and her mother were facing. She said that bomb threats were also being called into her shows and, along with donors allegedly threatening to pull funding, the shows were canceled, which gave the public impression that there was "a movement" against her by everyone. She said she later learned the bomb threats were allegedly being made by robocalls.
Shortly after the controversy broke, Griffin participated in a press conference with her lawyer Lisa Bloom, though she explained on Twitter that her friends had advised against it and that she thought it would make matters worse to cancel it. As Griffin described, the resulting conference was a "total disaster."
While she said that Trump "broke her" during that conference,  she wanted to make it clear in the Twitter thread that he only broke her for two days. After undergoing a two-month investigation, she had no more work opportunities, so she set up her own world tour and returned to the United States for another tour she put together herself, including all but the obscured seats at Carnegie Hall selling out within a day. 
Though she continues to experience the effects of the controversy on her life and career, Griffin said "that's why I'll keep returning to my main point...we can't let this happen again. We just can't."
"Trump didn't win in the long run. I won't let him. I have scraped my way back into touring and I will keep pushing and I won't give up," she concluded. "The only way to deal with a presidency that abuses power and is authoritarian in nature is to make sure that we back up those that the administration has tried to knock down. It's exhausting but so important if we have any hope of preserving our democracy."