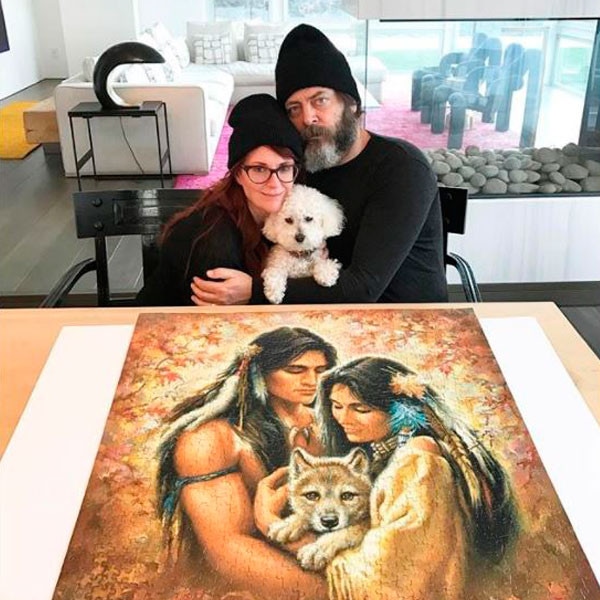 Instagram
Nick Offerman and Megan Mullally have a book coming out! We repeat, this amazing couple has written a book together!
Over the years, these two have proved that they really are one of the greatest celebrity couples around. They've starred as lovers on different TV shows, created their own comedy show and frequently show off their love on social media. Now, they are taking their romance to the next level with their book The Greatest Love Story Ever Told and we're not worthy of this love story. While the book doesn't come out until October, you can still revile in their love and saucy romance today.
In fact, we've rounded up the 10 best moments that will make you laugh and swoon over these two. It just proves that relationships that revolve around humor (and perhaps a little promiscuity) is the recipe for success! 
1. When they revealed their book cover:
Not only does this duo have a book dropping this fall, but they have finally revealed its cover and it's wonderful. It shows the hilarious couple together, naked together covered in roses and flowers and we just can't get enough of these two.
Their book The Greatest Love Story Ever Told comes out on Oct. 2, 2018.
2. They have a real love of puzzles:
Not only does this couple work together to finish a puzzle, but once they're done they recreate the puzzle image together. Yes, it's ridiculous and probably unnecessary, but  we can't get enough of these moments.
3. Their brief Will & Grace encounter:
In addition to getting to see our favorite characters on the rebooted Will & Grace this year, fans also got to see Mullally's Karen Walker have a brief run in with her real-life husband. Offerman played Jackson Boudreaux on one episode this past season and although his character slept with both Will (Eric McCormack) and Grace (Debra Messing) and not Karen he did hit on her before the episode ended and her reaction was priceless.
4. They're political and they don't care who knows it:
Whether it's participating in the March on Washington or posting photos of one another with signs supporting different causes, these two stand up for their beliefs. Sometimes they do it in Leslie Knope fashion, which just makes it better.
5. When they created a couple name:
In 2017, Mullally and Offerman were on The Late Show With Stephen Colbert the power couple decided that they needed a couple name. Of course the show's host had a few suggestions. They decided on "Mick Muloffallman" and it's so wrong that it's right.
6. All the times they played a couple on Parks and Recreation:
Fans of Parks and Recreation know that Offerman played the always memorable Ron Swanson for seven seasons. What made his steak-eating, wood-working character even better was the fact that he married not one, but two, different women named Tammy. Tammy 2 was played by his real-life wife and she excelled in the role. The characters were terrible together, got into a lot of mischief and really brought out the worst in each other and we loved them even more for it.
7. Their hilarious Twitter banter:
When it comes to the Will & Grace star and her husband's social media interactions they are worthy of an award due to their humor and provocative nature. The couple loves to talk about sex, post sassy and scandalous photos and poke fun at their sexual chemistry and it all happens on Twitter. Plus, they come up with some great captions that you can't help but laugh at.
8. The time they competed on Smooshed:
Stephen Colbert has a segment on his show called "Smooshed" which is basically Chopped but shorter and little more fun. In 2016, Mullally faced off against her husband in the "Smooshed: Holiday Edition" and proved they are truly the best couple...both in and out of the kitchen.
9. Goofy videos are their forte:
No matter what the content of their Instagram posts we always seem to get a good laugh when scrolling through each page. The best part about this couple's social media accounts are their silly videos. They frequently posts videos together and they're both funny and adorable. One time they posted a video that talked about Offerman having a big head. Another time they showed off their love for one another in monotone voices.
10. Their love advice is sound:
When it comes down to it this Hollywood couple has a successful marriage by any standard and it's because they really do love each other. In fact, when GQ asked them what advice they'd give people who are married or getting married they revealed that time together is key. "F**k. Seems like it's key," Mullally told the magazine before getting a little more serious. "We have a two-week rule. We're never apart for more two weeks. Just not being separated for Jurassic periods of time seems to help. And no children probably helps a lot."
We love these two so much and cannot wait to read their love story...which his sure to be a little bit on the raunchy side just like them!