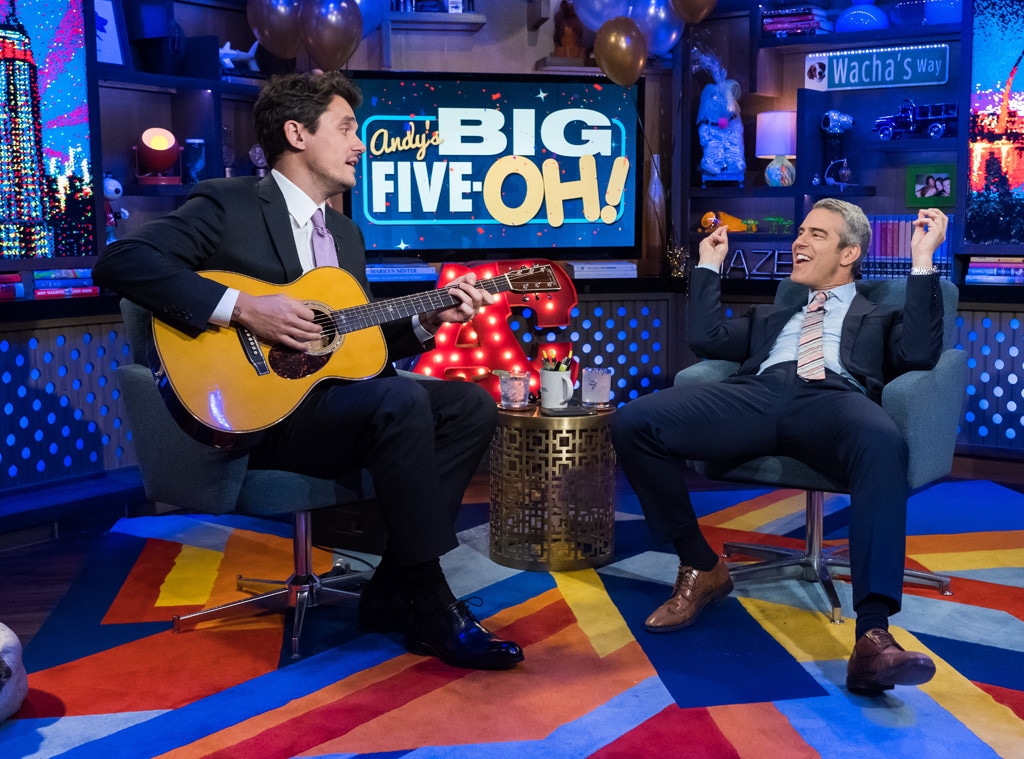 Bravo
It was Andy Cohen's birthday show, but somehow the audience was the one getting presents. We have John Mayer to thank for that.
E! News attended the May 24 taping of Watch What Happens Live with Andy Cohen's special birthday surprise episode and witnessed some truly memorable happenings. Not only were there blush-inducing videos of Cohen, but there was also Bridgett Everett and a motorboating situation, and an intimate performance by Mayer. Oh yeah, Dolly Parton surprised Cohen with a birthday phone call and even sang to the Bravo host! Talk about a birthday gift.
All this happened after Mayer turned the tables on his good pal and acted as host for the entire episode.
Cohen said he had no idea what to expect from his staff when it came to this birthday surprise—he's turning 50—and just figured Mayer would be involved via a taped message. By the end of episode and after-show taping, Cohen seemed genuinely touched by Mayer's presence—and the fact he learned one of Cohen's favorite Diana Ross songs—and that his staff put together the whole thing. Honestly, we were too.
The look of sheer joy, admiration and love on Cohen's face when Mayer performed made all of those feelings palpable to the audience.
What was so refreshing about the entire celebration was seeing these very famous friends—Cohen and Mayer—and their sort of surprising (let's be real, they're totally unlikely celebrity BFFs) friendship on full display. It's truly genuine.
Whether the conversation was about smoking pot with celebrities, trying molly (the drug, not a girl), dishing on Michelle Obama rebuffing Cohen's efforts to get her on the show, or singing Madonna, the two's close bond was on full display. These guys are actually friends, not "Hollywood friends."
Throughout his time in the host chair, Mayer was professional and funny. The singer demonstrated some real awareness when he tackled his sordid celebrity relationship past, but now, after all of his notorious Hollywood hookups, he's able to run in circles he previously wouldn't be accepted into because he's a friend of Cohen.
Cohen currently tours around the country with his other pal Anderson Cooper, but after watching Mayer and Cohen interact for about an hour, maybe it's time for Cohen to start touring with another BFF.
Watch What Happens Live's big birthday episode airs Sunday, June 3 at 10 p.m. on Bravo.
(E! and Bravo are both part of the NBCUniversal family.)