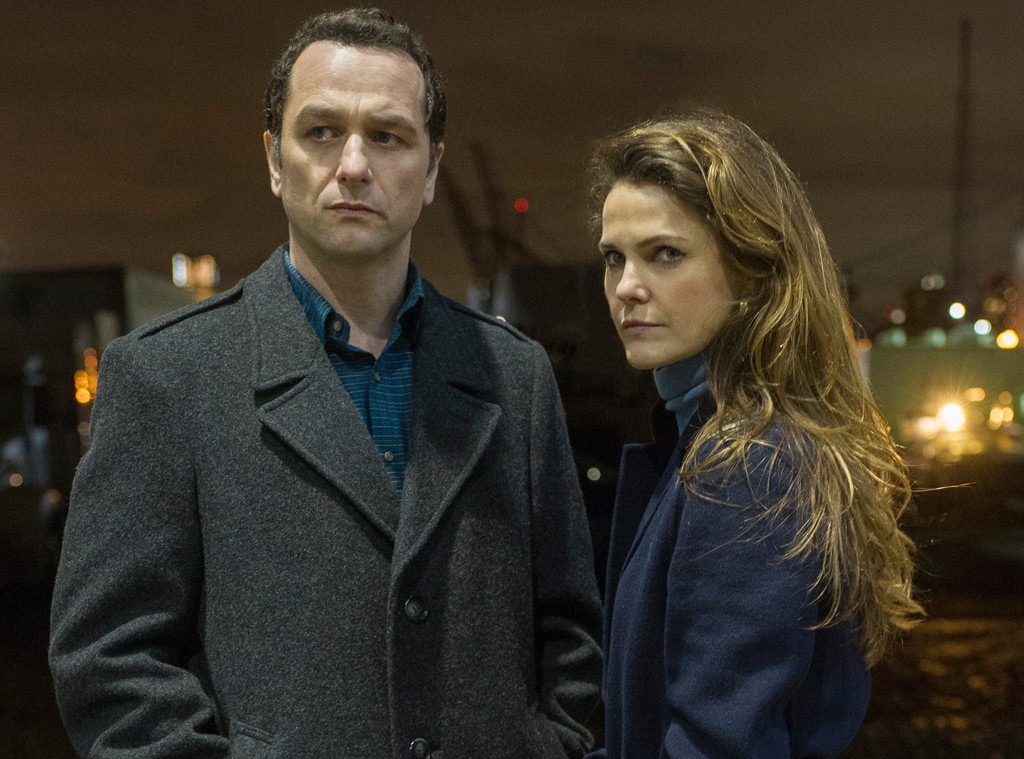 FX
The mission is over, comrades. 
After six seasons and countless disguises, The Americans ended its run on FX on Wednesday night, delivering a powerful, somewhat quiet and surprising end to Philip (Matthew Rhys) and Elizabeth's (Keri Russell) story. 
(Warning, spoilers ahead for The Americans' series finale. Click away now if you've yet to watch!)
Shocker: Philip didn't die! Elizabeth didn't die! Paige (Holly Taylor) didn't die! Henry (Keidrich Sellati) didn't die! No one died! That's right, all of the Jennings family members survived the series finale, but that doesn't mean they didn't suffer, as the spy parents were forced to return to Russia, leaving their children behind. 
Watch:
Keri Russell and Matthew Rhys on "The Americans" Finale
During a call with reporters, co-creators Joel Fields and Joe Weisberg weighed in on how and when they decided the series should end, Stan (Noel Emmerich) choosing to let the family go, Paige's haunting final scene, why no one died in the final hour and more...
Unhappy Happy Ending for the Jennings: The final scene of the series was Philip and Elizabeth back in Russia, without their children, looking out over the city, with Philip saying it felt "strange" to be there again, with Elizabeth telling him, "We'll get used to it." Her response, fittingly, was in Russian.
"That they were looking at their future as they looked off toward that city that, you know, was almost a strange, almost a foreign city to them after coming back after all these years," Weisberg said. "And both trying obviously to grapple with and process this terrible, terrible tragic loss of their children. Something they never ever would have been able to imagine even really a few days ago."
Why None of the Jennings Died: By the end of season one, the creators had come up with their ultimate ending, but were open to it possibly changing as the series went on. "We had no idea if that ending would stick…but by the time we got to the end of the show, that ending was still the one we liked the best," Weisberg said.
As for none of the main characters dying by series' end, Fields explained, "We always did our due diligence as running through as many story options as we could in our heads…so we thought of it in that sense, but this was the always the ending that felt right. To our surprise, it never shifted as we moved towards it."
And they both felt losing their children was more of a fitting punishment than death.
"Ultimately the tragedy taking place inside the family felt exactly right to us," Weisberg said. "So the fact that they lose their children just resonated more deeply with us. That every going on with their lives but with the loss of the children was to us the most powerful and in a way the most painful thing that could happen to anybody."
While they were aware that everyone surviving might "surprise" viewers, it wasn't their sole intention for keeping all of the main players alive.
"We consider that a plus. That it's, you know, going to surprise people. We were also aware it may disappoint some people," Weisberg said. "But as long as it rings true and feels emotion to us, we're happy."
But what about viewers who thought perhaps Philip and Elizabeth deserved to be punished for their various crimes? 
"I think punishment is a funny word," Fields said, "But the idea of there being a kind of tragedy that hangs over the spirit of the show and that it feels like some sort of tragedy or some kind of tragic ending is called for, some kind of toll is something that we probably felt and to us, the question is how big is that tragedy going to be and where is it going to live? Does it live in the emotional word or does it live in a death or something like that?"
Paige's Final Scene: The eldest Jennings child, who followed in her parents' footsteps, ended the series sitting in Claudia's apartment, drinking vodka, a scene purposefully left ambiguous.
"That's…one with the intent to put it into the heart of the viewers. Not because we're hiding something there, but it' because it's a moment that's not about plot, it's about where she's at personally."
The Hardest Scene to Write: The co-creators revealed they struggled the most with Stan finally confronting Philip about his lies, experiencing the "most anxiety" over it.
"At the end of the day, that friendship was a real friendship…it's hard to argue that these two men didn't love each other," Weisberg explained. "That scene becomes an exploration of however many years…of real relationship and all the s—t that went into it and now all the s—t that will come out of it."
Weisberg also stressed the importance of the showdown and how the entire finale hinged on it, saying, "I mean the stakes were high. Because if that scene didn't work, the whole ending of the show didn't work."
Check back with E! News tomorrow to hear from The Americans' co-creators about whether or not they would ever consider doing a spinoff series or revival down the road.