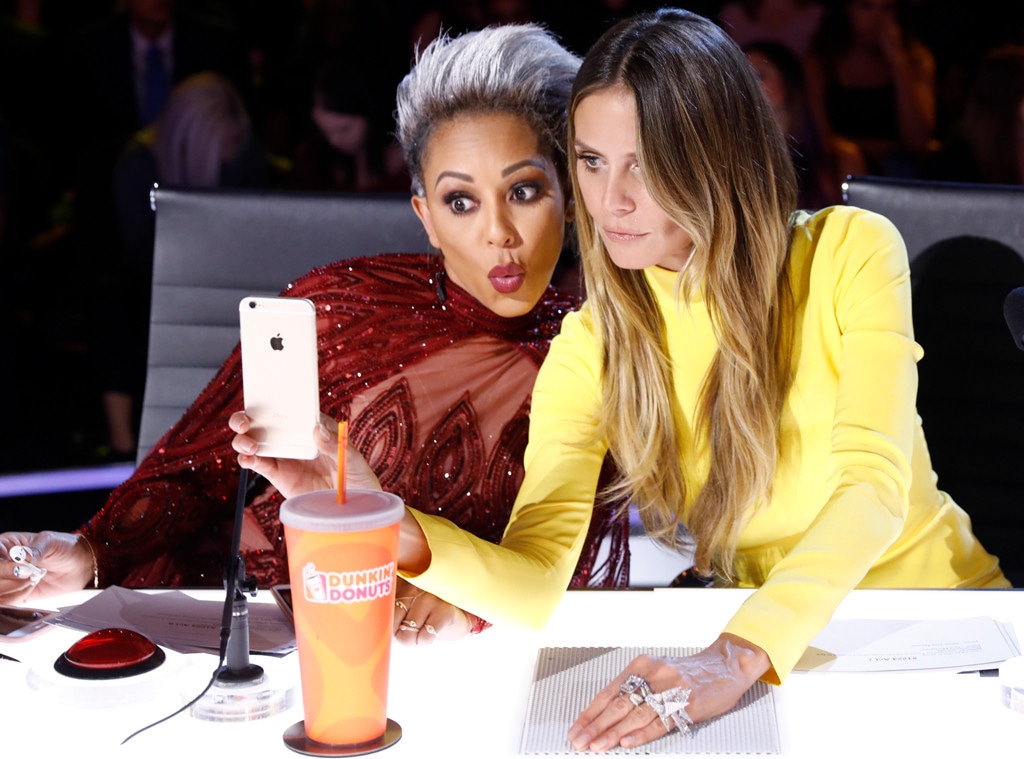 Trae Patton/NBC/NBCU Photo Bank via Getty Images
Mel B and Heidi Klum have to stick together.
As judges on America's Got Talent, they spend long hours in close quarters, traveling, promoting, shooting—both pre-taped and live shows—and observing a lot of wacky behavior (and that's just their fellow judges), in addition to some instances of honest-to-goodness entertainment.
And as the female judges on a panel that when they started included Howard Stern, who while the consummate pro on AGT had plenty of ribald things to say about his co-stars on his satellite radio show, and now includes the withering criticisms of Simon Cowell, they've had plenty of opportunities to dismiss the dudes around them.
"Have you any idea what that sounded like?" Cowell asked sardonically as Heidi and Mel B tackled "Girls Just Wanna Have Fun" on the karaoke machine backstage a couple years ago. "That was amazing!" Mel B determined as they walked off to find more of their own fun, which they do pretty much all the time.
"I think you have a crush on those two," Stern teased Howie Mandel, a judge on AGT since 2010, when Mandel appeared on his Sirius XM show in 2013. "They are hot—they are so f--king hot," Howie observed. "You think you could f--k them?"
"I know I could f--k them," Stern retorted, having of course sent the conversation down this crude road in the first place..
Lucky for him, Mel B has a bawdy sense of humor herself and Heidi is endlessly patient. She does have four children, after all. ("He's a lamb behind the scenes," Heidi, who actually met former boyfriend Vito Schnabel at Howard's birthday party several years ago, said early in her tenure on AGT.)
But the ladies at least had each other.
Michael Loccisano/Getty Images
They appeared on The Howard Stern Show together in 2015, with Howie, and seemed to have a rollicking time, at one point Mel B playfully telling Heidi off when she heard of a gathering at her pal's house that Howie was at and she was not.
"What a bitch! Where was my f--king invite, Heidi?" Mel B joked.
"I invite all of you whenever I have something to do," Heidi assured them. Listing some of her non-famous friends who were there, Mel quipped, "Bor-ing." 
And now in their fifth year working together, the ladies are enjoying each other's company more than ever, on and off the show.
For starters, they've got plenty in common. They're both divorced single moms with large families. They're both internationally famous women who have found complementary careers as reality-competition personalities that make proper use of their respective passions. And they both started AGT at the same time, making them fellow novices who were pleasantly surprised by just how much they enjoyed their new gig.
"I love it, I love sitting there with my judges," Klum said on Today in 2013, when she first joined AGT. Playing word association, she called Howie "goofy" ("he makes me laugh all the time"), Howard "stern" and Mel B "strict but fair."
"We call them our bookends, don't we?" Mel B, Heidi sitting next to her, said in an AGT interview when their first season premiered—referring, of course, to Howie and Howard.
"We're sandwiched in," Heidi added. "If they want to talk, we just go like this," she said, miming leaning backward, out of the line of fire.
"Some of the stuff they say to us is a bit inappropriate, I find at times," Mel B offered, good-naturedly but still totally meaning it. "That," Heidi agreed, "is what never makes it on the air."
Cue the montage of inappropriateness. But even if they were mostly laughing about it, the ladies—which since last year now include Tyra Banks as host—are there for each other. Keeping to themselves also makes tuning out the guys' antics that much easier.
"We are having fun. We laugh, we like each other," Mel B said. She and Heidi even spent most of the interview leaning toward each other conspiratorially. "I love it—I love you," Heidi said to her. "I love you, too," Mel B returned the sentiment. And then they said at once, Heidi flashing the Spice Girls V-sign, "Girl power."
As a mom of four and a mom of three, respectively, and with various other gigs in different countries, Heidi and Mel B don't have tons of time to socialize for non-AGT-related reason, but they became—and remained—fast friends. When Mel B was going through the nastiest stages of her divorce proceedings last year, Heidi was there for her.
"I think it was probably great that we're working so many hours every day to get personal things off her mind a little bit, plus we're all very supportive," Heidi shared with E! News at the time. "I love her dearly and she's hanging in there. She's good."
Araya Diaz/Getty Images for Republic Records
The pals also had more to bond over last fall after Klum broke up with Vito Schnabel. They partied together after the MTV Video Music Awards and hung out on the beach in Malibu with their kids. In fact, they started looking so cozy that the National Enquirer suggested their relationship was something more.
A story at which they had another good laugh.
"When you and your best friend hang out together with ya kids too,you just have to have your quick girly girlpower chat haha @heidiklum her face says it all,I just LOVE this woman!!!! Yippeeeee," Mel B captioned a collage of her and Heidi sharing a chair, peppering it with hashtags.
Heidi and Mel B also spent Thanksgiving together—it was unseasonably warm in L.A., hence the bikinis—and when AGT resumed shooting for season 13, the BFF vibes were already in place.
On their respective social media they've shown off the dance parties that inevitably occur backstage when they're waiting around. Mel B's mom visited the set in March and the trio made sure to pose for pictures. They got slimed together at the 2018 Kids' Choice Awards.
Neilson Barnard/KCA2018/Getty Images
Last night their chemistry was once again on full display, the repartee among the judges one of the many ingredients that inevitably make America's Got Talent one of the biggest TV hits of the summer.
Klum was talking to Parade recently when she was asked perhaps the most-repeated pop culture question ever: Will the Spice Girls be reuniting this season?
"I would vote yes on that. And if that happens, there might be an extra Spice Girl," Klum promised.
Yesterday also happened to be Mel B's birthday, which she marked on Instagram with an image reading, "The only people worthy to be in your life are the ones that help you through hard times, and laugh with you after the hard times pass."
Sounds as though Heidi Klum passed that audition with flying colors.
America's Got Talent airs Tuesdays at 8 p.m. on NBC.
(E! and NBC are both members of the NBCUniversal family.)