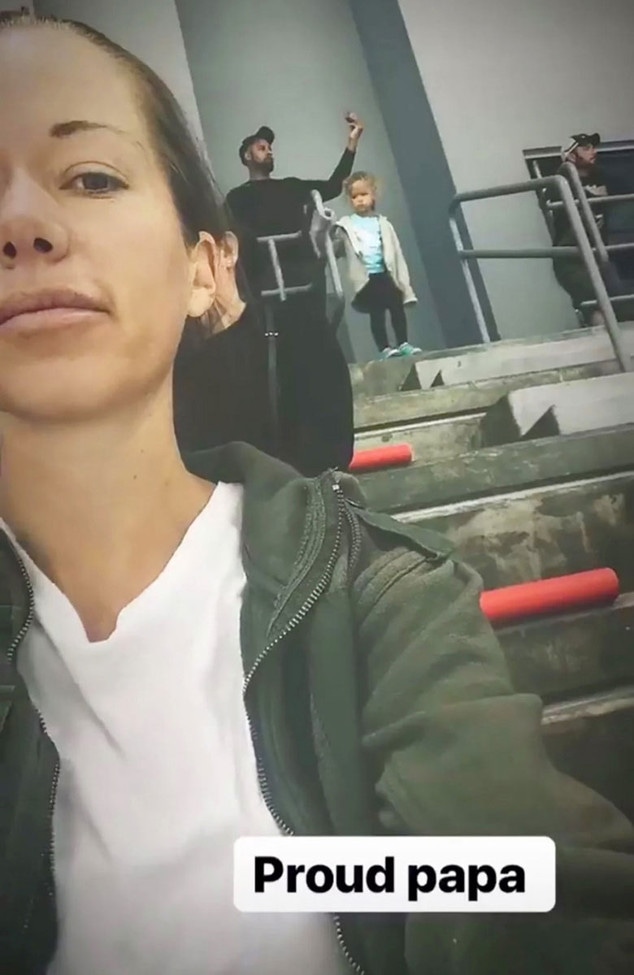 Putting their kids first..,
Less than two months after Kendra Wilkinson filed for divorce from husband Hank Baskett, the two put on a united front to support their son, Hank IV, at his ice hockey games in Las Vegas this weekend.
While at the game, the reality star shared some videos and images on her Instagram Story and her estranged husband popped up a couple of times.
In one image, the former NFL player spends time with his 4-year-old daughter Alijah, 4, watching his 8-year-old in the game and filming him.
In the image, Kendra writes "proud papa." 
The exes also took pics selfie along with Wilkinson's mom, Patti Wilkinson, and her brother Colin Wilkinson, who tweeted a group shot of the cheering family with the caption, "Lil Hank support squaddddd."
This is not the first time that Baskett and Wilkson have been spotted spending post-split time together at their kids' sporting event.
Almost exactly a month after the split, Kendra took to Instagram to update fans on how she'd been doing with her new reality.
"Just posting random selfies and saying hello to u all," she wrote on Instagram to her 2.8 million followers. "Been trying to take care of myself lately. My mental, emotional n physical well being."
Kendra added, "Kids come first at all time but mama needs some fun rt now. I need a little kick in the ass. SOS."
The famously blonde star has also made her tresses brunette that she admitted in the comments section needed a "touch up."
Judging from the recent images, looks like that touch up happened!
In April, Kendra cited irreconcilable differences as the reason for the divorce, according to court documents obtained by E! News. The date of separation is listed was January 1, 2018.
Following weeks of split rumors, the Kendra on Top star and Girls Next Dooralum said on Instagram on April 6, "Today is the last day of my marriage to this beautiful man. I will forever love Hank and be open but for now we have chosen to go our own ways." Hank did not comment.
The two wed at her former home, the Playboy Mansion, back in 2009. In court papers, Kendra requested joint legal and physical custody. 
As for the reasons behind the split, a source told E! News at the time that it wasn't one specific thing but something that was years in the making. 
"It's definitely been a long time coming. They've been trying to work on this for a long time and it finally hit a roadblock," our source shared. The exes "tried to work things out for so long for the sake of the kids, and they did want to be together. They tried everything they could."