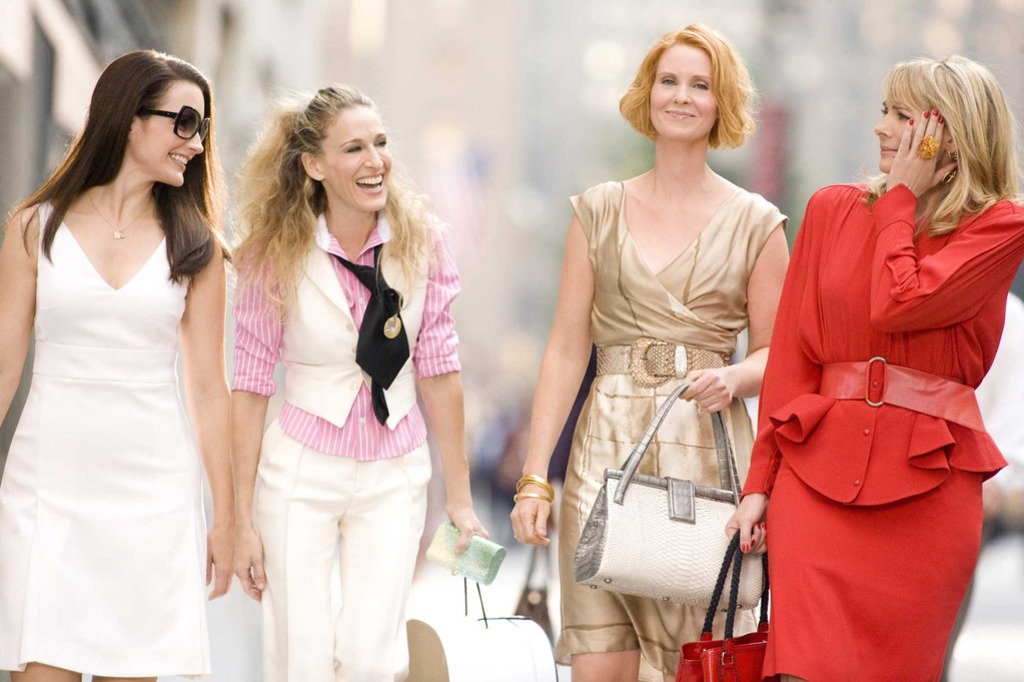 New Line Cinema / Warner Bros. Home Video
Before Carrie Bradshaw sat at a desk in her much-coveted Upper East Side apartment, bemoaning the lack of great unmarried men and well before she, Miranda Hobbes, Charlotte York and Samantha Jones made Manolo Blahniks, Magnolia cupcakes and Cosmopolitans household names, Sex and the City was simply a column in a weekly local newspaper called the New York Observer. 
And if you've ever had an "I couldn't help but wonder..." moment about how the stories transformed from print into a must-watch HBO darling that pulled in 10 million-plus viewers and spawned copycat shows, a popular New York City bus tour and countless fashion trends, here's the answer. 
Back in 1993, New York-based writer Candace Bushnell had grown weary of the reputation she received from being published in monthly magazines—"No one took writers who worked for women's magazines seriously," she explained in a first person piece for The Hollywood Reporter—and eagerly accepted a chance to pitch ideas to the Observer. Her initial idea, a story about '80s kids who ended up in rehab in the '90s and relapsed every time they came back to New York, was accepted and she was stoked. 
"For me, the Observer was really a big break in that sense of getting my work into a publication that was taken more seriously—and they loved the piece," she wrote. "I'd really been doing similar pieces for years, but no one was really paying attention because they were in women's magazines. The difference is that being in the Observer meant that your work was going to be talked about by the so-called intelligentsia because they all read it."
Soon, continued Bushnell, she was a regular in the paper's pages with her then-editor dubbing her a secret weapon "because people would tell me everything, and I'd be like, 'Please, don't tell me that. You know I'm a reporter, right?' It was a very exciting time. There was no internet. And that was really what the publications, in a sense, did: Go out and capture the pulse of the city."
When the editor-in-chief offered up her own column in 1994, she accepted instantly. "I said 'Great!' I knew it was my big break. I don't know if there was another woman at the Observer who had her own column, but I was pretty much the only one, and I was really going to make it work."
Tasked to come up with a concept that would provide plenty of material, "I said, 'I think it should be about me and my friends, who are all single and crazy.' This was also kind of the same thing that I'd been covering in my 20s — dating and mating rituals."
Within 24 hours, her idea was approved and it had a name. The next morning when she came into the office, her editor told her he'd had a brainstorm: "He was like, 'I got the title. We'll call it Sex and the City. One foot in sex and one foot in society.' And we all said 'yes!'
Her first column found her doing research at a sex club, but after that she suggested articles based in her own reality. Obviously it was a raging success. 
"People were buying the Observer for my column. They were reading it on the Hamptons Jitney, they were reading it to each other, they were faxing it," Bushnell detailed to The Hollywood Reporter. Roughly four months in, "I started to get inquiries from Hollywood. People in New York who worked in film and media were faxing it to their friends who worked in film in Los Angeles. I flew out to L.A. and had meetings. I was like, 'What the hell?'"
Though she was wooed by the likes of ABC and HBO, Bushnell eventually sold the rights of her two-year column to Darren Star, the Beverly Hills, 90210 and Melrose Place producer she first connected with in 1995 while on assignment for Vogue. The asking price: just a little north of $60,000.
"I never envisioned it for the screen," Bushnell admitted to Entertainment Weekly. "The column was never meant for a mass audience; it was just for the New York Observer readership, which is a very select group." 
Star's plan was far grander. Though he originally pitched a feature film to Miramax—"I really wanted to do a comedy about sex from a female point of view. I wanted to do an R-rated comedy," he told Entertainment Weekly—he realized it was the right fit for cable. "I was never seriously considering going to a network," he explained. "My first question to them was, 'Would you even be able to call the show Sex and the City?'" 
He imagines one event in particular—then-President Bill Clinton's affair with White House intern Monica Lewinsky—paved the way for the show's arrival. "The entire country was suddenly forced to talk about bl-- jobs. That forced the country to be more open about acknowledging sex." 
Now he just needed a cast. Cynthia Nixon proved to be easiest sell. The perfect fit for somewhat cynical type-A lawyer Miranda Hobbes, the only change needed was for the natural blonde to dye her hair red. "I was excited about playing somebody who was so angry, bitter and cynical because, having been a child actor with long blonde hair, I was always playing sweet, waiflike, hippie characters," she explained in Jennifer Keishin Armstrong's new book Sex and the City and Us: How Four Women Changed The Way We Think Live and Love. "It was nice to grow out of that."
Sarah Jessica Parker wasn't as eager to sign on. By then a veteran of movies such as Honeymoon in Vegas and L.A. Story, the former child actress from Ohio didn't fancy the idea of committing to a TV series, even as the show's relatable lead Carrie Bradshaw, the heroine loosely based on Bushnell. Nor was she into having to take her clothes off onscreen. 
According to Armstrong, Star gave Parker the hard sell over a March 1997 lunch at Upper East Side spot E.A.T., telling her that he heard Carrie in Parker's voice as he wrote the script and that she could be a producer on the show. As for her qualms about nudity, he said she would never need to strip down. "If you want to wear a bra and roll around in bed with somebody, and that's what makes you comfortable, then that's what you shall do," Parker recalls him saying. "And if one day you decide you don't want to wear the bra, then that's what you should do." 
Parker was sold. "I was not comfortable with nude scenes, scenes with sex toys or vulgar language—so I didn't not do any," she told The Sun in 2010. "My character, Carrie, kissed a lot of men—but that's as far as it went."
Kim Cattrall, tapped to play outspoken publicist Samantha Jones, had other concerns, turning down the part a reported three times. She was so convinced she wasn't right for the highly sexual role, that Star was forced to cast a woman named Lou Thornton. "I didn't get a chance to know her," he told Deadline. "The problem was that she was in her 30s, I think. And it was changing who Samantha was. Samantha was 10 years older than the other girls, a totally different experience." 
So he took one more shot at convincing Cattrall. "At the last minute Darren called me again and said, 'One more lunch! Please, one more lunch,'" the Modus actress recalled to Access Hollywood. As they discussed why Star thought she was perfect for Samantha—and that she would have a say in her trajectory—Cattrall began to soften. "Later that day," wrote Armstrong, "she told HBO she was in." 
The final piece of the puzzle: Melrose Place alum Kristin Davis. Originally called in to read for Carrie, she feared she didn't match Star's description of the character as having "the body of Heather Locklear and the mind of Dorothy Parker," Armstrong detailed, adding that while she felt Carrie was great, she was meant to be sweet, traditional art dealer Charlotte York. Though her audition was shaky—Star told her she needed to be bigger and funnier—she was offered the role, conditionally. The character, she was informed, might not be a series regular. "She thought, 'Ew, but okay,'" Armstrong wrote in her book. "She figured she would do everything possible to stay on the show, and at least she had gotten a shot." 
By the time season one wrapped in the summer of 1998, she knew she'd made the right call. Running into George Clooney (she'd worked with him on an episode of ER) at his Out of Sight premiere, he offered up congratulations, Armstrong said. When she inquired about what, he replied, "The show. It's so great!" 
By then the team had overcome another major hurdle. Nine months after filming the pilot in June 1997, Parker had second thoughts. 
In a 2015 column posted on Playbill Sirius XM radio host and Broadway performer Seth Rudetsky recalled chatting with the star while performing with her and husband Matthew Broderick in the Broadway @ Town Hall show in Provincetown, Mass. "We, of course, talked about Sex and The City and turns out, she was reluctant to do the pilot because she didn't really want to do a series," Rudetsky wrote. "However, she loved the script so she filmed it and then forgot about it. Months later, she found out the show was picked up and she completely wanted to get out of it. I mean, completely. She really didn't want to be tied down to one job because she loved going from gig to gig and being, what she called, a 'journeyman.'"
Parker opened up about her hesitations while chatting with People's editor in a 2016 edition of The Jess Cagle Interview. "I was like, 'I don't know if I think I want to do that. Is there a way to not do that?'" Parker said. "I met my agents in L.A.—Kevin Huvane—and I was like, 'Do you think maybe I could not do this now?' Because I wanted to keep doing a play and doing a movie and doing a play. So, the way I thought it was going to change my life was that it was going to like hold me hostage to a commitment."
She tried a few maneuvers to wiggle out, Rudetsky detailed, "including telling HBO that she would film three projects for free if they'd release her from her contract!" Worried, HBO execs lined up future House star Lisa Edelstein to step in if Parker backed out, and set up a meeting with their leading lady to talk things through. 
New Line Cinema/Hbo/Village Roadshow/Kobal/Shutterstock
They sat her down, she recalled, "and said, 'No, no, no, no, no. We don't function like that. We want you here if you want to be here and we make shows based on how we are feeling about [them]. We don't have to respond to advertising dollars, so let's just have a season and see how it goes.'"
It turned out to be the exact right thing to assuage her fears. "I was easily convinced and I went to the set the first day and I never looked back. It was the happiest, it was the most productive, fulfilling professional experience I could have imagined."
Starting with the filming of the opening credits. In March 1998, Parker, Star, costume designer Patricia Field and the rest of the crew took to Manhattan's Fifth Avenue with a slew of water buckets and a plan. "The series was about four women, but the viewer's way into the show is through Carrie," Star explained to Entertainment Weekly. "It was important to establish this young, single woman who's writing a column exploring sex and relationships and in the process learning about life. And part of learning about life is getting splashed by a bus. She has this moment of glory that ended very quickly." 
Parker was into the scene, though it meant several takes of being splashed by water: "I thought it was a very smart way of doing pie in the face before anybody else could do it." 
The only question, of course, was what to wear. While Star envisioned her in a "a beautiful blue dress," Parker and Field fought hard for the now-iconic tutu. "I told Darren that if the show as a hit, we'd need something completely original—not of that season or a certain time," Field explained. 
Eventually, Star agreed: "It was such a brilliant choice because in a way, Carrie's dancing through her life in New York. 
And she'd continued to two-step for six seasons and two films, inspiring scads of women in their twenties to assign themselves a character (though just about everyone wanted to be "the Carrie") and, most importantly, truly value their female friendships. 
Two decades later, Parker says she still sees evidence of the show's legacy every time she steps outside her downtown apartment. "I think because I live in New York and I'm constantly walking on the streets where we filmed, it doesn't feel like a distant memory," she told E! News. "I have just countless, wonderful, very vivid memories but I think, you know, in total the experience of shooting on the streets of New York, places people had never shot before or rediscovering locations, neighborhoods, streets, mews, alleyways, shooting all night long with people that I really loved, in total the whole experience is really my favorite." 
New Line Cinema / Warner Bros. Home Video
Nixon says she continues to be surprised by the series' enduring impact. "I have to say I am amazed," she told E! News. "The idea that people still treasure it the way they do and remember it and continue to watch it and new generations come along and they watch it, I mean, I love it, I'm very proud of it, but that it would have this kind of longevity is kind of hard to come to grips with."
Twenty years later, we're just that into you. 
Watch E! News Friday, June 8 at 7 p.m. for a special Sex and the City episode immediately followed by E!'s Sex and the City 20th anniversary marathon of every episode ever starting at 7:30 p.m.!