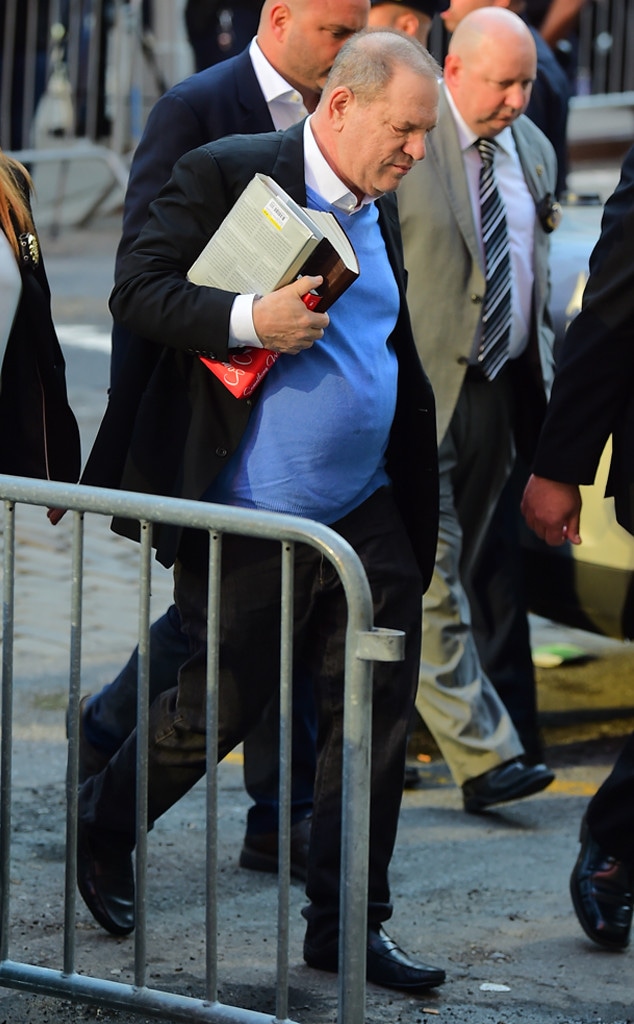 247paps.tv/Splashnews
UPDATE: Harvey Weinstein has been indicted on rape and sex crime charges. Manhattan District Attorney Cyrus R. Vance, Jr. released a statement on Weinstein's indictment Wednesday, stating, "A Grand Jury has voted to indict Harvey Weinstein on charges of Rape in the First and Third Degrees, and Criminal Sexual Act in the First Degree."
"This indictment brings the defendant another step closer to accountability for the crimes of violence with which he is now charged," the statement continues. "Our office will try this case not in the press, but in the courtroom where it belongs. The defendant's recent assault on the integrity of the survivors and the legal process is predictable. We are confident that when the jury hears the evidence, it will reject these attacks out of hand."
The statement concludes, "I thank the heroic survivors for their strength throughout this process. I also thank Commissioner James O'Neill and members of the New York City Police Department for their dedication to this case. This investigation remains active and ongoing. We continue to urge additional survivors and others with relevant information to call us at 212-335-9373."
In response, Weinstein's attorney Ben Brafman released a statement on behalf of his client.
"The announcement of Mr. Weinstein's Indictment, does not come as a surprise," the statement begins. "Indeed, it was predicted by me this morning in an earlier statement we issued. We also note of course that the Indictment merely mirrors the same charges in the criminal court Complaint and does not add anything to the case we did not already know."
"We asked the District Attorney for more time so that Mr Weinstein's attorneys could gather the material needed to properly prepare him for his grand jury testimony but that request was denied," the statement continues. "We remind everyone that an Indictment is merely a formal accusation. Mr Weinstein intends to enter a plea of Not Guilty and vigorously defend against these unsupported allegations that he strongly denies. We will soon formally move to dismiss the indictment and if this case actually proceeds to trial, we expect Mr Weinstein to be acquitted."
—————
UPDATE: After a closed door hearing today, a lawyer for Harvey Weinstein spoke out in regards to the unnamed woman accusing the Hollywood producer of rape. 
"This is an extraordinary case in my judgment, where the only rape victim that Mr. Weinstein is accused of raping is someone who he has had a 10-year consensual sexual relationship with," attorney Benjamin Brafman shared with reporters via the New York Times. "There is a confluence of concerns that make me concerned that it's going to be difficult for people who are judging this case to keep an open mind and be fair...I think at the end of the day Mr. Weinstein will be exonerated of these charges." 
Prosecutors have not identified either victim in court papers. The first alleged victim Lucia Evans, however, has spoken to the The New Yorker. The second woman has yet to be publicly identified.
—————
Harvey Weinstein's day of reckoning has come.
Around 7:30 a.m., the producer surrendered to authorities at the New York Police Department's 1st Precinct, where was fingerprinted and photographed. Just before 8:30 a.m., he was charged with rape, a criminal sex act, sex abuse and sexual misconduct for incidents involving two separate women. "The NYPD thanks these brave survivors for their courage to come forward and seek justice," a spokesperson said. "The arrest and ensuing charges are the result of a joint investigation between the NYPD and the Manhattan District Attorney's Office." He was transported to New York County Criminal Court at 8:55 a.m.; two sources told NBC News he is expected to be released on $1 million bail and required to wear an ankle monitor.
A smiling Weinstein, wearing a blue sweater and a black blazer, ignored reporters' questions when he first showed up to turn himself in. He was seen carrying three books, including Elia Kazan: A Biography and Something Wonderful: Rodgers and Hammerstein's Broadway Revolution.
Several sources familiar with the investigation tell NBC News the rape charges stem from a complaint made by an anonymous woman. The sex abuse charges stem from a complaint from Lucia Evans, who told The New Yorker in an interview published Thursday, "At a certain point, you have to think about the greater good of humanity, of womankind." Initially hesitant to press charges, she later changed her mind. "They said that if I do nothing, Harvey would walk."
Last fall, Evans went public with claims that Weinstein had sexually assaulted her in his office in 2004. "He forced me to perform oral sex on him. I said, over and over, 'I don't want to do this. Stop. Don't," she told Farrow. But Weinstein is a "big guy," Evans noted. "He overpowered me."
At Weinstein's arraignment, Judge Kevin McGrath set bond at $10 million, meaning the disgraced producer has to pay $1 million today. As part of the agreement, Weinstein turned in his passport, and acknowledged he needs consent to travel outside of Connecticut and New York (where he owns separate properties). "This defendant used his position, money and power to lure young women into situations where he could violate them sexually," prosecutor Joan Illuzzi told the judge. Weinstein, standing next to his attorney Ben Brafman, did not speak during the proceeding. "Today's charges reflect significant progress in this active, ongoing investigation," District Attorney Cyrus Vance, Jr. said. "I thank the brave survivors who have come forward, and my office's prosecutors who have worked tirelessly on this investigation. I would also like to thank Commissioner James O'Neill and our dedicated partners at the NYPD."
People with relevant information are urged to call the Sex Crimes Hotline at 212-335-9373. Rape in the first degree is a Class B felony, carrying a maximum sentence of 25 years in prison.
Weinstein exited through the back. In a press conference on the steps of the courthouse, Brafman said they are planning to enter a not guilty plea. "We intend to move very quickly to dismiss these charges. We believe that they are constitutionally flawed. We believe that they are not factually supported by the evidence," he said, adding that his client is doing "as well as can be expected when you are accused of a crime that you [strongly] deny having committed."
Brafman also said he believes Weinstein will "be exonerated," adding, "We knew that Mr. Weinstein was under investigation for more than seven months. He voluntarily surrendered this morning and we met all of the bail conditions..." While taking questions from reporters, Brafman said, in part, "Mr. Weinstein has always maintained that any sexual activity he engaged in was consensual." Should the case go to trial, Brafman said he hopes the jury members will not be "consumed by the movement that seems to have taken over this case."
The attorney added he would let the court know whether Weinstein will testify by May 30. "I anticipate a vigorous defense. That's been my professional job for almost 40 years, and I think most of you know that," Brafman said. Responding to another reporter, he said, "Mr. Weinstein did not invent the casting couch in Hollywood...bad behavior is not on trial in this case. It's only if you intentionally committed a criminal act, and Mr. Weinstein vehemently denied that..."
Twin exposés, from The New York Times' Jodi Kantor and Megan Twohey and from The New Yorker's Ronan Farrow, helped many of his accusers tell their story on the record for the first time. Nearly 100 women have since accused Weinstein of sexual harassment—and, in some cases, rape. The once untouchable Weinstein, through his legal team, has denied all allegations.
Rose McGowan, who reached a $100,000 settlement with Weinstein related to an encounter in 1997, issued a statement about the news Thursday, after it was first reported he would be turning himself in to authorities. "I, and so many of Harvey Weinstein's survivors, had given up hope that our rapist would be held accountable by law. Twenty years ago, I swore that I would right this wrong," she said. "Today we are one step closer to justice. We were young women who were assaulted by Weinstein and later terrorized by his vast network of complicity."
"I stand with my fellow survivors," added McGowan, who spoke with Farrow for his initial article. "May this give hope to all victims and survivors everywhere that are telling their truths."
Some of Weinstein's more prominent accusers include Rosanna Arquette, Salma Hayek, Angelina Jolie, Ashley Judd, Lupita Nyong'o, Gwyneth Paltrow, Mira Sorvino and Uma Thurman. "Today Harvey Weinstein will take his first step on his inevitable descent to hell," Asia Argento, another accuser, tweeted. "We, the women, finally have real hope for justice."
Steven Hirsch/New York Post via AP, Pool
"To see him in cuffs on his way out—whether he smiled or not—that's a very good feeling," McGowan said on Megyn Kelly TODAY, just after he was transported to New York County Criminal Court. After feeling gaslighted, she admitted, "I didn't believe this day would come..."
Weinstein's attorney declined to comment on the matter Thursday. In a court declaration earlier this month, he wrote, "Mr. Weinstein is currently in treatment for personal issues in the hope of becoming a better person and one day soon hopefully restoring his life and again continuing the pursuit of the extraordinary charity that he has always engaged in. Weinstein vigorously denies ever engaging in criminal sexual misconduct and if given the opportunity to fully defend himself, he believes that all of these allegations will be shown to be without merit."
Five days after the first report about Weinstein came out, Marchesa's Georgina Chapman, his wife of nearly 10 years, left him. The couple's divorce was finalized a few months later, and Chapman—who has two children with him—received a reported settlement of $15-20 million.
As Chapman later told Vogue, "I had what I thought was a very happy marriage." The fashion designer insisted she was "never" suspicious about his behavior, calling him a "confidante," a "friend, a "supporter" and a "wonderful partner." But as more women made claims against him, she realized, "There was a part of me that was terribly naïve—clearly, so naïve. I have moments of rage. I have moments of confusion. I have moments of disbelief!" Feeling "broken" and "humiliated," she fled to London with her children. "It's still so very, very raw. I was walking up the stairs the other day and I stopped; it was like all the air had been punched out of my lungs."
After the accusations against Weinstein were first published in October 2017, thousands of people felt empowered to share their own stories through the #MeToo movement on social media. Three months later, Hollywood's biggest stars banded together to launch Time's Up, with an intent to prevent further sexual assault, harassment and inequality in the workplace.
After Weinstein's arraignment, a spokesperson for the Time's Up movement issued a statement: "Today a man whose actions were so egregious that they spawned a global reckoning has been taken into custody. Harvey Weinstein shattered that lives of an untold number of women. We stand with them and remain in solidarity with women everywhere who have faced unsafe and abusive workplaces. We look forward to seeing justice prevail."
Weinstein was fired last year from his production company, which later filed for bankruptcy.
(E! and NBC News are both members of the NBCUniversal family.)
(Originally published on Friday, May 25, 2018, at 4:35 a.m. PDT.)