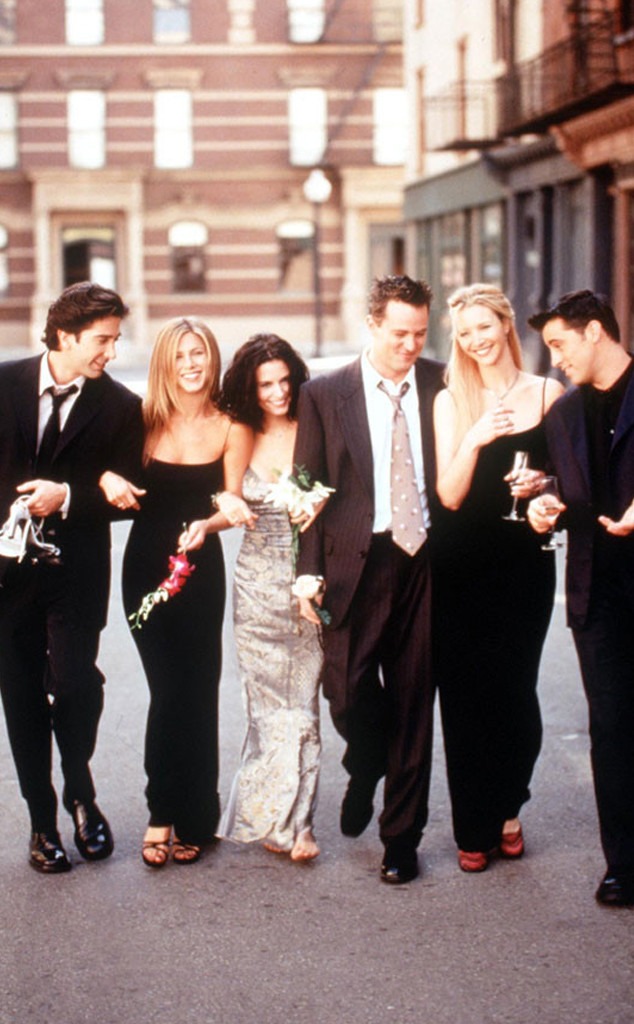 NBC
In case you missed it, TV is full of '90s reboots right now. No, it's not actually 1999, but we sure are partying like it is…at least when it comes to TV. Now that so many different shows have been rebooted or revived over the past few years you'd think we'd be over this trend...but we're not.
Honestly, based on the success of rebooting Full House into Fuller House on Netflix and the Will & Grace reboot getting another season order before it even premiered, it makes total sense that networks are jumping on the nostalgia train.
The real question is which '90s sitcom do you want to see brought back to life next? Roseanne came in hot—and then went out even faster—while Mad About You has been getting a lot of chatter about a possible reboot. Plus, Murphy Brown is now slated to premiere this fall on CBS, so what else is there? A lot actually. If we're being honest we'd watch any, and all, of these sitcoms if they were on our TV screens once again because they still make us laugh.
Whether you're a big fan of Seinfeld, or can't let go of a possible Friends reunion, there are a lot of '90s sitcoms still on the table. Take Blossom or Family Matters for example, they'd both be awesome as a revival show. What about Saved by the Bell or The Fresh Prince of Bel-Air? Both of these would be hilarious in modern-day California.
Now it's your call, cast your vote for one of the following '90s comedies that you're dying to see again—in modern times of course—and maybe your vote will sway those TV execs making all these reboots happen. You never know, it could happen.
1. Friends:
With Ross (David Schwimmer) and Rachel (Jennifer Aniston) being each other's lobsters, and Monica (Courteney Cox) and Chandler (Matthew Perry) finally having the kids they've always wanted we really need to reboot this series and find out what our favorite Central Perk crew has been up to. Is Joey (Matt LeBlanc) single? What is going on with Phoebe (Lisa Kudrow) and Mike (Paul Rudd)? We need answers!
2. Seinfeld:
Seinfeld had a rocky and somewhat controversial ending in 1998—remember when almost every fan was not a fan of the series finale?—so rebooting it seems like a no-brainer. Plus, the cast is still friends and Jerry Seinfeld and Julia Louis-Dreyfus are still in the TV game—with Comedians in Cars Getting Coffee and Veep—so we vote for these funny people making another show about nothing ASAP.
3. The Fresh Prince of Bel Air:
We can only imagine what it would be like to see Will Smith as his Philadelphia born and raised alter ego back in Bel-Air with his richy-rich relatives like Carlton Banks (Alfonso Ribeiro). Do you think he'd still rap?
Joseph Del Valle/NBCU Photo Bank
4. Boy Meets World:
We know that Boy Meets World got a spinoff series called Girl Meets World and it did feature some of the original characters and cameos by others, but it's just not the same. We need the whole cast back together and more Cory (Ben Savage) and Topanga (Danielle Fishel) for many years to come.
5. Saved By the Bell:
Sure, Saved By the Bell was about high school, but the friendships between Zack Morris (Mark-Paul Gosselaar), A.C. Slater (Mario Lopez), Kelly Kapowski (Tiffani Thiessen) and the rest of the Bayside crew could make it through anything…even adulthood. The real question is how would Mr. Belding (Dennis Haskins) fit into their adult lives?
6. Home Improvement:
Watching Tim "The Tool Man" Taylor (Tim Allen) back in action with his wife, kids and high-tech tools would be such an easy reboot. Plus, if we had it our way at least one of his boys would have a home improvement show and then we'd really see who the real "tool man" was in the Taylor house.
7. Cheers:
Cheers might be more of an '80s sitcom, but it didn't end until the '90s so we're going to say it counts. All you need is a bar where everyone knows your name and the Boston backdrop and we'd belly up to the bar (or TV screen) tomorrow. Plus, the cast, which featured Ted Danson, Rhea Perlman, John Ratzenberger and so many more was so good together that we need an encore.
8. Sister, Sister:
Tia Mowry-Hardrict and Tamera Mowry-Housley have previously spoken out about rebooting their '90s sitcom Sister, Sister and we're not sure what's stopping them. Twins separated at birth only to be reunited and live under the same roof with their adoptive parents is a brilliant story idea and we bet it would only get better with age.
9. Blossom:
Blossom, blossom, blossom, what can we say about this awesome '90s show and character? Well for starters it starred Mayim Bialik way before she was part of The Big Bang Theory's nerd herd as well as heartthrob Joey Lawrence. While the series was about Blossom trying to understand what it would be like to not be raised by all men, we'd like to see her grown up and perhaps raising a bunch of men herself.
10. Step By Step:
After seven glorious seasons we still want more from the Step by Step cast. Bringing back Frank Lambert (Patrick Duffy), his wife Carol Foster Lambert (Suzanne Somers) and their combined six children is a must. As families grow things get more complicated, which is exactly why we'd like to see this family back in action.
11: Family Matters:
We need the Winslow family and their always-annoying, yet lovable neighbor Steve Urkel (Jaleel White) back in our lives right now. It would make for another great comedy and give all modern-family based shows a run for their money.
12. Frasier:
Since Frasier had 11 seasons we might be getting a little bit greedy here, but we're still throwing it in the ring for potential reboot status. We'd be very happy seeing Dr. Frasier Crane (Kelsey Grammer) living in Seattle with his brother Dr. Niles Crane (David Hyde Pierce) bantering about some intellectual jargon for many more seasons...wouldn't you?
OK the moment has finally come, it's time for you to cast your vote. Which '90s sitcom really should be the next possible TV revival?!
'90s TV Sitcoms Revival Poll