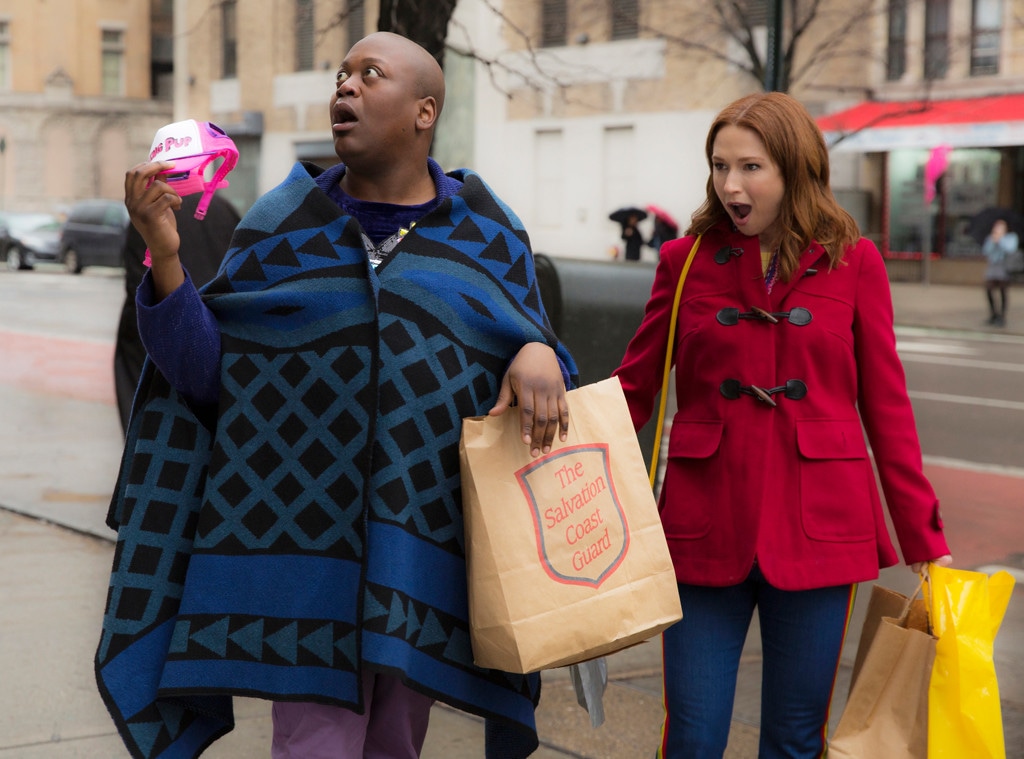 Netflix
Television can be many things. It's entertainment. It's escapism. It's inspiring. Unbreakable Kimmy Schmidt is all of those and more.
The Netflix comedy, which was created by Tina Fey and Robert Carlock and was nominated for three awards at the 2018 People's Choice Awards, including Best Comedy Show, Best Comedy Star and Best Bingeworthy Show, tells the story of Kimmy Schmidt (Ellie Kemper), a young woman who starts a new life after escaping captivity in an underground bunker. Kimmy Schmidt tackles a variety of issues—mostly with sunshiny humor—including sexual assault, post-traumatic stress disorder, and sexual orientation. Unbreakable Kimmy Schmidt is hope embodied.
"When I was a kid, my pastor at church used to preach this sermon every year called, 'Reach beyond the break, hope against hope, ask for a lifeline,' and I don't think I fully got it as a child," series star Tituss Burgess said during a recent set visit. "But it's funny, I often think about the message while filming Kimmy because she, Kimmy Schmidt, is the embodiment of what that sermon's about. Her relentless zeal for life, her involuntary reaction to helping people—she of all people, she's had the darkest past and yet somehow she is trapped inside hope and inside faith. It is such a beautiful lesson, you know?"
"It's kind of like The Wizard of Oz. Scarecrow, Tin Man and Lion are all subsidiaries or compartments of Dorothy, right? And myself, Carol Kane and [Jane Krakowski], our characters are all little slivers of Kimmy, all trapped inside our respective bunkers, if you will. And Kimmy, just by sheer existence and example, sort of ambushes us and forces us to reach beyond the brink and keep the faith, keep hope," Burgess continued.
"When I am able to zoom out of filming and just look at the actual story for what it is and be able to watch and look at it outside of myself from a spectator point of view, I'm so grateful for this show and this message because—I hate to say now more than ever, but when you need it the most, it is a wonderful—It serves as both a reminder and can also take your mind off—simultaneously—what is going on and what you need to do in the wake of what is going on," he concluded. "That is what the show means to me."
After her escape, the character of Kimmy Schmidt moved to New York and started a new life. She joined the work force, went to college, started therapy to tackle her anger PTSD and pursued a career as a crossing guard, before getting a new, real-world human resources-type of gig at a tech company. Kemper said Kimmy "embodies what I personally aspire to, which is that she does not blame outside circumstances for her own actions or her own fate."
"She takes matters into her own hands. She endured the worst experience that someone could endure and she still doesn't, like, refer to it as, 'Oh, well I can't do something or achieve something because of this bad thing that happened.' Instead, she just marches forward and makes her own—breaks is what I was going to say," Kemper said.
"And I find that very inspiring because I think it's easy to blame other circumstances for things that go wrong in your life and Kimmy doesn't do that. But that's a weird thing to say because I play the character," Kemper continued. "But I think what other people said, what viewer responses have been, I think the show—I hope—has helped people watching it who are going through a bad time. I hope it has lifted them up because it is funny and also I think treats humor as an antidote to tragedy, which sounds corny, but it's true."
The first six episodes of Unbreakable Kimmy Schmidt season four are now streaming on Netflix.