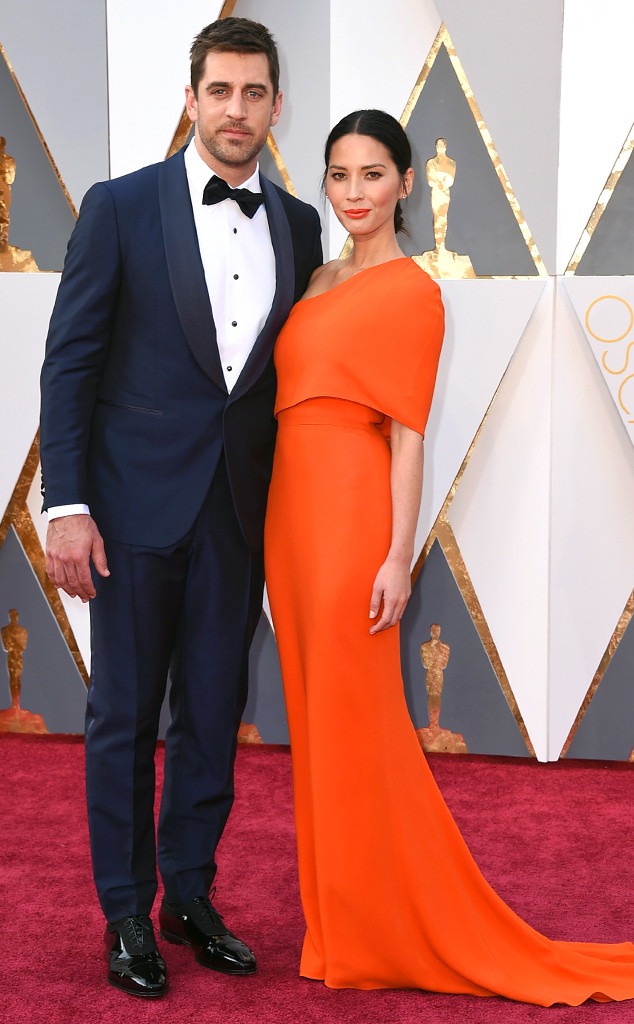 Jordan Strauss/Invision/AP
Olivia Munn broke her silence on Aaron Rodgers' family drama on Wednesday during an interview on Andy Cohen Live.
The drama first came to light on season 12 of The Bachelorette. The quarterback's brother, Jordan Rodgers, competed on the show and told Bachelorette Jojo Fletcher, to whom he is now engaged, that he and the football star were estranged. The fascination around the fallout continued after father Ed Rodgers told The New York Times the Green Bay Packers player had not spoken to the family since 2014—the same year Munn started dating Aaron—and that "fame can change things."
While people have blamed Munn for the family drama, the X-Men: Apocalypse star told Andy Cohen the family drama started prior to her relationship with Aaron.
"He hadn't spoken to the parents and one brother for like eight months before we started dating," she told the Radio Andy host.
In fact, Munn told the Bravo star she actually encouraged Aaron to have an "honest conversation" with his parents while she was still on The Newsroom.
"They had a nice conversation and then they started coming out my first year when I was in Green Bay in 2014," the actress said.
Munn said she met Aaron's parents. Ed and Darla Rodgers, "a couple of times" and that she was "friendly" with Jordan. She did not say whether she met Aaron's other brother Luke. However, she indicated that the drama continued.
"I just think it's really important to try to mend things in a family and I encouraged that," she said. "But at the end of the day, I mean, um."
"It was out of your control," Cohen said.
Munn also seemed to defend her ex and his role in the family fallout. 
"I do believe that family and fame and success can be really complicated if their dreams are connected to your success," she said.
Munn went on to explain that none of her family members work in the entertainment industry or have a desire to be famous. Aaron's family, however, is heavily involved in sports. His father played football and is a sports chiropractor while Jordan played football at Vanderbilt University. After graduating, Jordan was signed to the Jacksonville Jaguars, Tampa Bay Buccaneers and Miami Dolphins but was released by all three teams. He is now a sports network analyst for the SEC Network.
"They're all in sports and Aaron is one of the best if not the best quarterback to ever play the game," Munn explained. "Their work has a direct connection to what he does. At the end of the day, there's a lot of complications. I don't think either side of the road is clean, but I do think it's not OK when you try to stand on someone's shoulders and then throw dirt in their face, which is what they did for him."
Munn described the family drama as not only "unfortunate" and suggested it was dangerous to Aaron's career.
"He is a quarterback…Everybody that I know in sports will say that it's the hardest position in any sport. It's a very violent sport, and it's very dangerous. And he's putting himself on the line every game, and any kind of distraction is unacceptable 'cause it's dangerous," she said.
The actress added that it was "just really important to always be there and to encourage and be supportive." She also suggested that the two tried not to bring the drama home.
While this is the first time Munn has spoken out about the incident, it isn't the first time she has defended Aaron amid the family drama. After the Green Bay Packers lost to the Atlanta Falcons during the 2017 NFC Championship, Munn shared a note on Instagram thanking fans for their support. 
"So proud of this team," she wrote at the time. "They faced a lot of adversity on and off the field, but battled to get this far. THANK YOU to those of you who encouraged and supported them by choosing to put out only positive energy. It helped them get this far."
Aaron has not shared his side of the family drama. After a reporter asked him about it in 2017, he replied, "I just don't think it's appropriate talking about family stuff publicly," per The New York Times.