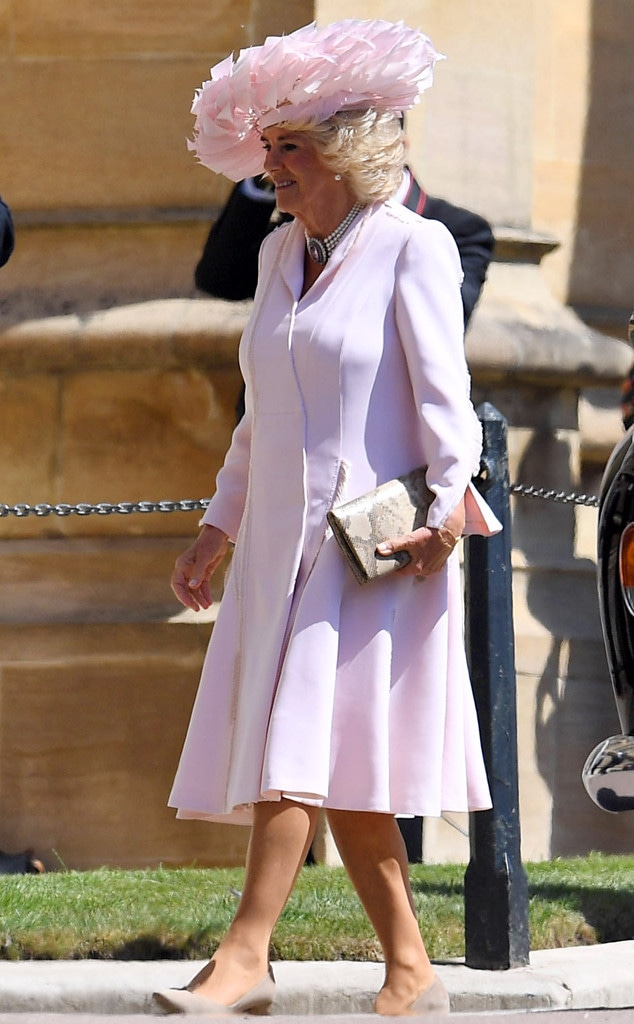 James Gourley/REX/Shutterstock
Camilla Parker-Bowles is opening up about Prince Harry and Meghan Markle's royal wedding.
The couple tied the knot on Saturday, May 19 at St. George's Chapel at Windsor Castle in front of friends and family, including the Duchess of Cornwall, Prince Charles, Prince William and Kate Middleton. While Meghan's mom, Doria Ragland, was in attendance at the ceremony, her father, Thomas Markle, was unable to make it due to his health. As a result, Prince Charles stepped in to walk Meghan down the aisle on her special day.
During her visit to Channel 5 News in London on Wednesday, Camilla shared her thoughts on the wedding and revealed how the royal family felt in the days leading up to Harry and Meghan's ceremony.
According tweets from the Daily Mail's Rebecca English, Camilla described the couple's wedding as "uplifting," but admitted that the royal family didn't know "what would happen next."
Seemingly referencing Thomas' absence from the wedding, Camilla said, "It was such a lovely day. Just everything went right. We all wondered whatever would happen next and then everything went right. The only thing is that we are all losing our voices now."
Camilla also shared some of her favorite parts of the wedding, like the uplifting atmosphere and the beautiful weather.
"It's nice to have something that is uplifting rather than depressing," she said (via English). "Everything was just perfect, including the weather, which couldn't have been better. It was a beautiful day."
On Tuesday, three days after her wedding to Prince Harry, Meghan made her royal debut at a garden party held in honor of Prince Charles' 70th birthday.
Camila stood by Meghan's side while Prince Harry made a speech at the engagement, during which he had an encounter with a bee, which had Meghan and Camilla laughing.
Talking about Harry's speech, Camilla told 5 News it was "absolutely charming," adding that their giggles were indeed over the bee, but Harry "managed it."
Camilla also gave a rare interview, during which she opened up about her commitment to end domestic abuse. See what she had to say in the video above!